Chef and restaurant owner Al Brown and his wife Liz were looking for an outdoor lifestyle when they moved from Wellington to Auckland in 2011 with daughters Alice and Connie.
"As you might guess, we're very keen entertainers and the number of times you can eat outside in Wellington each year is usually pretty low," says Al, whose most recent business project is Best Ugly Bagels, in Auckland and Wellington.
The elevated character villa they settled on in Ellerslie was built around 1910 and still has much of its original charm.The house has lots of street appeal.
FOR MORE PROPERTY NEWS AND LISTINGS GO TO ONEROOF.CO.NZ
"We like surroundings that are comfortable and friendly," says Al.
"I guess it's a nest for the family — this house has simply evolved with us.
"It has quirky features that reveal themselves as you move around in it."
The front door opens to a hallway. To the right is the master bedroom with bay window.
There's a bathroom down the hall.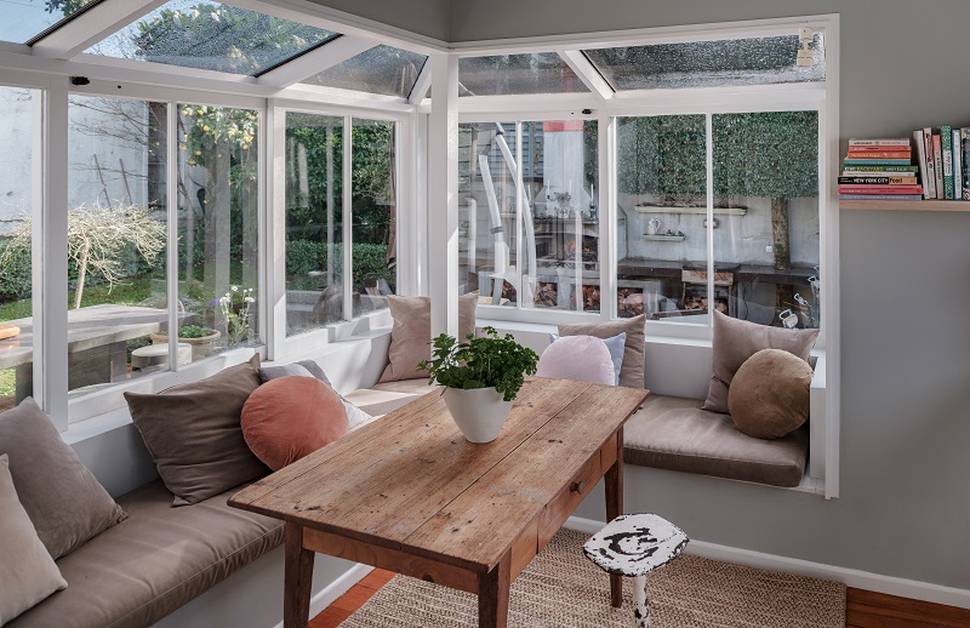 To the left is a formal lounge, actually rather nice and informal. The lounge walls showcase Al's and Liz's eclectic collection of artworks.
There's also an open fireplace for winters. "It warms the place up beautifully," says Al.
Also on this floor are the girls' bedrooms.
The dining space opens out to the deck.

Al's kitchen is of vital importance — he put in a new one a few years ago.
It enjoys views over neighbourhood rooftops. "It's not huge, but it does the job," he says.
There's a corner nook with seating for friends or family to keep the conversation going while Al performs his culinary magic.
Downstairs, what was previously undeveloped space has been turned into a fourth bedroom, separate lounge and office area, with a combined laundry and en suite.
In keeping with their intentions, Al and Liz have created a true outdoor oasis, with lounging areas and a hot tub, along with the swimming pool, which the girls and their friends have made good use of.
To the side of the house, Al has built a huge outdoor kitchen, complete with open fire, running water and generous bench space.
"When I'm entertaining I don't want to keep rushing in and out of the indoor kitchen," he says.
"I like to have everything right on hand, and this whole set-up is brilliant."
There's loads of space for guests, and Al admits that this has definitely been a party house and that there will be a lot of happy memories to look back on after he and Liz leave.
There's a bit of a sub-tropical vibe in the garden, with well-established palm trees, hedges, native grasses and a small lawn.
Al says that the neighbours are all very pleasant and the location is great with the motorway very handy.
"We watched Ellerslie village really come alive over the years with lots of cafes, bars, restaurants, shops, and the very best Four Square store in the country," he says.
With Alice already away from home and Connie set to follow soon, Al and Liz are now considering giving apartment living a go.
"It would be good to be a bit closer to my businesses and this place will be too big for just Liz and me," says Al.
7 ARRON ST, ELLERSLIE
• 4 bedrooms, 3 bathroom, 1 parking spaces.
• Land, one half-share of 1149sq m, house 170sq m.
• Price: CV $1,450,000.
• Auction: 2pm, Wed Sept 26, on site (unless sold prior).
• Inspect: Sat/Sun, 1-1.30pm.
• Schools: Ellerslie School, One Tree Hill College.
• Contact: Roy Champtaloup, Ray White, 027 555 5557, oneroof.co.nz/1188871