Auckland Transport is calling on retailers wishing to lease space within the city's historic Chief Post Office (CPO) building, to register an interest in doing so now.
The CPO ground floor concourse is being refurbished as part of the redevelopment of the Britomart Train station, the central element in Auckland's vibrant new Central Rail Link (CRL).
The refurbished concourse will be fully re-integrated with the Britomart Train Station in 2020, with up to six retail tenancies operating within the iconic CPO building.
Auckland Transport has appointed the associate director of Match Realty, James Kermode, to run the RFP (bidding) process to secure these spaces.
Retailers will have until September 24 to register their interest, says Kermode.
"We will provide a detailed package to those who register before this date, while full RFP submissions will close on November 2," he adds.
"In effect, we're offering retailers the opportunity to participate in one of the most significant periods of change in downtown Auckland, by taking space in a beautifully refurbished character building that will be ready to take centre stage among this change.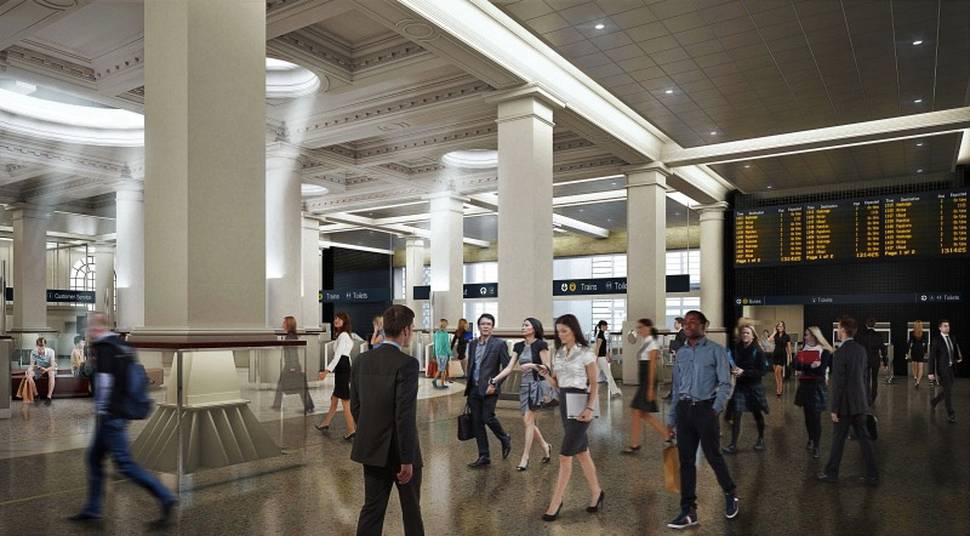 "This project is part of a wider narrative of both public and private development that is taking place in downtown Auckland, one delivering a transformation of a scale rarely seen in the history of this city."
Set for completion in 2024, Kermode says the CRL is to deliver world class underground train network, one that will provide connectivity for Aucklanders to the centre of commerce in Auckland.
"The future impact of the CRL cannot be underestimated; train frequency will be significantly increased and travel times from around Auckland to the city drastically improved.
"While Britomart Train Station will fully deliver the benefits of being part of the CRL in 2024, even within the immediate future this location will offer the advantages of being surrounded by Auckland's premier civic space.
"Lower Queen St will be fully pedestrianised in a design that captures cultural and geological stories of Auckland. With people prioritised this civic space will change the way people behave in the CBD, families and children will feel safe in this densely populated environment with a pedestrian space that encompasses almost two city blocks from Commerce, Quay, Albert and Customs Streets.
"The public investment aimed at improving connectivity and the CBD experience, is being accompanied by a significant investment from the private sector.
"Britomart has already set the standard for private development and redevelopment in downtown Auckland and this is set to be followed by Commercial Bay.
"In 2019 Commercial Bay will be delivering a world class laneway style retail precinct and New Zealand's tallest and arguably best office tower directly opposite the CPO Building."
Kermode says Wynyard Quarter is to be transformed into high density extension of the downtown area, with quality space for living and working:
Precinct Properties New Zealand will build its Wynyard Quarter Innovation Precinct, set to be around 48,000sq m when complete; Fu-Wah will develop the 198-room Park Hyatt; Willis Bond has various large-scale residential projects, including Wynyard Central, 132 Halsey and 30 Madden Streets.
"Helping to unlock all of this private investment in downtown Auckland is the public investment in transport solutions," says Kermode.
"Downtown Auckland has the largest public transport hub in the country with rail, bus and ferries."
He points out that it is no coincidence that the billions of dollars being privately invested in redevelopment of the downtown area, is accompanying investment in public transport.
Closeness to public transport is important for all types of occupiers: retailers want ease of transport to reduce threshold resistance for their customers; employers want to ensure their employees have an efficient and cost-effective means to get too and from work; and residents of the CBD want options beyond a private vehicle.
Public investment has driven occupier-demand, and the markets are responding to this with a development pipeline that is transforming Auckland downtown area.
"At the epicentre of all of this change is the Chief Post Office Building," says Kermode.
"The CPO Building is a beautiful character building that deserves preservation and celebration. In the context of Auckland's architecture, the CPO Building is gem, a piece of history that has survived and now resides proudly in one of the most important locations in Auckland. Our vision for this project is to align the retail mix with the incredible building that it will occupy while enhancing the downtown Auckland retail landscape for residents, tourists, workers and Auckland Transport customers by offering quality products at affordable prices."