The development at 53 Wellpark Avenue was a satisfying project for Karl Newby, an associate at Jessop Architects, who was tasked with designing something cool and contemporary for this perfectly-positioned site. Three new houses sit on it now, having been constructed over the past three years.
The houses are all around 300sq m of living space, set over two levels, and one of Karl's greatest challenges was packing them full of features to achieve an end result that not only looks great but is also the height of luxury.
"Privacy was an important issue," says Karl. "While the houses are close together, their covered outdoor living spaces are all arranged in such a way that they can't see each other."
FOR MORE PROPERTY NEWS AND LISTINGS GO TO ONEROOF.CO.NZ
53A is the front house, and it looks most impressive from the road. Cedar cladding is enhanced by a large decorative screen, which is illuminated at night by the lights in the rooms behind it, and, while the house design is essentially a series of squares, by no means is the finished effect 'boxy'.
Within its walls is a deluxe fit-out, with nothing but the very best in terms of materials used. The decor throughout is classic and neutral, inspired by the colours and textures of nature.
The downstairs level has a true chef's dream kitchen at its core, complete with butler's pantry. Entertaining will be an absolute breeze with any mess tucked well out of sight.
The appliances are all top-end and the geometric patterned splashback adds to the sense of sophistication, while a huge marble central island will be an absolute magnet to family and friends.
To the rear of the kitchen – and to its side – is the open-plan living and dining area which segues seamlessly onto extensive outdoor decking. With walls of glass that can be opened to allow easy access, this is a feature that families will appreciate. It's covered, which means that small children can ride their bikes around, even in inclement weather.
At the front of the house, beyond the double, indoor access garage, is the formal lounge, a bright, airy spot with loads of room for relaxing or entertaining.
Karl says that the high ceilings were designed to enhance the sense of space.
The entire ground floor has hard-wearing wooden flooring, while upstairs the small of new carpet is evocative. There is a second living area up here.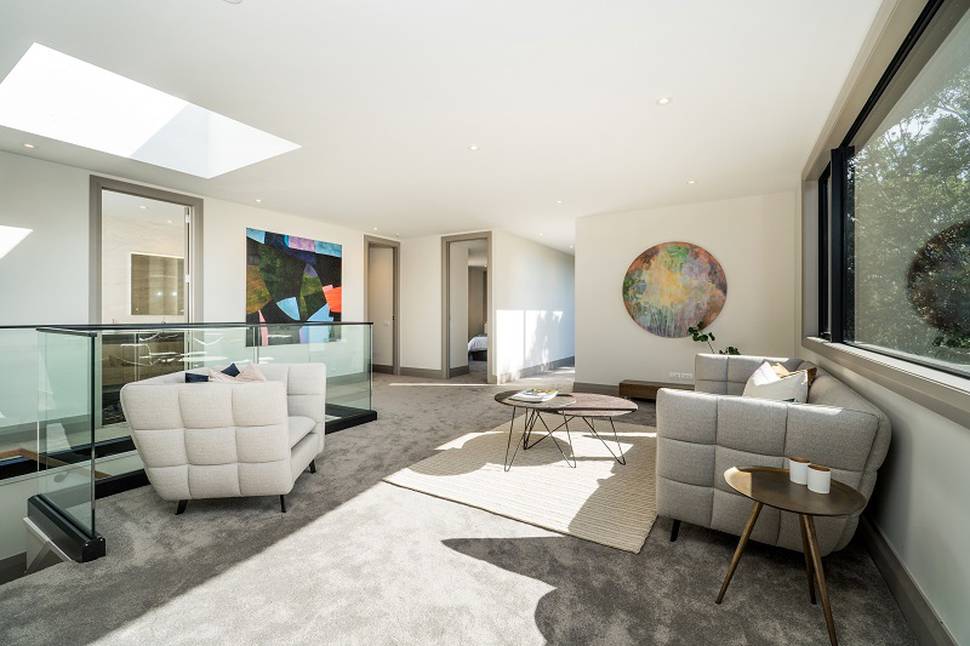 As an architect, Karl wanted to make the best possible use of the parameters he had at available, so it made sense to use the landing this way.
Two of the four bedrooms on this floor have ensuites, and walk-in wardrobe, while the other two share the stylish and well-appointed family bathroom.
The views from all of the bedrooms take in the attractive, leafy, surrounding neighbourhood. It's a close-knit community with residents keeping an eye on one another.
A new garden of easy-care natives is already coming along nicely and there's minimal lawn to mow.
Wellpark Ave has a deserved reputation as one of Grey Lynn's most desirable streets.
Francis Reserve and Wellpark Reserve are practically right on residents' doorsteps and of course it's in zone for popular Westmere Primary school and the well-known Western Springs College.
The shops, eateries and bars of Ponsonby Rd are within easy walking distance and supermarkets, hardware outlets and specialty food stores are right on hand.
Excellent public transport links make the commute to Auckland's CBD quick and easy.
53 WELLPARK AVE, GREY LYNN
• 4 bedrooms, 3 bathroom, 2* parking spaces.
• House 300sq m.
• Price: Upwards of $3 million.
• Auction: Wed, Aug 29, 2pm, 30 Gaunt St (unless sold prior).
• Inspect: Sun, 1.30-2pm or by appointment.
• Schools: Westmere Primary, Western Springs College.
• Contact: Blair Haddow, Bayleys, 021 544 555, oneroof.co.nz/1182812
*Plus OSP