Merchant Robert Graham was among New Zealand's first wave of Scottish settlers to arrive on the ship Jane Gifford in 1842. He soon established businesses that earned him a fortune and he later became an MP.
In 1853, Graham built a grand Victorian mansion with views on the highest point of his vast estate of the Ellerslie showgrounds and racecourse, Motutapu and Motuihe Islands.
Emma and Bruce Cleary loved becoming a part of the property's history when they bought the remaining 1390sq m at 2 Mainston Rd, 18 months ago.
FOR MORE PROPERTY NEWS AND LISTINGS GO TO ONEROOF.CO.NZ
They were attracted by the rare scale and the grandeur, says Bruce. "All the rooms are of generous size. We knew straight away we could do something with it."
Adds Emma: "The garden was beautiful, too, with many unusual plants. We have a gardener who helps us. Even she is surprised at the variety."
Former owners had played up the period features of the home by dressing it in Victorian style. "There were dark colours, striped wallpapers and blue carpets," says Bruce.
Focusing on restoration as well as renovation, they set about converting it to more modern family living with a practical flowing layout. "But it was nice to start with a house that had proper scale," says Bruce.
They asked Claire Bruford, of Le Mieux, to help simplify the interiors to reflect a 'country manor in the city' feel while they project-managed the job themselves. They were keen to allow the home's architecture to speak without losing the character.
Claire specified warm whites and pale greys with intense navy blues alongside natural materials of sisal, linen, marble and natural brass to add patina and reflect the heritage of the home.
Not one surface was left untouched inside and out as they plastered and painted; re-roofed; fixed the two chimneys; repaired the verandahs upstairs and down; installed new joinery with double glazing for 30 sash windows and 16 french doors. And myriad little details were updated along the way.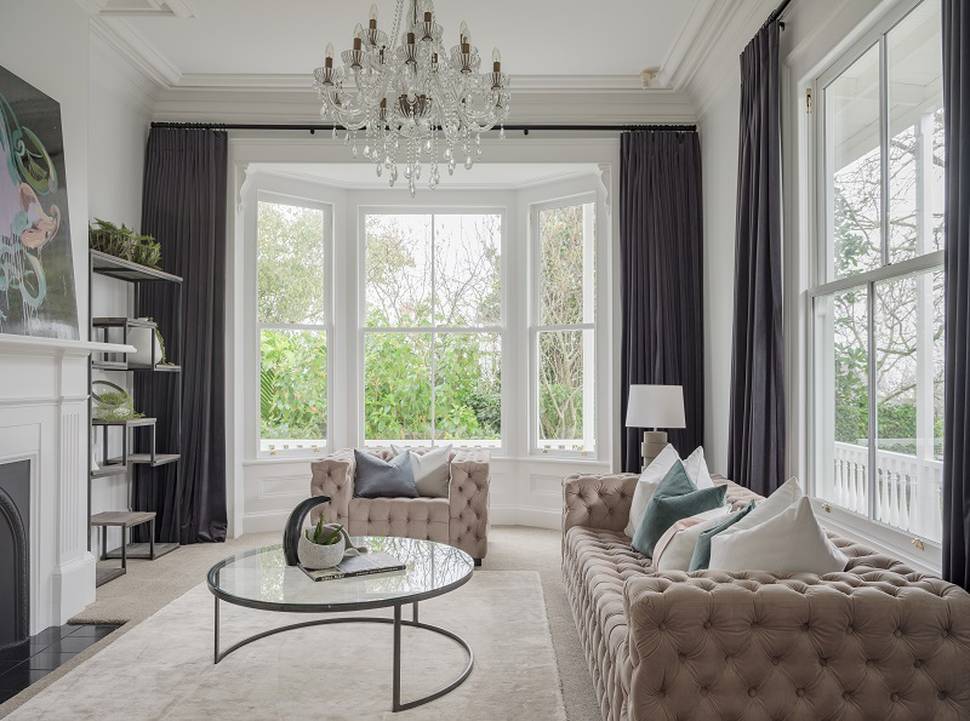 "We'd get a call every day from the tradesmen who would say, 'what about this?'" says Emma (or me) - Claire wasn't present
The kitchen was refurbished with Carrara marble benches, new splashbacks and appliances. They also opened up the living which had a compartmentalised, dark feeling weighed down with heavy drapes. When they pulled back the carpets, they found honey coloured kauri floors that were polished to provide a warm, homely feel.
Now, linen curtains complement Claire's light, bright, fresh white scheme alongside plush stone-coloured carpets and a beautiful bordered sisal runner on the original staircase.
Stunning contemporary chandeliers draw the eye to the deep scotias in the ceilings and rare fanlight leadlight windows in the entry are a highlight.
Upstairs, the reconfigured layout gives each bedroom a large walk-in robe. The original home only had one tiny bathroom upstairs. Today, there are three plus a powder room. With intricate herringbone marble floors and walls clad in textured tongue and groove, they feel luxurious yet they are sympathetic to the age of the house.
"It was demanding corralling so many tradespeople but it was very rewarding," says Bruce.
"Our original intention was to stay longer so everything has been done in that manner. We have enjoyed the whole process so much that we're thinking of other opportunities."
After its major restoration, the old home looks a lot like it did when it was first built. Until you look a little closer and find everything has been fixed and modernised, so it is warm and luxurious with nothing that needs doing for at least 30 years.
2 MAINSTON RD, REMUERA
• 4 bedrooms, 3 bathroom, 4 parking spaces.
• Land 1390sq m, House 349sq m.
• Price: CV $3,850,000 (pre-renovation).
• Auction: 6pm, 26 August on site.
• Inspect: Sat/Sun 2-2.30pm.
• Schools: Remuera Primary, Remuera Intermediate, Selwyn College.
• Contact: Steve Koerber, Ray White Remuera, 021 864166, oneroof.co.nz/1182182