Every family with young children loves a home close to the local school, and the Ashe family is no different.

All Karen and Paul Ashe's daughters Isobel, 14, and Madeleine, 12, have had to do is jump over the fence to Kaipara Flats School next door.
"We've timed them and they can do it in 30 seconds," says Karen.
FOR MORE PROPERTY NEWS AND LISTINGS GO TO ONEROOF.CO.NZ
Catching the bus to intermediate and secondary school at Mahurangi College in Warkworth has been almost as simple. As soon as the girls spot the bus, they'll race out of their house. The driver knows to look out for the Ashe girls heading towards the bus stop.
For Karen and Paul, who moved from England in 2006, this rural New Zealand vignette has been everything they've dreamt off. UK friends thought that their crazy plan to tour New Zealand to see where they'd like to settle was nothing more than a pipe dream. "They thought we'd be back in a year," says Karen.
Instead this couple changed tack in Rotorua, having spent more than enough time living out of a campervan with a two-and-a-half-year-old and a nine-month-old. They'd rather liked Whangaparaoa so they settled there, renting in Army Bay for six years.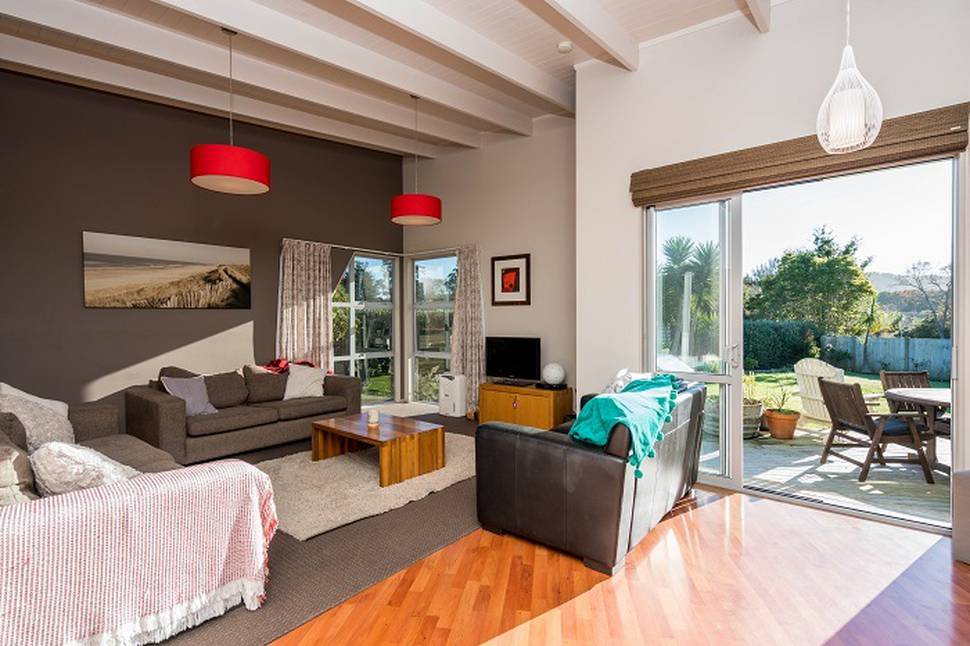 In 2013 they felt like a change of scene and found this 2002-built home that had the same warmth and low maintenance appeal that their rental had delivered.
"We saw it on a beautiful day and it was gorgeous. It is warm and has a nice easy feel," she says.
For Paul, a cabinetmaker in Warkworth, this home has reminded him of the rolling hills of Shropshire, England where he grew up. His happy place is the outdoors — he has built up the vegetable beds and erected new fencing.
For Karen, a North Shore theatre nurse, the warmth of the village life is particularly special.
"I don't know of a better place for children to grow up in than here" she says. "When I see the girls heading off on their bikes, I know I don't have to worry about them because they're so safe here. Everyone looks out for everyone. It's a great community."
As for personalising her home, Karen has had to do little more than put in orange light shades to enhance the original wall colours and the terracotta kitchen accents.
The girls have personalised their double bedrooms at one end of the house. The master bedroom, at the other end, has a walk-in wardrobe and door through into the two-door main bathroom which doubles as an en suite.
Karen and Paul's visiting UK friends have understood their move to New Zealand, but they've not felt the need to do the same. Instead, these friends and their UK family get together at the home in Almeria, Spain, that Karen and Paul bought before they moved to this country.
"It is hard saying goodbye from there when they all fly back to the UK and we have to fly back to New Zealand, but we'd never shift back," says Karen.
Karen and Paul are now looking to move within this area for a change of scene and deal with the unfinished business that is seeing the rest of New Zealand south of Rotorua.
965 KAIPARA FLATS RD, KAIPARA FLATS
• 3 bedrooms, 1 bathroom, 2 parking spaces.
• Land 2209sq m, house 161sq m.
• Sale price: RV $800,000.
• Inspect: Sun 1.30-2pm or by appointment.
• Auction: July 26.
• Schools: Kaipara Flats School (to year 6), Mahurangi College.
• Contact: Kevin Mills, Harcourts, 021 670 470, harcourts.co.nz/WW6966