One of New Zealand's biggest winery-based tourism and hospitality operations — encompassing vineyards, a function centre, restaurant, and high-end accommodation — has been placed on the market for sale.
Mahana Estates at Upper Moutere, west of Nelson, generates income from four revenue streams which operate independently and conjunction with each other.
The Mahana Estates property portfolio encompasses:
• a 21ha vineyard planted in pinot noir, pinot gris, riesling and chardonnay;
• a 9ha sauvignon blanc vineyard in nearby Hope;
• a 2589sq m four-level winery capable of crushing 500 tonnes of grapes annually and sustained by its own on-site cellaring facility and bottling plant which operates on a gravity feed system to minimize the need for pumps;
• a cellar door tasting room and retail outlet which also operates as an a-la-carte restaurant capable of hosting up to 100 people standing or 40 guests seated;
• a separate commercial-grade function and events venue for weddings and corporate bookings in rooms such as The Tank Floor which is capable of hosting up to 200 guests in a seated format, along with the more intimate Barrel Room, Wine Library and Show Cellar; and,
• an upmarket lodge featuring three residences capable of accommodating 14 guests at a time.
Now the Mahana Estates vineyards, winery building and plant operations at 243 Old Coach Rd — including the Mahana label — retail outlet, restaurant, function catering business, and luxury accommodation amenities are being marketed for sale through Bayleys Marlborough, with tenders closing at 4pm on July 13.
Salesperson Mike Poff says Mahana Estate's multiple revenue streams are seamlessly vertically-integrated from vine to glass, while also having the flexibility of being able to operate under their own entity.
"Mahana Estates is essentially founded on its vineyard operations, which in turn sustain the winery crushing plant, storage and bottling. From there, the label is marketed and sold through both the hospitality and retail sectors, and directly from its own cellar door," he says.
"A portion of product is also served at both the Mahana's tasting room restaurant, and to a larger scale, through the function and events business. While on one hand this means a zero carbon footprint for stock delivery – which is literally brought upstairs from the wine cave — it also means a better profit margin by negating the need for any wholesaler or retailer.
"The function venue, and to a lesser degree the restaurant, also sustain the accommodation aspect of the greater Mahana Estates brand. With the capability of housing up to 14 guests in quite salubrious luxury, the lodge is the perfect location for accommodating guests attending functions such as weddings or for corporate delegates using the location for on-site meetings or incentive programmes.
"Mahana Estate's accommodation is a magnet for guests, who are able to eat and drink on site at the cellar door restaurant. It's the perfect symbiotic business model.
"The industrial surroundings of the tanks, vats and barrels adds to the ambience of the venue, which is serviced by two full commercial kitchens.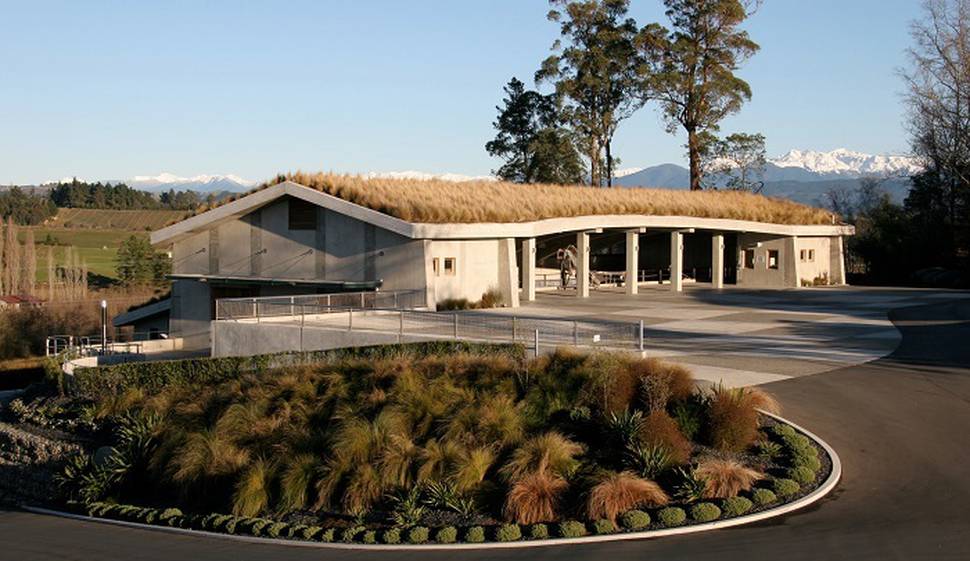 "Adjacent to the function room and winery is Mahana's cellar door retail facility and a 60-seat restaurant. The function rooms and restaurant are serviced by two separate commercial kitchens — between them featuring a combi' oven, standard ovens, several four-burner gas hobs, deep fryers, grillers, heavy-duty dish washing and drying plant, and walk-in fridge and freezer units."
Poff says in addition to owning the 30ha of vineyards, Mahana Estates has leased an additional 20ha site. In the 2017 harvest, the combined plantings produced 268 tonnes of grapes, of which 153 tonnes was bottled under the Mahana label. The first vines were planted at the property in 2000.
"The winery is operating well below capacity — choosing to concentrate on quality of product over quantity," he says.
The business employs up to 10 staff in the winery and vineyards; with an additional 13 staff in housekeeping; along with part-time food and beverage and cooking personnel to service function bookings.
It is licensed to host 22 large-scale functions annually. The restaurant is open daily for lunches and 'as required' to cater to guests staying in the associated lodge rooms.
Mahana wines are sold at three quality points and price – entry level, mid-range and premium. The label is marketed throughout New Zealand, Australia and North America.
The offering for sale includes some $1.5m worth of stock on hand from the past two vintages to ensure a seamless supply of wine for several years while a new owner takes over the operation.