Living in an apartment above their equipment hire business, John and Christine Kyle were in the perfect position to watch Snells Beach boom during a period of unprecedented growth over the past decade.
Christine says that, as costs have soared in Auckland and the motorway north improved, the once small coastal community is now a thriving suburb of Auckland with all the amenities of the larger city plus many lifestyle benefits.
"It's close to the beautiful village of Matakana with the Saturday markets and movie theatres. For those who love to surf, Ōmaha beach is nearby and there are lots of good schools, too — such as Snell's Beach Primary and Mahurangi College."
CHECK OUT 66 FIDELIS AVENUE ON ONEROOF.CO.NZ
While they enjoyed the convenience of being so close to work, six years ago they were tired of not having grounds around them and decided to move to a much larger home.
They'd lived in Fidelis Ave, a quiet no-exit street running along the clifftop before. When a large five-bedroom home came onto the market, they leapt at the opportunity to buy it.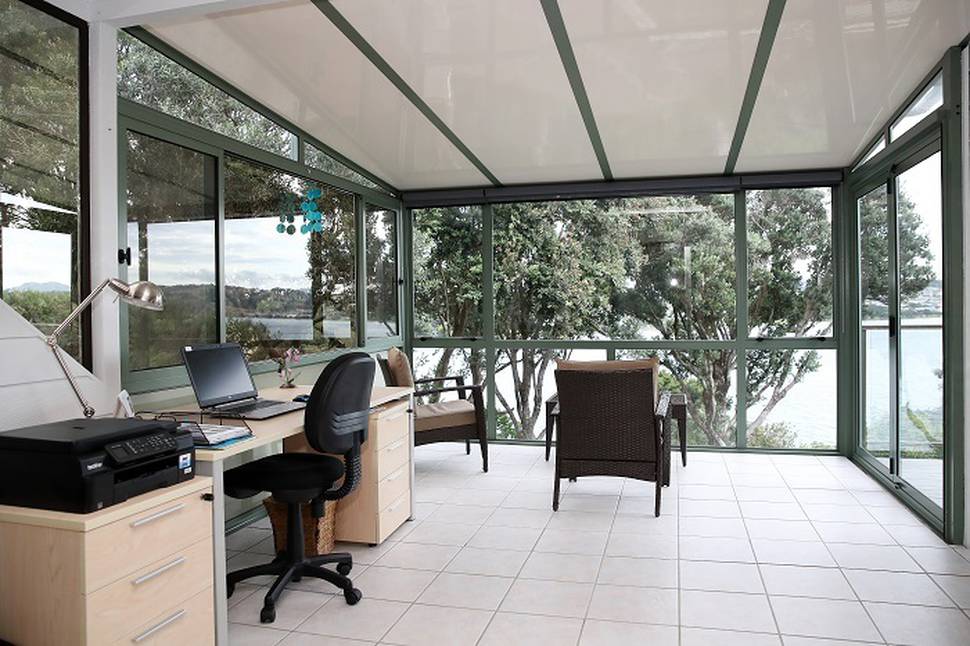 "We loved the spectacular views looking over Kawau Bay and along the beachfront. You can see out through to Sandspit Inlet."
The property goes down to the water's edge. "You can scramble down the bank if you like. But there's a properly formed walkway at the end of the right of way next to our driveway which heads along to a safe swimming beach."
Another reason Christine wanted to stay in the area — rather than moving further out — was that she joined the local fire brigade seven years ago. "I needed to be in a reasonable distance for call-outs." And yes, it is unusual being a woman in the brigade, she admits.
"But I like giving the boys a run for their money," she laughs, though her role is mainly a medical response.
FOR MORE PROPERTY NEWS AND LISTINGS GO TO ONEROOF.CO.NZ
The house was tired when they bought it. On the plus side, there was lots of room, plenty of storage and large sunny outdoor living areas that extend from upstairs bedrooms and across the dining space, lounge and conservatory where you can watch the windsurfers powering across the water below.
It also has a level entry into the house which makes it easy for John's elderly parents to come and go. When they stay, they have their own bedroom and bathroom with doors through the conservatory to their own personal part of the living area.
It took four years renovating top to bottom, a major exercise made easy thanks to an excellent builder. As well as redoing all the floors, adding new carpets, they replaced the kitchen with a sleek white handle-free design and reconfigured the large laundry, turning it into a spacious scullery with extra storage.
Each of these functional areas features white walls and grey and white marbled granite benchtops. Top-of-the-line finishes continue throughout. Two chic new bathrooms include a semi en suite on the lower level, accessible from one of the bedrooms and the living area, which is ideal for an older person.
And finally, to create a big play area for the grandchildren who often visit, the sloping section was levelled with a retaining wall.
Growth was good for the Kyle's Hire Works. So, six months ago, they sold the business, freeing them to travel the world. Now, they're selling their home as well to begin their biggest adventures yet.
66 FIDELIS AVE, SNELLS BEACH
• 5 bedrooms, 2 bathrooms, 1 parking space.
• Land 872sq m, house 240sq m.
• Sale price: CV $860,000.
• Inspect: Sat/Sun, noon-12.30pm.
• Auction: 10am, 5 July, 41 Queen St, Warkworth.
• Schools: Snells Beach Primary, Horizon School, Mahurangi College.
• Contact: Steffan Meyer, Bayleys, 021 055 4346; Laura Irvine, 021 027 60959, bayleys.co.nz/1201123