A few remaining spaces are still available for lease in a world-class dining precinct within the new seven-screen Hoyts cinema complex in the Christchurch CBD.
Ryan Geddes, retail leasing manager for Savills Real Estate says most of the space for 18 high-quality restaurants, eateries and bars has been taken up in Calder Stewart's "EntX" (Entertainment Central) development due to open in September.
Construction on the three-level 10,800sq m complex, occupying a 4500sq m site on the corner of Colombo, Lichfield and Tuam Sts, is nearing completion.
"Interest in the development among food and beverage operators has been very high, with a limited number of opportunities still available ahead of the upcoming opening," Geddes says.
"We've fielded inquiries from businesses around the country which see a great opportunity to be part of a key project in the regeneration of Christchurch's CBD. We're now looking for the last few tenants to complete the mix in what will be an inner-city destination hot spot, with a diverse range of eateries and a multi-screen cinema all in one place."
Savills is particularly interested in hearing from gourmet fish & chip businesses, burger operators and a Mexican food restaurant or outlet, to join the existing line up of tenants, which include a gastropub, sushi, Thai street food, Indian street food, a 'new concept' pizza bar, dumplings, salads and raw food/juices.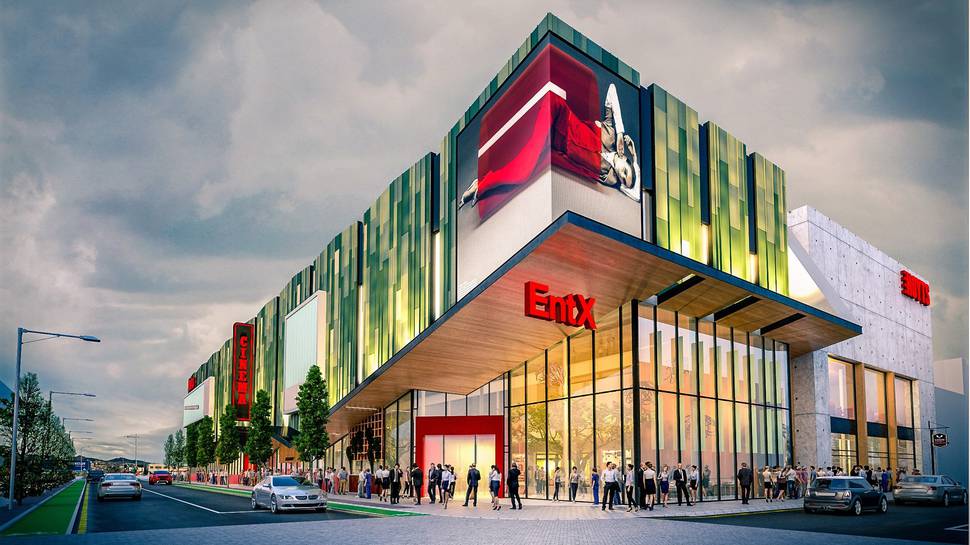 "Entertainment Central will feature a great range of cuisines in one location and we are now just looking for the final few tenants to round it out. EntX is estimated to capture over two million visits during its first year, so this is a great opportunity to be part of Christchurch's re-emerging city centre."
Of those visits, an estimated 1.35 million are made up of workers from new office buildings within a 300m radius – providing a huge local customer market for the complex, which will constitute the only multiplex cinema in the Christchurch CBD.
Jesse Paenga, retail leasing executive at Savills, says EntX has been inspired by the world's most popular food and entertainment destinations and will be a first for Christchurch.
"The food precinct's interior was designed by Ignite architects with a movie set designer providing lighting features to the atrium. Future Foods, which assisted with the overall concepts, was also behind the food precinct in the highly successful Emporium development in Melbourne. So this will be a truly world class food precinct that will set a new standard for Christchurch."
Tenants in the precinct will be grouped in order to provide a cohesive and enjoyable experience for customers. This includes an area for restaurants with dedicated tables, along with an area where tables and informal bar-style seating will spill out on to the central concourse, inviting moviegoers, shoppers and city workers to stop for a meal and a drink in a casual, lively atmosphere.
The complex is also expected to benefit from its location directly opposite the Christchurch central bus exchange, providing alternative travel options for customers.