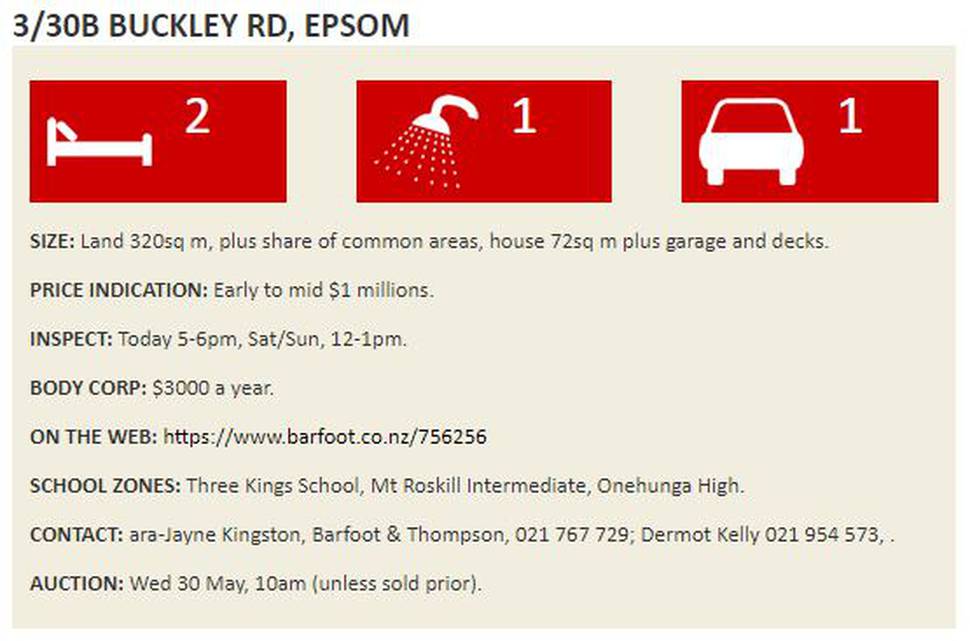 Developer Elliot Grove has reinvented many properties but for the first time he's tackled a block of classic 1960s brick and tile units.
Elliot believes the property's prime north-facing site down a driveway in Epsom might have had some other developers thinking about bowling and rebuilding.
"But we could see just how well-made these homes were so there was no way that quality deserved being thrown away in favour of new construction."
Elliot says the trio of units had previously been owned by a remote landlord and had plenty of scope for modern reinvention extending from fully landscaping grounds to upgrading interiors.
Unit three is the far unit in his "Epsom on Buckley" re-development, which has a Cortens steel sign announcing its palm-lined driveway. The fenced driveway runs alongside a public pedestrian walkway connecting Buckley Rd and Hollywood Ave before angling around to the little block's private setting.
Even the garage block of three separate single garages has been upgraded with auto-opening doors, a new roof, lining and power.
The units have strata unit titles, each property having its own dedicated grounds of varying sizes (the square meterage of which will be quantified when titles are issued soon). There are also shared areas such as the driveway and garages and a body corporate.
Across the concrete turning bay outside the garages, you'll find unit three's fenced front courtyard-garden announced with its own orangey weathered Cortens steel gate. It's '3' cut-out allows owners to check out who is knocking.
Inside, a path of geometric concrete paving crosses lush front lawn offset with leafy but low-maintenance gardens. Elliot describes the wide wooden steps rising to the pergola-topped deck angling around the home as "gin steps" — "designed to be wide enough to enjoy sitting on with a gin and tonic in hand".
Their dark stain contrasts against the rich red brick residence, now boasting new insulation and new 15mm corrugated iron roofing.
The front door opens into the living-dining-kitchen area featuring original polished matai flooring, subtly stained to nudge it away from the yellow tone some polished floors exhibit.
Elliot says lengthy consultation with Kay Bell, who advised on interior design, and Cuan Forsyth-King, who provided architectural advice, helped drive the quality of the finished project.
Sliding doors can separate off a media room-office (where guests could sleep) adjoining the lounge. It accesses a little hallway feeding two carpeted bedrooms with generously sized wardrobes, wide-slat blinds and subtle wallpapered feature walls.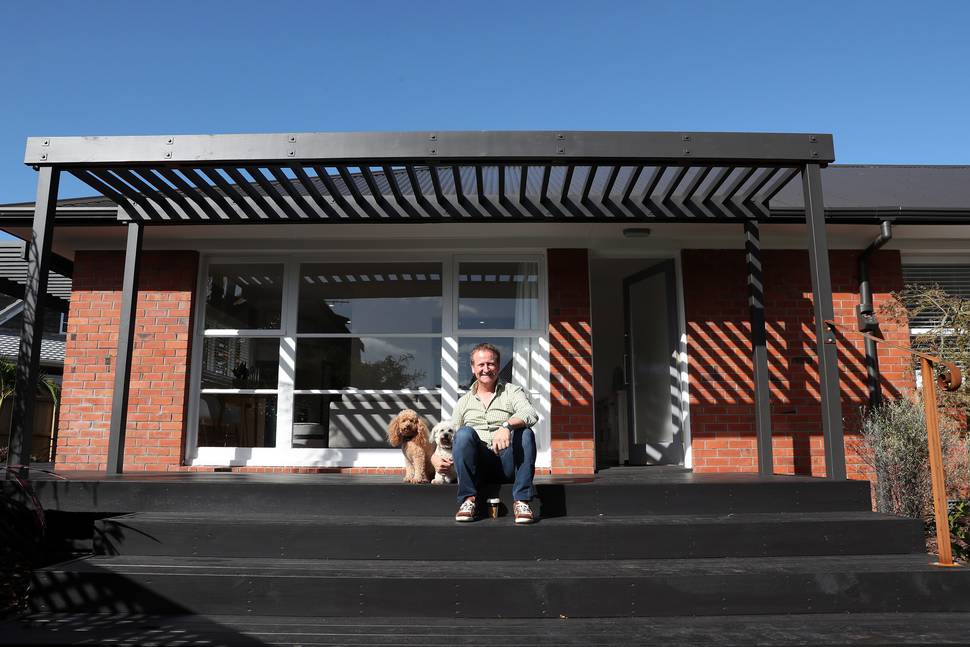 The smart neutral bathroom features stone-effect tiles in its shower.
The living's floor-to-ceiling drapes extend around to cover the glassed front door as well as french doors to the deck and windows including sliding server windows to outside.
As well as the kitchen's main composite stone bench harbouring Fisher & Paykel appliances, there's further backlit bench space concealed behind doors in a long trove of storage opposite. This storage wall incorporates the laundry which comes outfitted with a washer-dryer.
The rear grounds offer more decking, lush lawn and gardens. With such good quality outdoor living on hand, Elliot thought it would be nifty to re-purpose a former window into an exterior drinks cabinet on the side of the home.
He can envisage the easy lifestyle here suiting many, including those who want to downsize from a larger Epsom property.