Forty years ago, as a young married couple, Keith and Chris Brockbank bought an ordinary little brick-and-tile state house in Belmont, near Takapuna Grammar, and lived there with their daughters Hannah and Amy.
"We had a great time growing up here," says beauty therapist Hannah. "It's the only home that either of us remember."
In the mid-2000s, Keith and Chris took the plunge and remodelled the house.The huge undertaking took months as builders dramatically extended the original dwelling and added another floor.
Hannah says they moved out only for a few months when the architect-designed project was at its peak.
The resulting dwelling is a clever and stylish combination of old and new, with much more space than before.
On the ground floor, near the wine cellar and laundry, lies the contemporary kitchen, with quality appliances and plenty of room.
"You can never have too many cooks in here!" says Hannah. "It's great for family occasions."
A semi-formal dining space accommodates big groups with ease, and the living room with its gas fire and crisp white shutters is elegant and timeless.
The peaceful, private deck at the front of the house is a sun-trap and has a louvred roof and drop screens, which means it can be turned into a fully enclosed sunroom when required.
"Mum and Dad used it all year-round," says Hannah.
There are three bedrooms on this floor, one of which has a huge wardrobe, en suite, and stunning stained glass leadlight french doors leading to the deck.
The second bedroom has another large wardrobe and the third room was used by Keith as his home office, but it easily accommodates a double bed and has doors to the rear deck, another sunny living and dining spot.
The sleek, sophisticated main bathroom would rival the facilities in a top hotel.
Hannah says that once they decided to undertake renovations, Keith and Chris insisted that nothing but the best would do. "Dad has very high standards and he wanted a result that wouldn't date."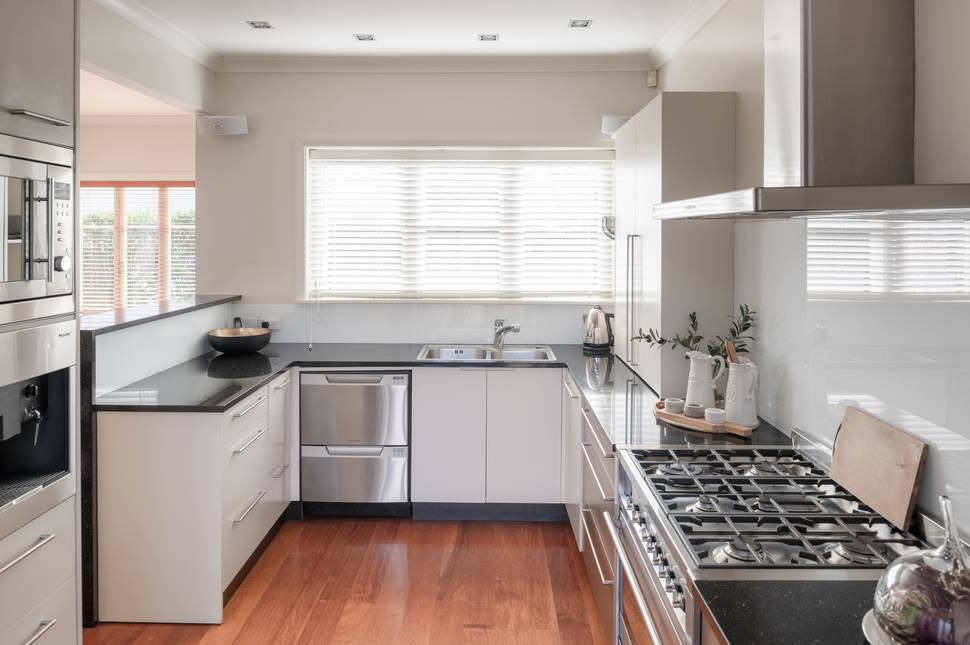 Keith and Chris' suite on the top floor is luxury personified with a walk-in robe, big, bright tiled bathroom — with a skylight and infinity bath — and the bedroom which is big and bright, with a gas fire and a balcony with glass balustrades and views across the neighbourhood.
"Dad would disappear into the bathroom for hours and Mum loved sitting and reading by the french doors up here," says Hannah.
The house and garden have been impeccably maintained, and the double garage has the bonus of attic stairs to a loft-space that was big enough to house Keith's workshop and Chris's sewing gear.
The decision to sell their home didn't come easily to Keith and Chris but with his job in construction project management, Keith's been spending an increasing amount of time in Papua New Guinea and the trip from Auckland, via Brisbane, is somewhat onerous.
When he and Chris were offered the chance to housesit for friends in Cairns, looking after their two cats as well, they jumped at it."
"It's only about an hour or so from there to Port Moresby, so it's much easier for them," says Hannah.
She says her parents are sad about leaving but they are also proud of what they've achieved here.
"And it's a great little neighbourhood," she says.
"The original Little and Friday cafe is just down the road and St Leonards Beach is a short stroll away."