Phil Barker was the under-bidder when this huge Epsom property was auctioned in 2001, and when — a decade later — he heard it was back on the market he had no intention of letting his dream home get away a second time.
With a family of five, Phil, a trader, and his wife Cherie, an accountant, needed lots of space for their brood and here, they finally found it.
The property consists of two generous sections, one 1409sq m, and the other 1159sq m, with separate titles, in a quiet, leafy street. The family home is at No. 4, while 4a is basically lawn and garden, with potential for development.
The house had last been renovated around the 1990s and was in need of a new kitchen.
"We did that practically straight away," says Cherie.
It's a vibrant, light-filled space with combined dining and a huge marble central bar which acts as a magnet to family and guests.
"We entertain a lot so we put everything into making it as good as we possibly could," she says. "And it turned out perfectly."
All the appliances are top-of-the-range and the view beyond is across local rooftops to Cornwall Park and One Tree Hill.
There's always birdlife in the fruit trees, and lots of soft, green lawn.
"Apparently one of the previous owners was a retired farmer who liked to feel as if he still had fields while living here in the city," says Cherie.
Next to the kitchen is the formal dining area, which flows into a large lounge and on to a study with attractive leadlight windows and a picturesque fireplace (which isn't functional).
Three generous bedrooms have garden views, as does the master bedroom with its walk-in wardrobe and en suite.
The family bathroom is huge with a spa bath and elegant tiles. A sunroom is used as a family room as it has access to the outdoor patio, and lawns, which is where they gravitate in summer.
A separate semi-self-contained granny flat with a kitchen, bedroom, dining room and lounge is being used by one of their four sons and it's perfect for other extended family situations.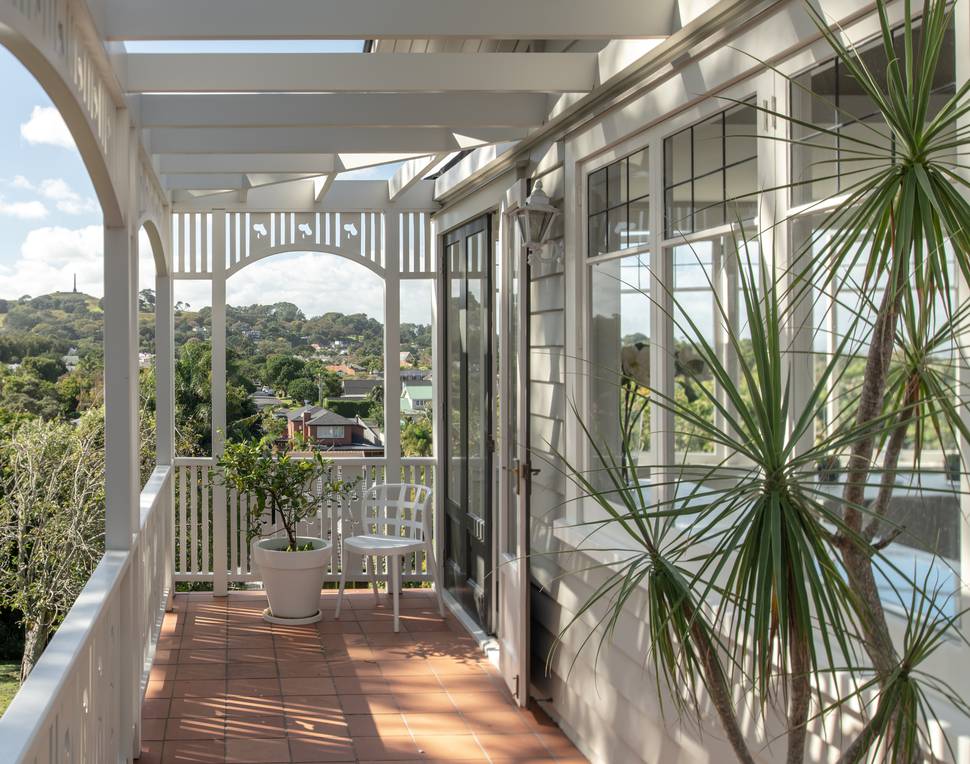 The basement double garage has a games or rumpus space and another bathroom. While their property has been practically perfect for the family, they had plans to do much more with the two sections.
"We thought we'd add another storey, with 'his' and 'hers' bedrooms for people with partners who snore, and we had some other changes in mind, too," says Cherie.
The Barkers love their Epsom neighbourhood, but are moving on to something a little smaller as their children are about to leave the nest.