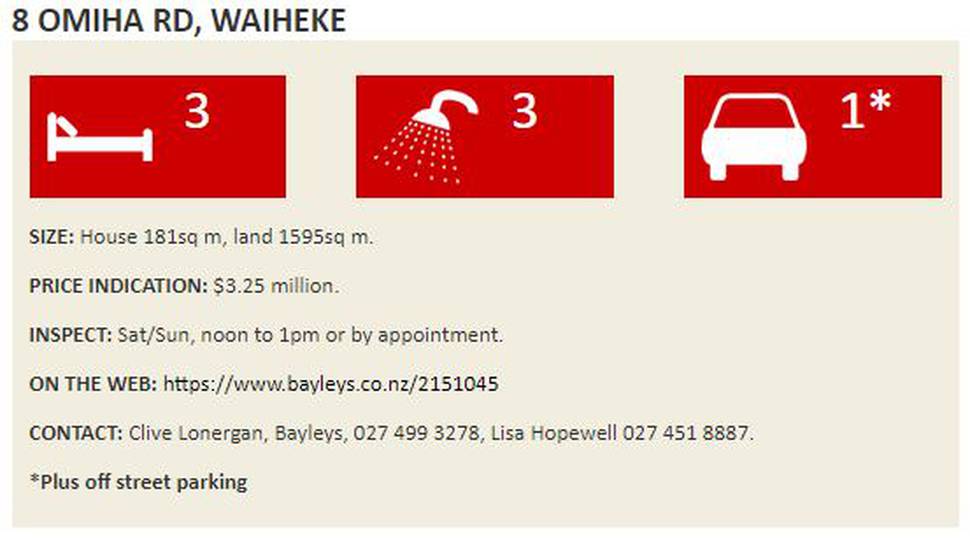 Trisha Joe has an unusual relationship with her waterfront house on Waiheke Island. She's owned it twice. The first time, as the owner of a busy city pharmacy, she and her former husband bought the 1950s bach in 1991 and sold it six years later. But the place stayed with her.
"I'd always had this heart connection with the house and the land and I just mourned it," she says. "I'd been doing a lot of spiritual work, consulting with women with cancer after I'd had cancer myself, and I knew what people needed. I'd always hankered for it, though I'd never set foot on Waiheke since [selling it]. But it drew me back. In 2003 I had this gut feeling and thought I'd ring the owners and see if they wanted to sell."
Extraordinarily, the house had been listed only two days before, so once again the property was Trisha's.
The little old two-bedroom house with a rickety deck, all orange tile and brown formica, has been converted beautifully by Trisha to include a new kitchen and bathroom, and a grand new deck built to the full width of the property that opened off the dining room on the upper floor.
Downstairs, two more bedrooms and bathrooms were made out of an odd office/flat. Trisha and her husband had the architectural plans done, and were thrilled that the "in-between" owners had executed them almost to the letter, only replacing the original wood flooring with a Swedish-engineered wood upstairs and cool terracotta tiles downstairs.
There's copper spouting and sheltered terraces of crazy paving for each of the lower bedrooms.
For many years Trisha ran the property, aptly named Heartsong, as a retreat for tired souls, before converting it to an upmarket bed and breakfast in 2007.
She loves cooking and entertaining, loves hosting people who need breathing space from the city, but promised herself that the minute it started to feel like work — and not joy — it was time to move on.
That moment has come, she says, so she is selling to move to an off-the-grid project up north and devote more time to the charities she works with in Bali and Vietnam.
Key to people's healing was the boat shed on the water's edge at Rocky Bay. The site is leased from the council, as it sits on Crown land.
The building has been completely restored with kauri floorboards and macrocarpa inside. With the doors flung open to the sea, it has been used for yoga retreats, intimate weddings and birthday parties for 20 people. It has no power, but festoons of lanterns, candles and string lights add to the magic.
Trisha says many guests are drawn down there; she's been told of marriage proposals or of people shedding worries as they gaze at the stars.
Whakanewha Regional Park is right next door, and there are loads of tracks and forest walks, unspoilt stretches of nikau palms and pohutukawa with birdlife that visitors liken to Tiritiri Matangi.
Rocky Bay Hall is the centre of community life, with bring-and-buy sales, Friday-night drinks and a cafe at the weekends — old-school, not city-style.
The kitchen shares the view of the water with the dining room, perfect for Trisha, who loves to cook for guests or her wellbeing groups. In the main bedroom upstairs, the bath has bifold windows so bathers don't miss out on the view either.
The open fireplace is cosy in winter, while in summer guests spill into the garden Trisha loves to tend.
"I didn't think I'd sell this again, but it is a transition and time for me to find other ways to help people." says Trisha.
"This still has the feeling of old Waiheke, it's a quiet destination, not the four-wheel drives of the holiday people. This has been a retreat for so many people, this is paradise."