Lesley Cranston was expecting her third child when she moved into her enormous character bungalow on a quiet Mt Albert St near Owairaka Domain.
"My boys were almost teenagers by then and it was the most wonderful thing for them. They played in the reserve all the time and one year we [played] Laser Strike there, which was loads of fun," says Lesley.
Eventually, the house became the scene of a Brady Bunch-style arrangement after Lesley met her partner, Simon Harkness, who had two children of his own.
"We were lucky that our kids all got on together, and we had plenty of room here for everyone," she says.
The home's top floor is a beautifully preserved and maintained 1930s home with polished floorboards throughout. It still has the original leadlight windows and wood panelling in a layout that has been opened out for modern living.
The wide hallway is welcoming and the master bedroom is beside the front door, with an office opposite. The main bathroom has been renovated and is elegant, and there's another sunny bedroom that opens to the deck.
The lounge lies beyond the bedrooms and segues to the dining area that has views to the private back yard with its well-established trees. A more casual family room is adjacent, with a modern kitchen that retains an appealing vintage flavour.
Decking all the way along this level of the house is ideal for relaxing, lounging or cooking up a storm on the barbecue.
So far so good — but downstairs comes a revelation.
Lesley explains that the former owners excavated under the house and the result is an enormous rumpus- cum-games room with oodles of space for the teenagers and their friends. It's surrounded by a patio with spa pool, and opens out to the back lawn.
"We've had so many kids coming and going here. It's been a huge drawcard," says Lesley.
"I like the fact that they were here at home, yet we couldn't hear them."
In addition to the living space, which at times has had a pool table and table tennis table, there are three further bedrooms and a room that'sused as a music room.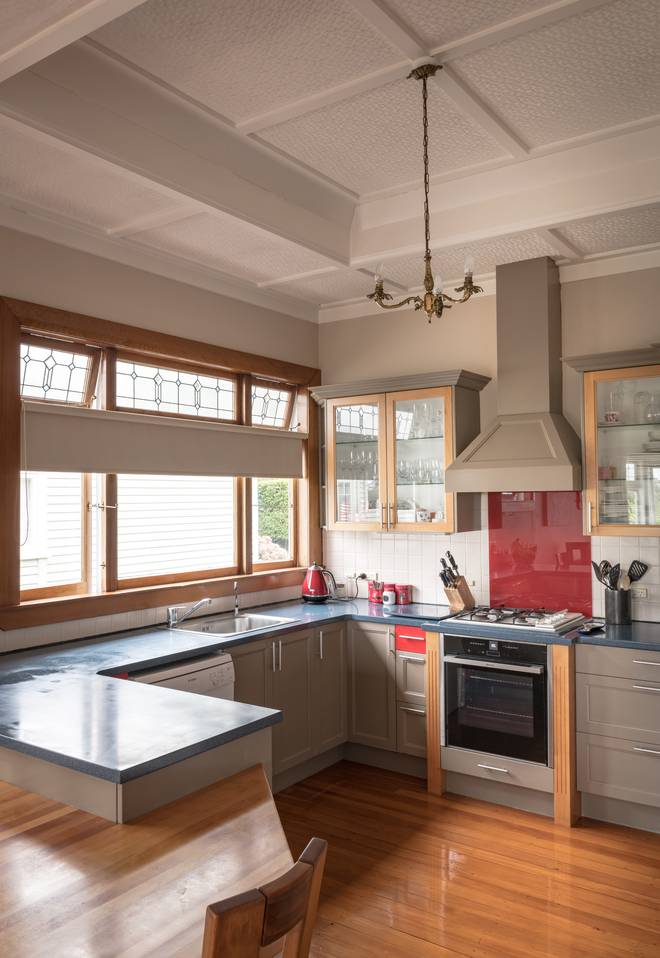 "The things you could do down here are limitless," says Lesley, who loves the big laundry, which also houses a bathroom.
She suggests that, subject to council approval, it might be possible to add a kitchenette, in which case the entire floor would be more or less self-contained.
"It would be ideal for all kinds of extended family scenarios," she says.
With Mt Albert's popularity increasing fast, the suburb is constantly being improved.
Lesley says the local shops are getting a revamp and the market on Friday night and Saturday morning is a magnet for families.
Now that she and Simon have only one child left at home, they've reconsidered their priorities.
"We wanted a change so we bought a bach on Waiheke Island and loved it so much that we decided to build there.
"We're also trying our hand at apartment living and we've bought one that's big enough for any grown-up children who might need a room for a while.
She says that 13 Ferner Ave has seen more than its share of happy parties and family gatherings and that the neighbours are wonderful.
"It's a great street and everybody looks out for each other."