As parents of young children, Karen and Graeme Beggs wanted to build this family home in durable, quality materials.
At times, those extra costs caused them to wonder if they had overstretched their budget and might be forced into selling once the architect-designed 310sq m home was completed.
But they gritted their teeth and finished the project in 1997 with Graeme doing a lot of the work — "It had always been my dream to build a home," he says — and moving in in July 1998.
Twenty years on, those children, two daughters, one son, are starting to fly away from this Kohimarama family nest; and Karen and Graeme have decided to downsize.
As they think back over those two decades, they reminisce how they chanced upon this site while out for a walk. They had been living in Mission Bay, with a house on one section and a section beside where they had planned to build.
When they bought 73 Melanesia Rd, it had an older home on it. At first, they toyed with renovating, having made over other homes, but they decided this desirable level site next to Madills Farm deserved something more.
"Being flat, it was a very easy section to build on, no retaining walls needed," says Graeme.
The old house was demolished, and they got their heads together with their architect, Allan Shanahan. They'd already seen and liked his designs, confident that he, as a fellow parent, would deliver the family home they had dreamed of.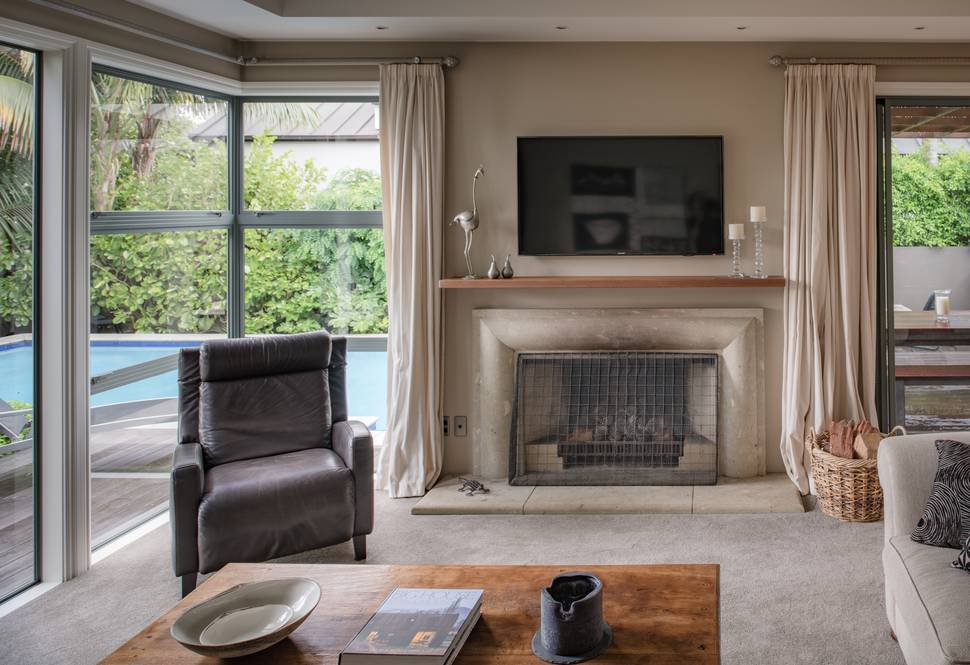 They pitched their wish list.
"We wanted lots of wood, two living spaces, a large kitchen, five bedrooms — four up, one down," says Karen. "It is generous but not huge. It absorbs a lot of people. Friends would come here with their children, and we have had 21sts and birthday parties all through the children's lives."
"And we loved his vaulted ceilings, and the different lines rather than square boxes," says Graeme.
One feature they weren't so keen on was hallways, but they came to realise that having the wide hallway would ground the design, acting as a backbone for the home's dimensions and flow.
Appreciation of the design starts from the street front where the stone walls and palms add a distinctive Auckland look. The pedestrian gateway, the gate opening to the driveway and the cedar doors of the double garage define these areas and give strength and structure to the exterior.
The pillar, weatherboards and double front doors are all fashioned from cedar.
"We wanted a stand-out entrance to our house," says Karen. "That has been achieved by the cricket bat panels on the front door."
Spoutings and downpipes are copper. Interior walls are painted quarter Spanish white, working well with the rich tones of the cedar and kwila through the home.
The doors open to the hallway, with the internal entrance from the garage, the laundry and bathroom on the left and the guest bathroom at the end of the hallway.
Off to the right are two living areas — one more formal and leading out to the 10m-long heated swimming pool framed by kentia, bangalow and queen palms; and the other, the more relaxed living, dining and kitchen (with Ilve oven and hobs, Asko dishwasher and granite benchtops) leading out to the front deck area by the stone and brushwood fences.
Double french doors opening to the living spaces also have handsome cedar frames with glass panels, while the kitchen floor and informal dining flooring is hardwearing kwila laid in an intricate pattern. Kwila is repeated in the decking on this level and on the upstairs deck off the master bedroom.
The stairway, above which two bug-screened Velux skylights can be opened for fresh air, leads to the upper level and its four bedrooms — including the master with its en suite — and another bathroom. In some of the bedrooms, fetching triangular windows reach up to the vaulted ceilings.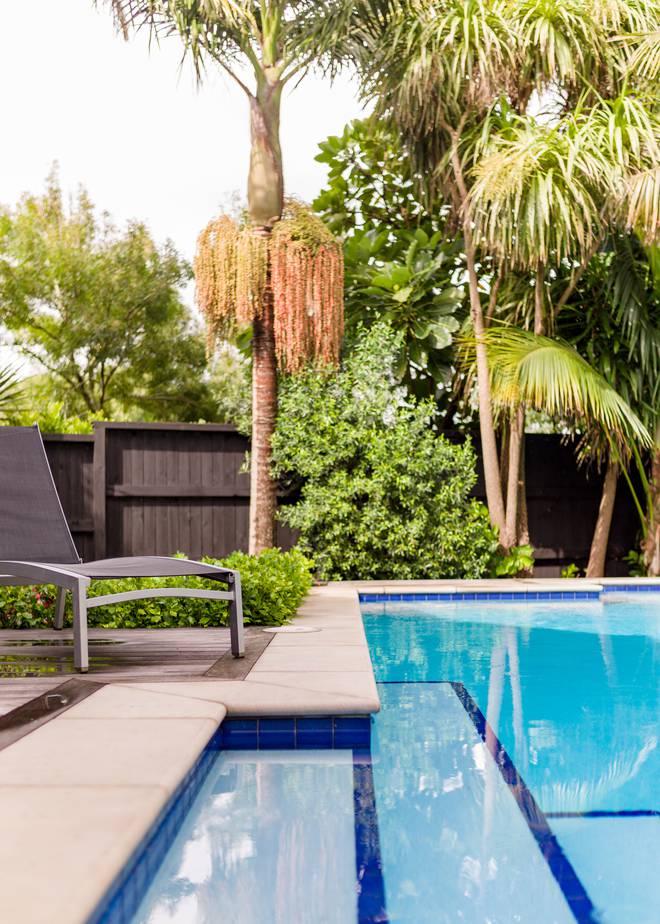 There is only one house directly beside them. On the other sides are a creek and Madills Farm.
"And the house next to us was also designed by Allan," says Karen.
The couple say Kohimarama has been a fantastic base for their family. The children were able to nip through the gate in their fence to play soccer at the park next door, and they sailed their Optimists from Kohimarama's beach.
Bess, the labrador, enjoys her morning walks with Graeme, and on the way home he collects a coffee from locals' favourite, The Store.
Karen and Graeme hope the next owners will enjoy a familiar lifestyle to the one that has seen their family thrive.
"I would like it to go to a young family and they could also live here for 20 years," says Graeme.
"It deserves a family," says Karen.
They are moving to a smaller home just along the road.
"It's a lock-and-leave as we are in a position now to travel more and we want a smaller home," says Graeme.