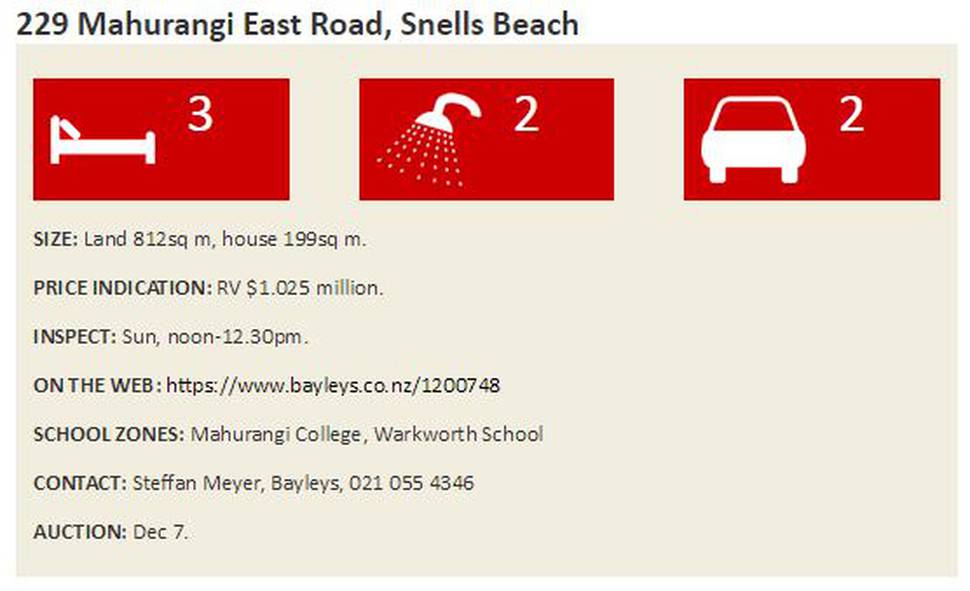 From a caravan on a permanent site to a stylish, contemporary home overlooking the sea is quite a jump, but Dave and Marie Tyler never faltered in their quest to "build the dream".
They'd been holidaying in the idyllic Martins Bay at Mahurangi for 20 years and one day just happened to come across a section.
"It was sitting there in the midst of a lot of 70s houses, and it had never been built on," Dave says. "We wanted to build a permanent home, not a holiday place, and this was just right."
Building the dream, which was how Dave and Marie referred to the process from start to finish, began with approaches to several design and build companies. One stood out.
"The representative from The House Company came and advised us to immediately put up a scaffolding on the site so we could check out the views.
"When we came up the following weekend the scaffolding was up, I climbed up for a look, there was the view, and it all started from there."
Their brief to the draughtsman was for a big, open plan living space and master suite upstairs, with guest bedrooms and bathroom downstairs. A big kitchen with a butler's pantry was also on the list.
"Marie had a scrapbook of all the things she would like," Dave says. "I came home one day and asked her what she was doing and she said: 'I'm designing what I'm going to put in the butler's pantry'.
"I told her there was no way that everything she wanted was going to fit, so we got in touch with the company to rethink it and ended up with a scullery that has everything in it, so there's nothing out front and no mess."
Soon after the couple moved in they had a dinner party and when Dave looked around the kitchen at 11pm, it was as if someone had already done the cleaning up.
They used a colour consultant to help with the interior palette and settled on a recessive colour scheme of off whites and soft greys, with the sea views always taking centre stage.
"It's very simple and uncluttered — you just walk up the stairs and there's the view."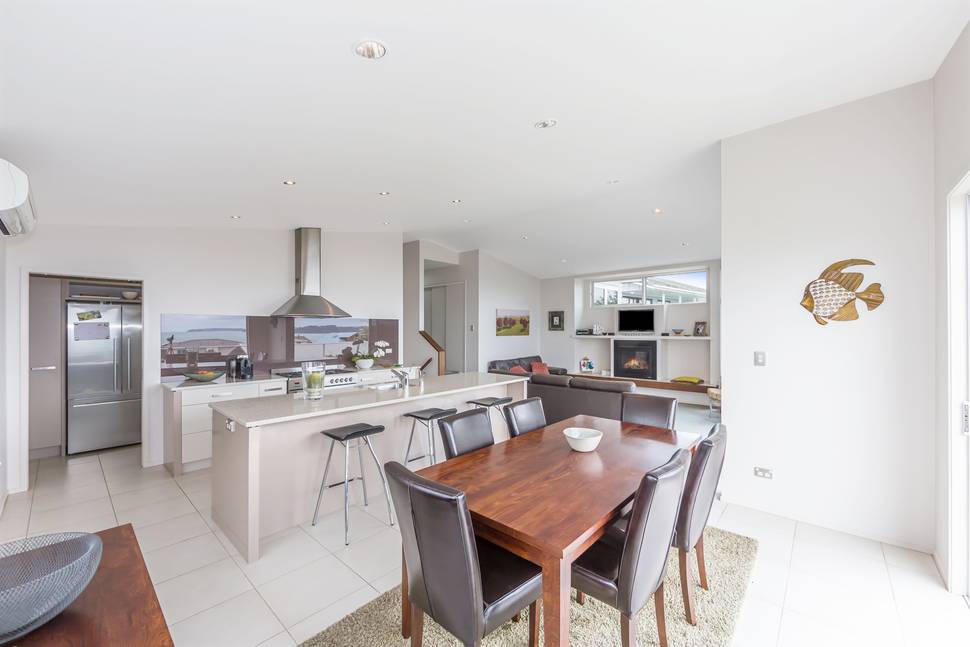 Floor-to-ceiling windows in virtually every room frame the 180 degree views and maximise natural light, and stacker sliders open from the living areas and the bedrooms to kwila decking on both levels.
A gas fireplace in the living area, heatpumps and underfloor heating in the bathrooms and scullery provide winter warmth.
The master suite, with walk-in wardrobe and en suite, has its own deck that wraps around and adjoins the main deck area with sea views over Kawau Island and Snells Beach. The large bedrooms on the ground floor also open up to decks.
The house has served their needs perfectly and after more than a decade of happy seaside living, they say they can't fault it.
"People often say they wish they'd done this or had that, but we've never thought that."
Dave even remembered to include in the plans an outdoor fish-cleaning bench and an outdoor shower beside it.
"You come in from fishing, clean up the fish and clean yourself. My son was my fishing buddy and we caught plenty of fish."
The couple's son now lives in Australia and that's one reason behind the pending move.
"We have three lovely grandsons there who are 6, 4 and 2. We try to see them as often as we can but we'd like to go more often.
"So now we need a lock-up-and-leave situation where we don't have to worry about house and garden, and can just pop across whenever we like."