Pipi Cafe is celebrated in the food press for having a tasty menu, amazing ambience and striking decor — but its financials are equally impressive, says the broker managing the sale of the business within leased premises.
LINK Business Broker Nick Giles is selling the popular Havelock North establishment following the decision by the owners — Alex Tylee and Chris Morris — to move on following 12 years of successful operation.
Giles says that, while customers and press love Pipi Cafe for what it offers, he also sees a first-rate business — very likely ready to take a magic formula to much greater heights.
"The financials will more than impress anyone who cares to analyse them. On one hand annual sales from the restaurant and its associated food truck reach in excess of $1.7 million per annum, while on the other, this business has an exemplary low cost structure," says Giles.
"It is a phenomenal business, with sales last financial year totalling $1,510,748 excluding GST. That averages out to over $33,000 per week including GST — not bad at all off just six-nights of trading.
"It is a simple concept to manage, which adds hugely to the overall appeal and brand value of Pipi Cafe. The truck has street trading licences with three councils: Napier Region, Hastings Region and Wellington."
However, Giles concedes a successful food business is about far more than just money.
The restaurant at 16 Joll St, Havelock North, has a menu which is probably about half pizza, with the other half being rustic meals Alexandra has refined since her time cooking for shearers on her parents' farm, then subsequently travelling through France and Italy, he says.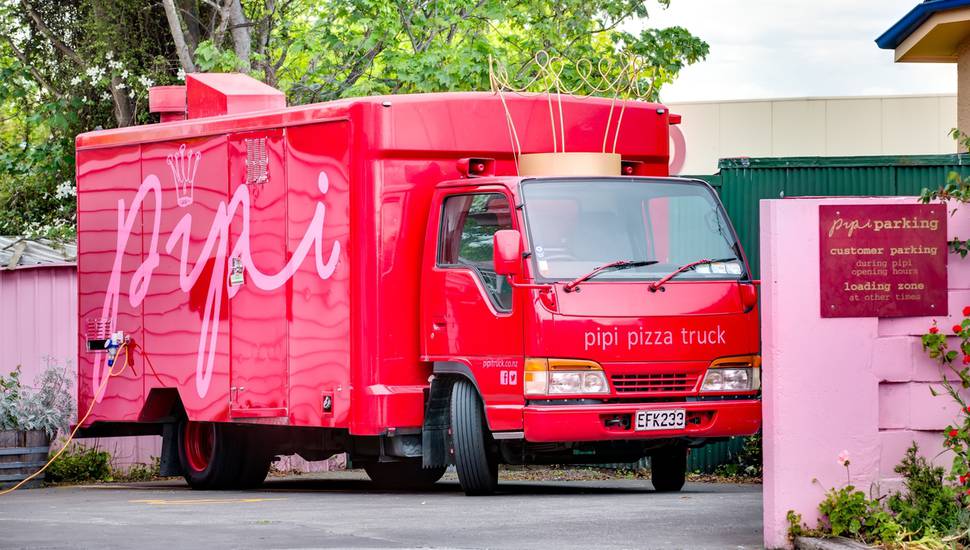 "As well as the pizzas there are menu items like flounder baked in the pizza oven, fillet steak with cafe de Paris butter, duck confit and Pipi's famous stew pie.
"Pipi prides itself on welcoming all comers. One thing you notice is the wide mix — families, corporate groups, young professionals, 16-year-old birthday parties. I'm told marriage proposals can take place on any given Friday night." And that leads on to the unique Pipi Cafe culture, says Giles.
"Pipi is honest and unpretentious in its dining philosophy. If you have a beer from the fridge just say so when you come to pay. And sit where you like — it might even be at somebody else's table."
Giles says the restaurant seats diners on stools beside others, and uses an old door for a table.
"But you still get to sit under a 100-year-old French chandelier. There are up to 200 pizzas served on a busy Friday night, plus another 150 made out on the pizza truck somewhere else across the Hawkes Bay.
"And as for that famous atmosphere, it's bright pink and red and noisy, (unless you catch a quiet night), with service which aims to instil the feeling that you own the place," says Giles.
He adds that the business has a loyal staff of full and part times; three carparks of its own plus plenty of street parking and a full liquor licence.
"Though Alex and Chris are determined to move on and have a rest, they tell me that they are more than happy to stay on for a period — if required — in order to train the new owners and to ensure a seamless transition. They absolutely want to ensure that Pipi's continues to thrive for many years to come."