After a few years living in the Saudi Arabian desert, finding this large lush Epsom property felt like discovering an oasis.
Petra Foote says: "We came across this place 37 years ago and it was magic - the land, the trees, the garden, the beautiful street in a friendly neighbourhood."
Work and their adventurous natures had taken Petra and civil engineer husband John overseas to live in South Africa, London, Belgium, South Carolina and Saudi Arabia.
Part-way through a three-and-a-half-year stint living in a compound in the desert they started planning to return to Auckland with their two young sons.
Coming back on holiday they bought this double-grammar-zoned property, which enabled their boys to later attend Auckland Grammar.
Petra says: "It seemed so special after all that sand; a lovely old character bungalow and a lovely place to raise our family."
They rented number 17 out while they finished their Saudi commitments, in the meantime having an architect friend draw up plans to properly restore and extend it.
Excavation underneath created a second level and a heated in-ground pool was designed for the back garden.
Petra says: "Having all that extra space and extra bedrooms made it easy for us to have friends from overseas or family come to stay. And when the boys were teenagers, mothers often rang on weekends to ask 'Can you check please, I think my son stayed over at yours last night?'"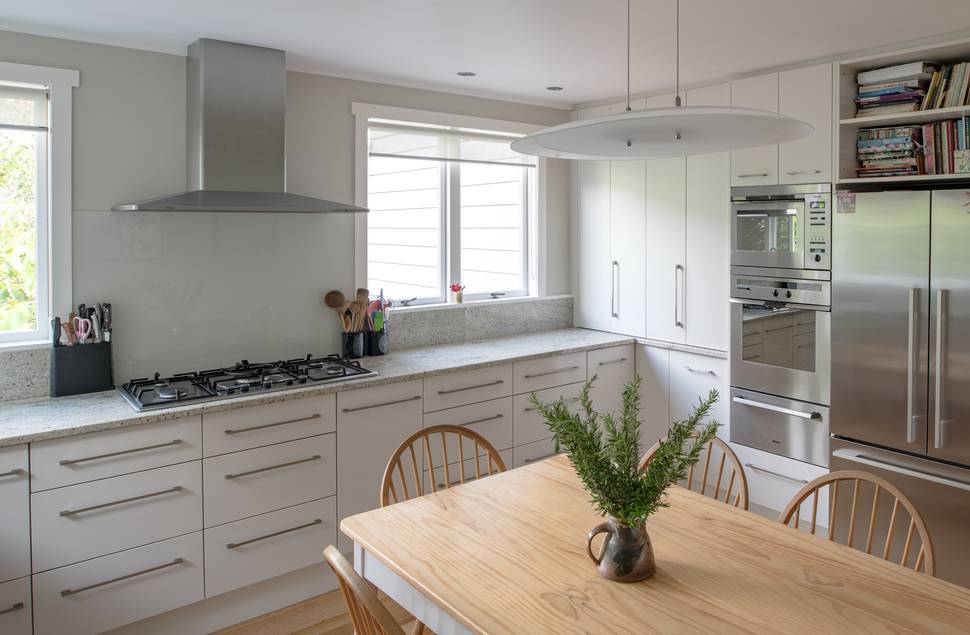 Restoration included banishing non-original aluminum windows, replacing them with timber joinery in keeping with the circa 1923 home's era. Much of the bungalow was fairly original so scrim was replaced with gib and insulation.
A carport and separate garage were superseded by an internal-access double garage with a deck on top, bolstered by off-street parking.
Years ago the road's residents banded together to fund undergrounding power lines so none interfere with the mature Pururi trees lining the verges. A brick fence and secure automated gate protect the property.
Keen gardener Petra took advice from a landscaper friend at Strass Landscape Developers to create lovely gardens around the framework of mature trees. These include a prodigious avocado.
The entry hall with polished wooden floors makes an excellent picture gallery for old family photos.
Like most of the original built-in seats in the home there's storage under those in the lounge with wood-burning fireplace.
This opens out to the deck above the garage, a tranquil place to sit and enjoy the birdlife and view over the garden.
As well as a formal dining room there's a sundrenched sunroom which opens up with bifolding windows and a snug with another fireplace. The home has a ducted heat pump system and masses of storage.
The modern granite-bench kitchen-casual dining features extras such as instant hot water. An upstairs bathroom and separate toilet accompany two bedrooms, one with a dressing room.
Downstairs there are three more bedrooms plus two bathrooms, a laundry and a toilet handily located for anyone using the big, solar-heated in-ground pool.
Petra says: "I can't stand dark bedrooms and all these were designed to look into the garden."
A rumpus room much used by the boys as they were growing up opens to an al fresco entertaining area with a barbecue on gas plus an outdoor fireplace with gas starter.
There's workshop space in the internal-access double garage.
This property is set up well to foster family life and now the Foote boys have grown up it is larger than needed.