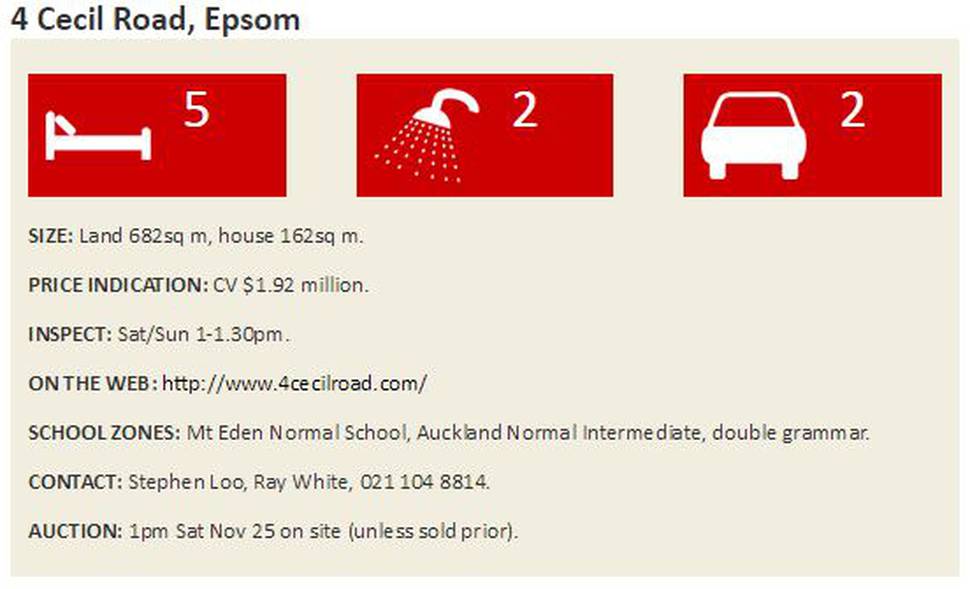 The owners of Coopers Creek Winery didn't have to think twice about buying this 1908 return veranda villa 41 years ago, even though it was in original condition.

Andrew and Cynthia Hendry were drawn to Epsom for its mature trees, reminiscent of those they had loved when living in London.
Cynthia says: "A real estate agent brought us here and I looked at the return veranda and the original features and instantly just knew it was our house.
"The great thing about it having been so original is that nothing had been removed or tampered with - it still had beautiful ceilings, fireplaces and sash windows."
The couple understand the home they bought in 1976 had been owned by three sisters, the last of whom remained until elderly.
Andrew says: "I think the polite way to describe it was 'a handyman's dream'. There were two power points in the entire house and only an outdoor toilet with the original brown porcelain lavatory."
The couple live here now with spoodle Minkie but raised four daughters here plus two young grandchildren for several years.
Anecdotes include one toddler daughter running up to a veranda balustrade only to continue through because it was rotten. What
they had thought was a cord in the original sunroom turned out to be a huge hank of matted spiderwebs.
They renovated with gusto, including repiling, replumbing and reroofing. They closed in and extended the sunroom into an elegant conservatory-style room and extended the home's rear, replacing an old scullery with a sunny kitchen-family room.
Andrew slavishly burnt off exterior lead paint before repainting and sourced about 12,000 old bricks from demolition sites to lay as paving and for a brick wall.
Nowadays, the kauri villa epitomises character charm. It has a carport fronting a separate garage to one side.
Cynthia has a special spot sitting outside on the return of the covered veranda, enjoying the greenery, peacefulness and privacy.
A leadlight front door announces the home, which has exposed kauri and matai floors, gas heating, a ventilation system and speakers throughout key areas. A high stud and pressed tin or battened ceilings accent the interior.
Pedestal basins or original character fireplaces feature in some of the four bedrooms off the hallway. There are two bathrooms, including one with a checkerboard-style red-and-orange window and a restored clawfoot bath rescued from a farmer's paddock.
Living spaces are towards the rear of the home, benefiting from north-facing sun.
The lounge has a pressed tin ceiling and a character fireplace in a fine surround that showcases antique pokerwork. The extended, conservatory-style tiled sunroom with bifolds offers a lovely outlook over their grounds.
The Hendrys added the fourth fireplace to the dining room, which has an exposed kauri battened ceiling.
This is a household of keen cooks; Cynthia used to run a catering business from here, which helped raise core money for their winery.
The smart new European kitchen in the rear kitchen-family room extension is the third they've put into the home, spaciously resplendent with engineered stone benches, wine fridge and wide oven.
The couple particularly appreciate the conservatory's relaxing ambience, opening to the garden and the fact there's enough space for them to work side-by-side in the kitchen adjoining the relaxed, sunny family room.
Some of the produce prepared in the kitchen comes from their vegetable garden near a hen house that mimics the home's character.
The grounds also include other gardens, a pergola and a goldfish pond near a classical bricked outdoor entertaining area where Andrew barbecues in the outdoor fireplace.
The Hendrys are selling their property to move to their Waiheke property.