Liz Bradford says that ever since she and husband Grant bought their first house (at the ages of 20 and 21), she has longed for a shiny new modern house. Somehow, that's never panned out, and instead they find a "higgledy-piggledy", old place that needs their work.
"We fall in love with a house, that's the thing," says Liz. "The one time we bought a brand new place, Grant had to immediately build a deck, we couldn't leave it alone.
"This old house needed our love, we do see the beauty in old houses and then want to uncover that. We work away for a couple of years and then something new comes along, we're always doing that."
The square-fronted villa the couple bought six years ago had morphed over the years from a simple Victorian worker's cottage (its neighbour that shares the cross-lease was one of a matching pair) to something more elaborate.
Earlier owners had added an upper-floor master bedroom suite, bricked the front courtyard and dug out a fairly basic basement room.
A series of add-ons on the sunny back of the house had new sky-lit ceilings and multi-paned colonial french doors and windows. There was a new roof, the house had central heating, but luckily there was still plenty for Liz and Grant to get stuck into.
Retirement for Liz only a year after buying the house gave her plenty of time to sort out the redecorating, as well as spending plenty of time with her grandchildren, now aged 10 and 12.
But another impetuous find - yes, another tired old house that needs their love - this time in Rotorua, near other young family, means the couple are selling just after all their transforming work is finished - again.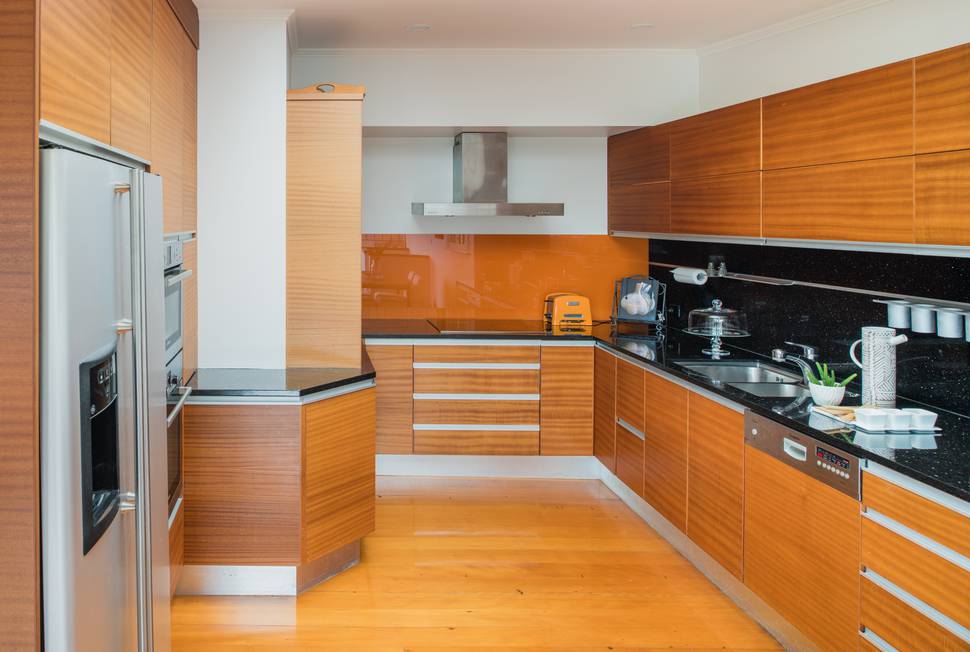 Liz and Grant are more considered about their house buys than sentiment suggests, always focusing on great views and locations, the bits that can't be changed.
In this case, the house is at the lower end of Logan Tce, around the St Stephens Ave side of Parnell, so has unobstructed views across Hobson Bay. From the top-floor master bathroom, Liz can brush her teeth and admire the line-up of boat sheds at Ngapipi Rd.
The walkway around Hobson Bay to Shore Rd is a couple of houses away, and tui and wood pigeons are frequent visitors.
Liz says the street is a friendly, relaxed corner of the suburb. She can walk into the city for lunch with friends and Grant can get to work in Mt Wellington in 15 minutes.
Much of the house required only cosmetic changes, fresh white paint, polished floors and new grey carpet. Liz finally got a working gas fire in the deco-style fireplace (which, with the central heating, is more for ambience).
In typical cottage style, there are a pair of double bedrooms in front with matching chandeliers. The couple left the tiled family bathroom, with tub and shower, as it was, but the master en suite upstairs was refurbished.
There, a juggling of space turned a single big room into a shower room (the vanity with those views) and walk-in closet, plus there is storage tucked in various roof spaces.
French doors open from the bedroom to a glass-balustraded Juliet balcony, roomy enough to sit with a morning coffee.
The fourth bedroom is in its own suite on the transformed lower ground floor and has its own entrance, a sitting room opening to the garden and double bedroom and bathroom.
An out of town son-in-law used it for a few years while he was studying in Auckland, but it could easily suit a nanny, granny or Airbnb.
The main floor living spaces have worked well for Liz and Grant as they have proved flexible for crowds or singles.
When it is just the two of them, they tend to use the small dining table off the kitchen, but when there are 12 of the family, they can move the bigger table around to fit the crowds.
The kitchen, which appeared in magazines when it was first installed by the previous owner,has granite, mid-century-look teak cupboards and a collection of storage drawers, lazy Susans and more.
There's a pair of Bosch ovens (one is a combo microwave), double fridge, dishwasher and glass hob.
The more formal living room has room for the big dining table, with doors opening to a deck that has stairs down to the garden and lawn.
"We reckon this next house is our last do-up, truly," says Liz. "We're excited about having more time with the Rotorua grandkids and lots of people coming and going. This house would be great for a couple, or a family, it's that flexible."