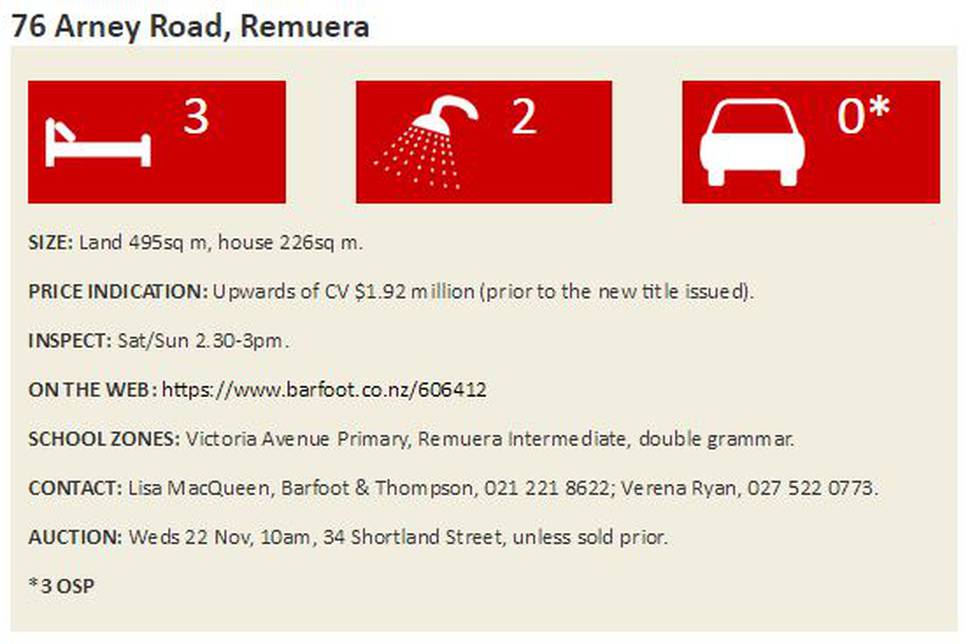 In a quiet corner of Remuera, high on the ridge and handily positioned for local amenities, this century-old classic Californian bungalow has been home to retired general practitioner Dean Campbell for 35 years - and to Chris McDonald, too, for seven years.
"It's certainly changed a bit over that time," says Dean.
From the road, the house, with its pretty, well-tended garden, looks relatively modest in terms of size but once inside you'll discover a spacious floorplan, over two levels, starting with a wide hallway off which is the large master suite with walk-in wardrobe.
There is a classically elegant, newly installed bathroom next door and the spare bedroom at the rear has access to the back deck, with views across the valley.
The separate formal lounge and main living space on the opposite side of this level featuring a spacious open-plan kitchen, dining and family room, open to the same deck, which is effectively another living area again.
"In summer we tend to retreat out there because it's usually warm and the views are so good," says Chris.
She likes the fact that they can see across to the museum, with the Sky Tower and the CBD beyond, while in the other direction Auckland Grammar School's Spanish mission-style buildings can be seen on the horizon.
The house has recently been painted and re-carpeted, using quality materials in a stylish palette of neutrals and earthy colours and this scheme is carried through to the downstairs area that was always handy when the couple's blended family members were still around.
The third bedroom opens onto the patio with its raised flowerbeds outside and a study - currently presented as a fourth bedroom, that could be either, or even both.
"There were times when practically the whole cricket team would sleep down here and we'd never know just how many until the morning," says Chris.
"It has its own entrance, so they could come and go without us hearing them and there's a bathroom down here so that was handy, too."
She points out that the generous, separate laundry could be combined with a kitchenette, subject to approval, and this would make the space even better equipped for an extended family set-up, or perhaps Airbnb.
Both Dean and Chris will be sorry to say goodbye to their neighbours.
"We're a tight little group with a successful community watch and we generally all look out for each other," says Chris.
"There's one lovely man who organises carol singing every Christmas and even prints up sheets of lyrics for us all to walk around with.
"Actually, we can usually hear Carols in the Park from the Domain, too, depending on which way the wind is blowing. And, of course, we see the fireworks."
The couple are also going to miss Shore Road Cafe, which is a particular favourite of theirs, and the easy access to Remuera, Parnell and Newmarket. Both are keen walkers, who enjoy watching birdlife and the neighbourhood is well set up for this with newly developed tracks.
Birds will feature, too, in the next stage of their lives, as they spend more time at their Coromandel property, where Dean is a volunteer dotterel minder.
With children all over the world, they travel frequently and are looking for a townhouse in Auckland that they can lock and leave.
Chris says: "With a new school year on the horizon, we think this is a good time for us to step aside for a young family."