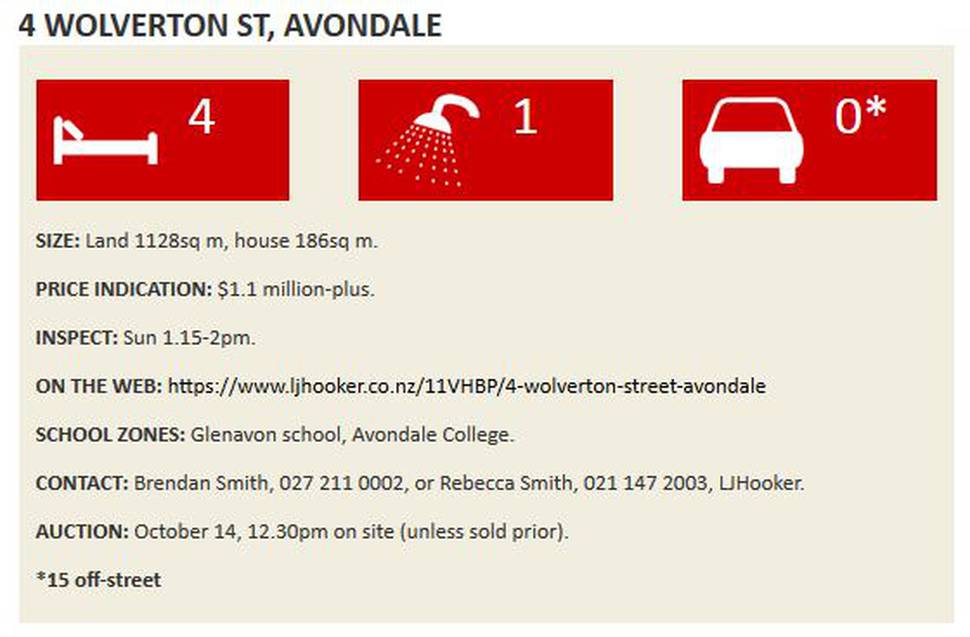 Being away on a peace keeping mission in Sudan meant John Scutts didn't lay eyes on the big Avondale villa his wife Seli had bought for two years.
But when he did get to check out the circa-1900s villa standing proudly on a 1128sq m cache of land, he resoundingly approved.
John says: "I was stunned to see how nice it was. Apparently it was the original farmhouse for the area so it's been around a long time."
The family had previously owned in Mt Eden but Fijian-born Seli hankered for more land.
She says: "I've always loved villas and I loved the features in this house as soon as I saw it. With a character home you don't get fed up because it's so interesting."
Seli could see the potential in a sizeable home on spacious grounds with plentiful off-street parking that has helped the couple base their fibre technology company here and assisted Seli in operating a painting business with her brothers.
The couple added the big front rock wall shielding their grounds.
Detailed fretwork decorates the verandas, which wrap around the front and open off the rear.
John says: "I like coming in the leadlight front door to a big wide beautiful hallway entrance which feels like a grand welcome."
Kauri floors and a high stud grace the interior, which the couple say is warm and dry.
They share the home with two of their three grown children plus John's 89-year-old mother, Maisie Scutts.
The open-plan kitchen-living-dining room features granite benches, a skylight, a bay window seat and doors out to the front veranda.
John says: "It's a good sized space for entertaining. We can have 10 or 12 people over for a meal with the doors to the veranda opened up in summer."
As well as two heat-pumps the home has electric central heating which the couple have seldom felt the need to use because of their sunny orientation and insulation.
The first three bedrooms along the hallway include one with a mezzanine level you can imagine a teenager enjoying having their bed up on.
There's also a family bathroom with a clawfoot bath, and a separate powder room.
The floor-plan steps down a couple of steps to a room used as an office. It's near the home's original garage, which they converted into another office with a laundry off one end and a fourth bedroom off the other.
There's storage under-house and in the loft.
John likes the shade of the rear veranda, looking out over the courtyard backed by lawn and garden.
The family is selling to fund an organic virgin coconut operation and a move to Hamilton, where they have family.