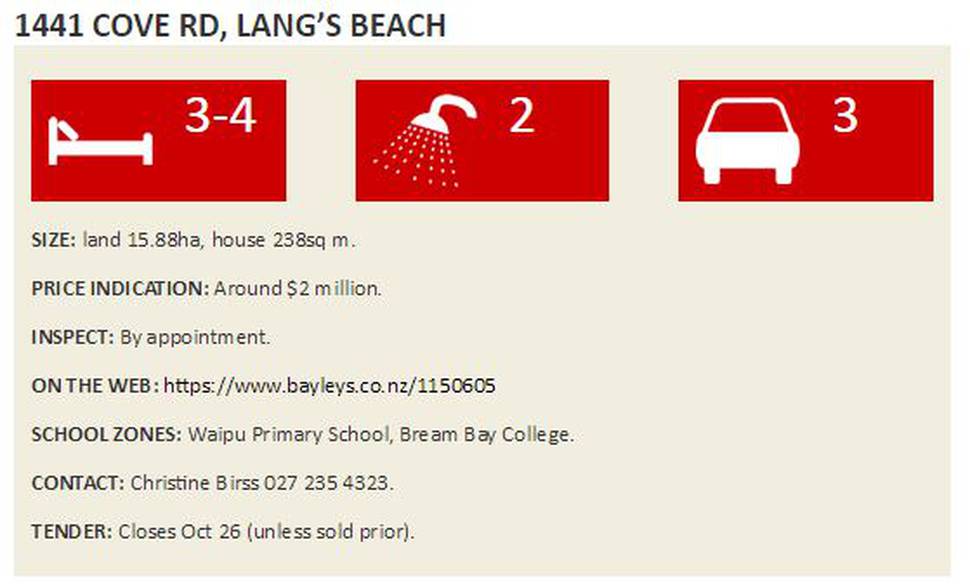 Natalie and Jac Spyksma were no strangers to McKenzie Cove when they bought over 15ha of land there 19 years ago - to fulfill their dream of building an eco-home with spectacular sea and rural views.
The Spyksmas had lived in Mangawhai since 1980 where they established, owned and ran the Naja Garden Centre as well as a wholesale nursery, landscaping business and cafe until 2008.
"When we bought at McKenzie Cove we still had our businesses in Mangawhai, so our parameters were to be no more than 10 minutes' drive away from work, on a sealed road and to be able to walk to the beach," says Natalie.
The couple worked with architect and landscape designer Kerry Francis to design a solar passive house which would blend with its surroundings and have views from each room - either to the sea or to the sprawling Brynderwyn Hills.
Natalie and Jac had collaborated on previous landscaping projects with Kerry, who now lectures at Unitec, so they knew the high calibre of his work.
"He did such an excellent job of thinking through every feature and detail of our house."
A key feature of the 238sq m north-facing home is a central, earth brick internal wall that anchors two pavilions.
Heat from winter sun that shines through an internal glass passageway is absorbed by the wall, which then radiates it into the house.
Two large pergolas in front of the house are high enough for the sun to track under them into the house in winter and to provide valuable shade in summer.
The house, which has high studs and extensive glazing, also has high "ventilation windows" that can be electronically opened and closed so the house stays cool with good air flow in summer.
Natalie says the "chunky" style of the pergolas has been carried through into the house with features including an extra thick granite bench top in the kitchen and negative detailing on the door and window frames.
"Everything has been kept in perspective. The house flows really well and is as environmentally sympathetic as possible."
Since 2008 the Spyksmas have hosted guests who do their Catered Coast Walks between Mangawhai Heads and old Waipu in summer and stay for two or three nights at their property, which includes about 15 hectares of regenerating bush.
Their catered meals include fresh fruit and vegetables from their large garden, eggs from their chooks and local farmers' produce.
When guests, or their now adult children Hannah, 29, and Arie, 27, are not staying, the house has been designed so that one of the two pavilions can be closed off.
After you come up the driveway, the glass and cedar front door opens to a passageway with a pavilion at each end. Behind the earth brick wall that divides the pavilions are the toilet, laundry and main bathroom.
To the right off the passageway are the main bathroom and ensuite. Beyond this, the north east-facing pavilion includes the kitchen, dining and family room as well as a media room and office.
To the west, the second pavilion or guest wing includes two bedrooms off an oversized lounge, which can be divided in half by Japanese-style, sliding screen to create a smaller lounge and extra bedroom when it is needed.
"The house was designed to meet our changing needs as our children grew. We relish the fact that they had so much freedom to explore and grow being happy, adventurous and inquisitive."
McKenzie Cove, where dolphins often come to swim and fish, is only a few minutes away from beautiful, neighbouring Lang's Beach to the north and a quick drive to Mangawhai's shops, doctor, schools and various services to the south.
Natalie and Jac have no specific plans for the future. They just feel it is time for a new adventure.
"We just feel the right thing will happen for us."