By Graham Hepburn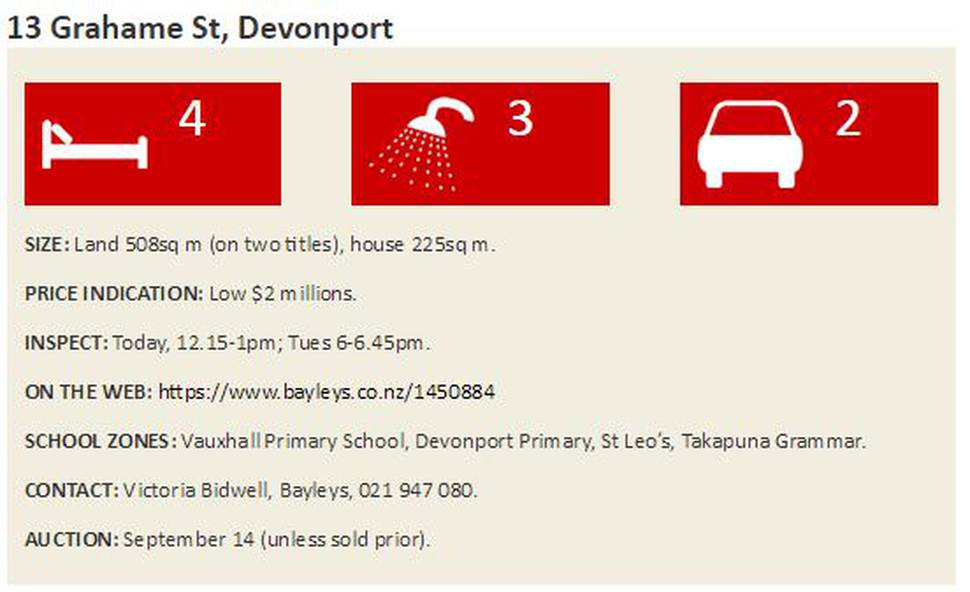 Having had enough of London, Caroline Laband and husband Robin wanted to settle somewhere overseas with a better lifestyle where they could still pursue their careers.
"We were looking for somewhere that we could requalify as lawyers, and we came to New Zealand for a holiday and that was it," says Caroline.
They moved to Auckland in 2008 and rented in Parnell before deciding that Devonport, with its village feel, was the suburb for them.
While they left Britain behind, the home they bought has something of an English feel, overlooking the croquet club, which is evocative of a village green.
Their villa had been comprehensively renovated and extended by previous owners, leaving the couple little to do but establish themselves and start a family.
They have done some painting inside, and remodelled the garden to suit them and their two children, Alexander, 7, and Zara, 4.
At the front of the house, a tree was removed, opening up the view over the croquet club, golf course and surrounding houses, and allowing more sun into the house and its north-facing, elevated veranda.
Here, the couple have outdoor furniture set up in what is a sunny spot right through into the evening.
"When my in-laws come to stay, they just sit right there all the time," laughs Caroline.
Bifolds from the kitchen/dining space open out to the wide veranda, under which there is storage alongside a garage.
While the kitchen has modern appliances and stone benchtops, this space is notable for its timber floors, unpainted wooden joinery and the wood battens contrasting with the ceiling's white-painted boards.
This theme - along with stained glass and leadlight windows - is repeated throughout the home, such as the formal lounge across the hallway.
Here, a large picture window frames the view of the croquet club and golf course.
Even the downstairs addition has beautiful wooden joinery and floors in keeping with the original home upstairs.
Further into the house are three more bedrooms, with the children still sharing a room that has an en suite.
The main bathroom has been set up so it can also be an en suite to the master bedroom.
Off the master bedroom is a private balcony, of which Caroline says, "I'd always imagined sitting out here with a coffee and the newspaper but with two children that has never happened."
Downstairs there is a guest bedroom and bathroom, and a huge rumpus room that has a door into the garage.
The rumpus room has bifold doors that open out to the west-facing lawn and a deck with built-in seating that the couple added.
There used to be paving out here but that was removed to create more lawn for the children.
A screen - now covered in vines - was put across the driveway into the garage, which sits under the house, to create privacy for the outdoor seating area from the road.
Caroline says the garage could either be incorporated into the house if new owners wanted to develop it as another room or the screen removed and driveway re-instated if having a garage was more desirable.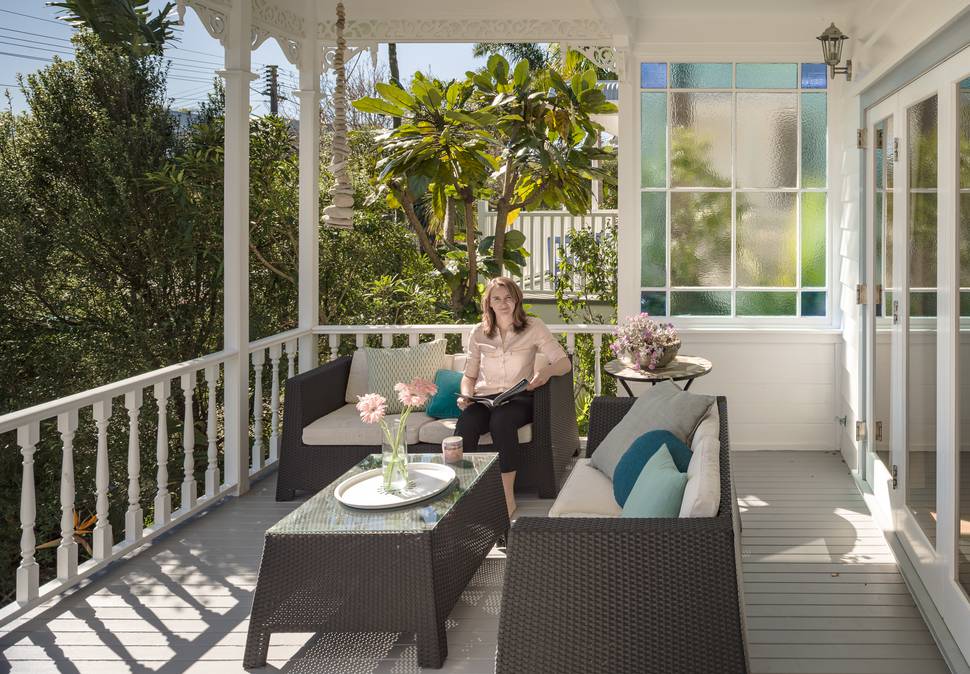 Some people find Devonport's one-way-in, one-way-out traffic a hassle, but it's not an issue for this family.
"Our daughter's kindy is nearby and we drop our son at school on the way to the ferry because we both work downtown and we have our mopeds over there," says Caroline.
"All the kids' sport is in Devonport, and everything else that we need is here so we probably drive Lake Rd once a week."
While they have been living here, Caroline and Robin have created more lawn for their kids to play on but now that they are older and need even more space to run around and play cricket, the couple has bought a larger property nearby.