Years of living and working in construction in Dubai have given Julian Sydney an appreciation of what is special about living in Auckland.
"When you see the coastal Auckland view, you realise not everyone in the world is able to live like this," he says.
"So when I had a unique coastal location with amazing views I wanted to build something to be proud of. Stanmore Bay is a great area, only a couple of minutes from the Whangaparaoa turn-off with spectacular views right out to Great Barrier yet without the price tag of other Auckland clifftop properties. I don't think it will be long before this piece of coastline becomes unaffordable, and it's not hard to see why."
Julian had previously developed properties around the Sunset Rd area, but with this site of established native trees and unobstructed views to the north and east, he called on advice from his mate, developer David Parker who has made upscale properties a specialty.
He briefed architectural designer Alistair Dodds, whom he'd worked with before, to create a cluster of properties (there are two others already sold) that maximised the views, while creating an open, free-flowing series of living spaces.
The original owner had done a lot of the planting, so the house just had to fit in with its bush setting.
First up was some pretty challenging engineering to secure the house to the cliff edge, with plenty of piling to keep everything pinned down.
Julian wanted materials that blended in with the bush, with a mix of cladding to minimise the bulk of the roomy house.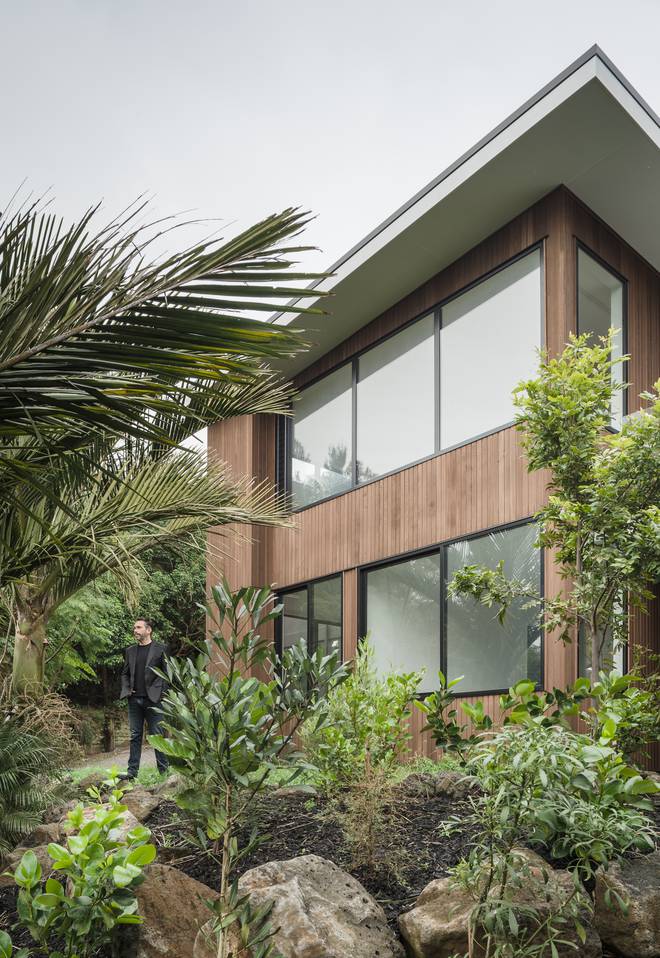 He settled on a mid-toned cedar mixed with dark ironsand steel cladding and black joinery. Inside, he wanted a light airy coastal feeling, aptly casual with blond oak flooring and white walls. Higher than usual ceilings gave the airy, light feeling he was after.
Julian wanted a house that would work for just a couple at home, as well as for larger families or summer beach guests.
The house is thoughtfully zoned over three floors, with the garage at mid-level accessing the entrance and open plan living, kitchen and dining room, and a second sitting room, tucked off to one side.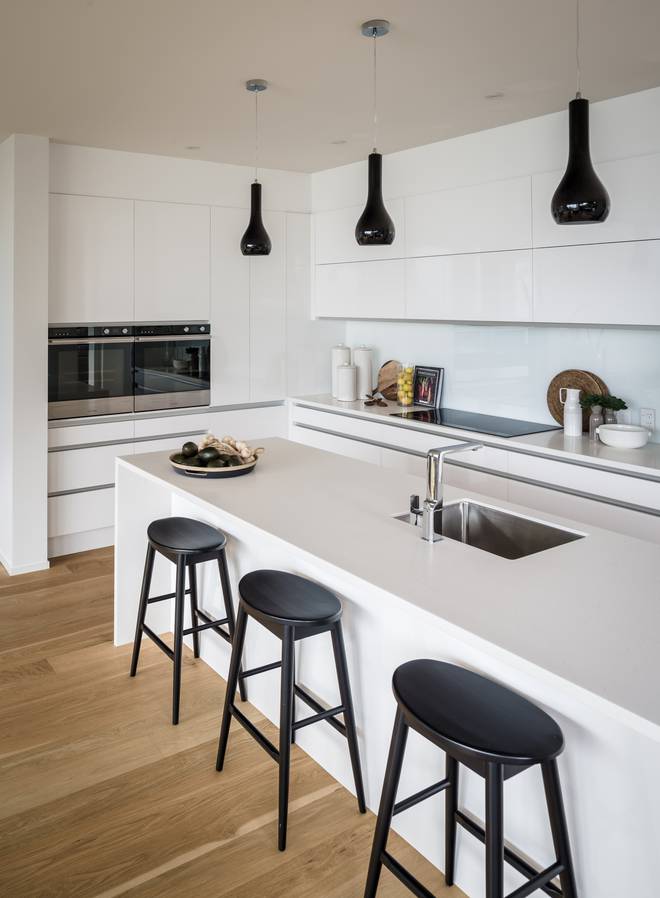 He was careful to wrap decks around three sides of the living areas so that whatever the wind or sun, there'd be a sheltered spot to sit or entertain.
He was particular that the kitchen carried through the coastal theme, so David helped him select a high-gloss white lacquered joinery and composite stone bench tops, with good appliances, including two wall ovens.
The master suite has its own floor, with stunning views across the trees to the sea. The walk-in dressing room adds a sense of luxury, while the en suite bathroom was fitted with oak vanity and floor-to-ceiling tiles to give it a sense of a luxury hotel.
The lower level has the rest of the bedrooms, another bathroom and a small study, as well as the laundry. Julian deliberately designed additional parking and a seperate entrance so that guests or kids could treat this space as their own.
Julian has fallen in love with the location. He's found folks who've moved up to Stanmore Bay who've shed a mortgage and found the commute to work around the Albany area easy.
"So many houses today are void of flair or imagination," he says.
"Stanmore beach is a few minutes walk away, or you can drive to Orewa or Red Beach for the shopping. It's such a relaxed lifestyle but is still only a 35-minute drive to Auckland's CBD."