26 FOLLIS ST, TE AROHA
SIZE: Land 1201sq m, house 271sq m.
PRICE INDICATION: Mid $600,000s.
INSPECT: Sat noon-1pm; Tue May 23, 5pm-5.30pm.
DEADLINE TREATY: May 29.
SCHOOL ZONES: Te Aroha Primary School, Te Aroha College.
CONTACT: Jacki Revell, Harcourts, 0274 972 277.
A big section on an attractive, dead-end street, views of the mountains, a weatherboard house with a solid, 60s look, heaps of character, lots of sun ... the house at 26 Follis St in Te Aroha ticked plenty of boxes for Sheryl Allison when she moved from a farm into town.
"I never liked what you'd call normal houses so I was really attracted to this place," she says.
"It had an inviting, homely feel about it and I felt enveloped by it. The house was great as it was but I could see that we could do a lot with it."
The first job was to create a family room that would provide a summer living space, so Sheryl planned a big lounge at the back of the house that opened up to the garden.
It was designed to echo the character of the rest of the house but she pushed the boundaries with polished concrete floors for three reasons.
The room opened up to the garden with stacker doors on both sides and captured the sun, so passive solar heating was an option.
The area was stepped down from the adjoining kitchen/dining area, which accommodated a change of flooring style.
"And I wanted it to be easy care for indoor-outdoor living," Sheryl says.
It's a big room, so there was space to incorporate a laundry hidden away behind stacker doors.
The house also has a smaller lounge that opens up to the dining area. It's carpeted and ideal for cosying up in winter.
Next, one bedroom was extended to create a master suite with a walk-in wardrobe and bathroom, and bi-folds to the garden. The other two bedrooms are also doubles with big, built-in wardrobes typical of the era.
The kitchen features modern appliances, cupboards and benchtops with character timber floors, architraves and joinery.
A wall was removed to better connect it to the family room, one cupboard was added, and space was made for a scullery, which has storage and a sinkbench.
"There's an extra dishwasher in here which is great if you've got people visiting," Sheryl says.
The easy flow from all the living areas to the garden and decks is ideal for entertaining. There's more than 30sq m of deck space with a big outdoor dining setting adjacent to the dining room, and another, smaller dining setting perfect for breakfasts.
Sheryl has made the garden welcoming and low maintenance. "I always had big country gardens so this was quite different," she says.
"I took just about everything out of it and created a garden that is all texture and structure."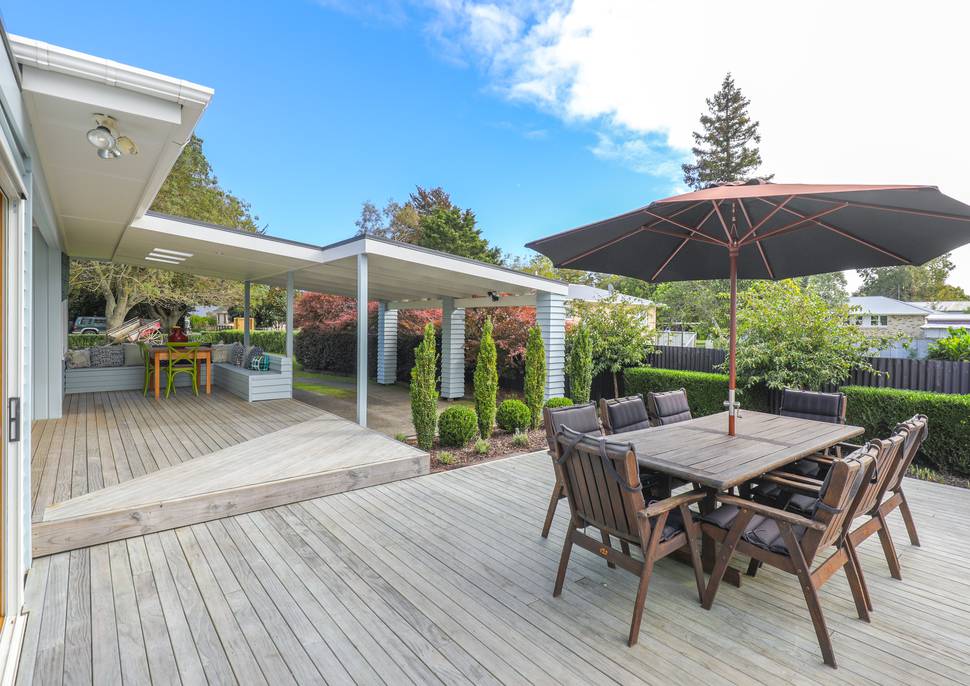 She planted a corokia hedge along the street boundary, further increasing the sense of enclosure and privacy provided by a big magnolia and a spreading ash.
There are other hedges of buxus closer to the house, as well as standard camellias, hydrangeas and grasses.
A talking point is the "river" of neat, round mondo grasses planted up the centre of what used to be a driveway, turning it into a garden feature.
"We didn't want to have to dig the whole thing up so this was the solution," Sheryl says.
The only renovation project that didn't make it to completion was the double garage, which, Sheryl says, was in the process of being converted to a man cave for her partner when they made the decision to move back to a farming environment.