Papatoetoe's Hunters Plaza, anchored by a Countdown supermarket and Kmart department store on new long-term leases, has been put on the market.
The single-level shopping centre at 217 Great South Rd is being marketed by Colliers International and Stonebridge Property Group under a joint exclusive agency, to local and overseas buyers and is for sale by international private treaty, with offers closing on Tuesday, March 21.
The fully enclosed 16,054sq m retail complex occupies a high-profile, 28,817sq m freehold corner site in the Papatoetoe town centre.
In addition to the recently refurbished Countdown and Kmart stores, Hunters Plaza encompasses three 'mini-major' stores, 45 speciality shops, eight kiosks and four ATMs.
Located next to Papatoetoe's main retail strip and sports and leisure centre the shopping complex has parking for almost 700 vehicles, including about 521 covered basement spaces.
"The retail mix is suited to the trade area and the centre is expected to produce around $4,250,000 in annual net income when fully leased," says John Goddard, Colliers' capital markets' director.
Goddard says the extensive refurbishment of Hunters Plaza, which included new travelators and a new floor throughout the centre, has resulted in "outstanding turnover" and increased traffic.
Situated in a high growth area, Hunters Plaza attracts shoppers from beyond Papatoetoe, and offers plenty of opportunities for a smart purchaser to develop the site and maximise returns, he says.
"Investors who want to capitalise on Auckland's demographic boom are seeking this type of high-profile, established retail asset, which is well-positioned to grow with the community," says Goddard says.
Stonebridge director Carl Molony says retail spending by the population served by Hunters Plaza is forecast to increase from about $1.8 billion in 2016 to about $3.4 billion in 2031 - an average annual growth rate of 4.2 per cent.
Molony quotes a trade area analysis by Australian property consultants Dimasi which found the centre's potential customer base was expected to burgeon from about 188,000 to 235,000 within 15 years.
He says Auckland's inhabitants increased by more than 110,000 between 2006 and 2013 - the equivalent of a city the size of Tauranga - and will increase a further 49 per cent, to 2.2 million, by 2043.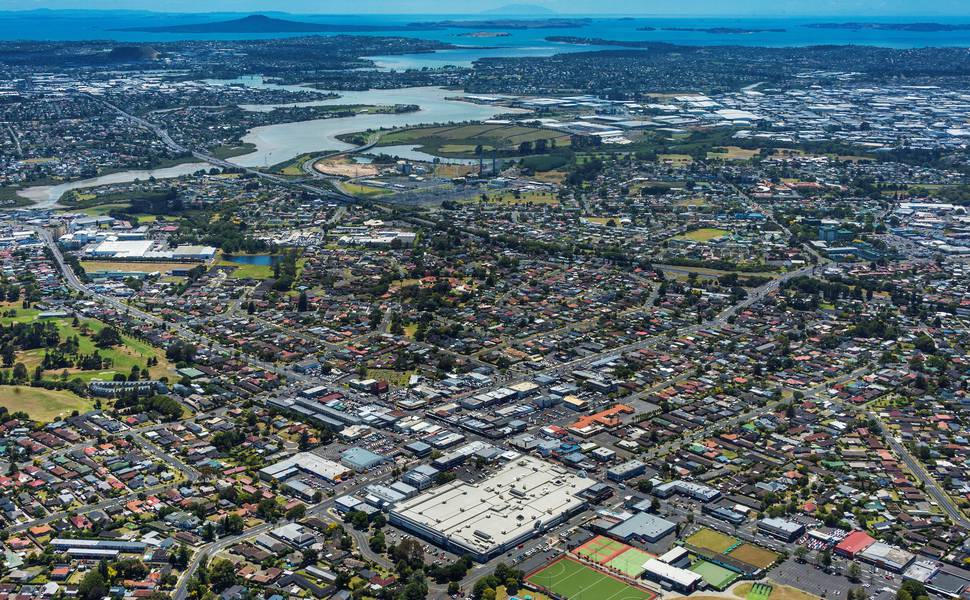 "Auckland's success story is key to the property's appeal and the growth is already bringing benefits to suburbs like Papatoetoe, where density is starting to build in and around the town centre," Molony says. He says people are also spending more, due to wealthier residents moving into the area.
Colliers' director John Green says residents want to spend money where there's a good mix of shops in a convenient location, and Hunters Plaza 'ticks all the boxes'.
"From a convenience and quality view, it has no substantial competition."
He says surrounding area includes schools, retailers, banks and various food outlets.
"Hunters Plaza is well-served by public transport, and is only five minutes from the Southern Motorway and 15 minutes from Auckland International Airport."
Philip Gartland, another Stonebridge director, says that, with the recent upgrades, investors could buy Hunters Plaza at well below its replacement cost.
"That makes it very attractive to overseas investors, especially with building costs in Auckland on the rise," he says.
"There's also the longer-term prospect of developing the site for mixed use under Auckland's Unitary Plan, including residential development of up to four stories in height."
Gartland says that in 2014 the current owners commissioned a design concept for a five-level residential complex comprising 217 apartments.
While the concept would require a notified consent, it shows the potential to develop the site into a high-quality mixed-use offering.
"Hunters Plaza is already a strong, standalone retail investment opportunity, and its development potential makes it even more desirable," he says.
Goddard says Auckland's rapid economic and population growth is making large retail investments in the greater metropolitan area increasingly sought after.
"But there simply aren't enough quality sub-regional retail offerings to meet investor demand.
"That shortage has made the likes of Hunters Plaza in Papatoetoe especially attractive to both local and overseas buyers," he says.