180 MARAETAI DRIVE, MARAETAI
SIZE: Land 2165sq m, house 337sq m.
PRICE INDICATION: Interest expected over $2.5 million.
INSPECT: Sat/Sun 11am-11.45am.
SCHOOL ZONES: Maraetai Beach School, Howick College.
CONTACT: Maureen Spyve, 021 276 7796, or Scott Strong, 0275 330 077, Harcourts.
AUCTION: On site 10.45am Sunday Nov 6 (unless sold prior).
Sue and Ted Lees weren't even thinking of moving to Maraetai 23 years ago but a wide frontage beachfront property admiring Maraetai's wharf, the sea and islands changed all that.
They'd planned downsizing from a Drury lifestyle property and saw a for sale sign when visiting friends in the seaside locale.
Sue says: "Our first impression of the entranceway was 'wow' with the circular driveway and the trees.
"Then we came back and saw what amazing views and sense of privacy the house had. With this double frontage you don't feel at all squeezed in looking out at the view."
The house is elevated slightly on a ridge so their views are expansive, taking in Waiheke and Ponui islands, the Coromandel, plus Maraetai beach and wharf.
They were also impressed with the architecturally designed house, which was built in 1983. Many ceilings inside the painted redwood weatherboard home are tongue and groove kauri.
Sue says: "When we first moved here it felt like being continually on holiday and that has never changed. There's a walkway to one side of the front of our property which goes directly down to the beach."
Sue says they love the gentle background noise of people happily picnicking or swimming at the beach on sunny days. Another thing she likes about the location is being able to catch the nearby Pine Harbour ferry into the central city.
They put cars into the double garage near the property's gated entrance if they're going away but usually park them under the home's large portico-style covered entrance, reminiscent of a hotel entrance. The separate garage includes a workshop which a previous owner used for pottery.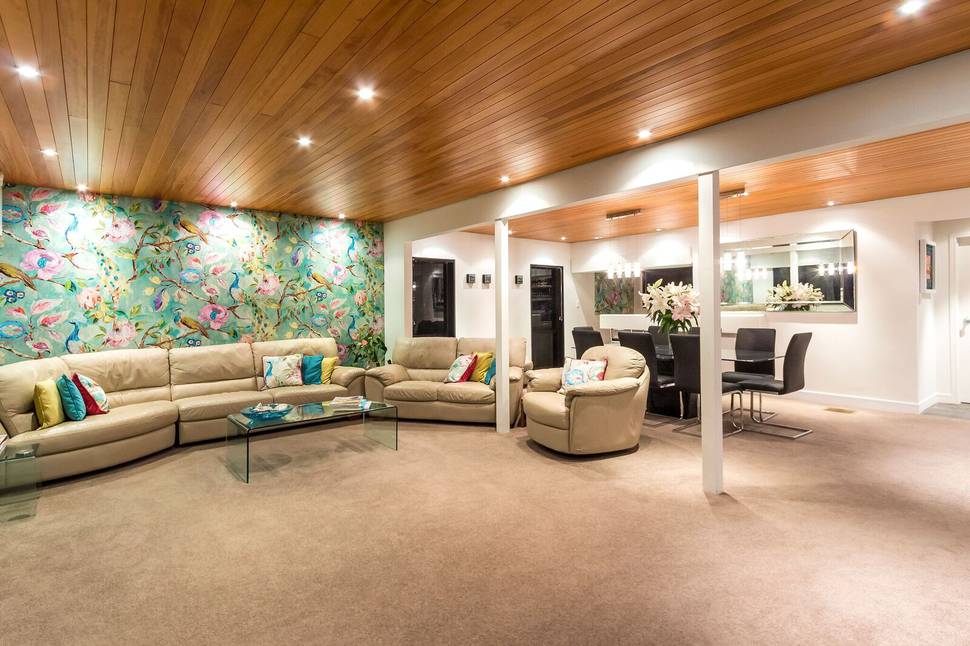 Brick pillars and stone entrance steps announce the home, which has living spaces oriented to drink in the views.
The Lees used to have a cabinetry business and replaced the kitchen to better admire the outlook. It has granite benches, two ovens, a parquet floor and turquoise cabinetry which, Sue says, matches the colour of the sea on sunny days.
Ted's role as a JP ensures frequent visitors and many admire a feature wall of peacock wallpaper in the family room. This is open plan with a dining area and a bar.
The kitchen-living area flows out to a seaside front deck. A formal lounge next door, which also looks seawards, has schist detailing and columns around its fireplace.
Sue says: "The previous owners, who had the home built, told us the schist took tradesmen weeks to do. Guests often say how much they like it."
A neighbouring bedroom opens out on to its own front deck. This floor also has a bathroom and laundry.
There's alternate outdoor living in a sheltered courtyard with abundant decking and a spa pool. It's situated between the house and a self-contained studio that has been used by the Lees' now-grown children, and tenanted. It offers a living room-kitchen, bathroom and bedroom.
Upstairs, the master bedroom, which incorporates Sue's office space and has a walk-in wardrobe, opens to a deck contemplating the vista.
"Because the deck's private we sleep with the ranch slider open nearly all summer."
Completing this level are two other bedrooms, a bathroom, which includes a spa bath, plus a separate toilet.
The Lees started the process to subdivide the 2165sq m grounds, getting concept plans and a geotechnic report done. However, now the couple have entered their 70s, they've decided they're ready to downsize so are handing possibilities over to future owners.