29A KINGSVIEW RD, MT EDEN
SIZE: Land 460sq m, house 198sq m.
PRICE INDICATION: Expected around $2 million.
INSPECT: Sat/Sun 1-1.30pm.
SCHOOL ZONES: Maungawhau Primary, Auckland Normal Intermediate, AGS, EGGS, AGGS and MAGS.
CONTACT: Craig Smith, Barfoot & Thompson, 029 222 0504.
*2 off-street carparks.
Photographer Jane Ussher is renowned for her keen eye but husband Grant Gallagher recalls he initially had severe doubts about her vision for their new home.
"Never in a million years," was his response about 16 years ago when she showed him the site where she thought they could build a home.
At the time, the property, which was to be subdivided into three lots, was occupied by a three-level home that had one storey in brick, one in stucco and one in weatherboard -- a mix that jarred with Grant's aesthetic sensibilities and blinded him to the site's potential.
Once the house was removed, along with a large oak tree, he could appreciate what Jane saw in the property.
They were the first to buy, and had their architect Tony Besley design a home that would be ideal for displaying art -- such as a 4m wide John Reynolds painting -- and would make the most of the site's northwest aspect.
Jane says they wanted a simple home but one that was executed with an emphasis on symmetry and detailing such as glass windows and doors that were truly floor-to-ceiling to create the 'lightbox' effect they were after.
The northern and western faces of the two-storey house are almost entirely glazed, with strips of louvres for ventilation
"Because we are from Wellington, we were very keen to get sunshine into the house," says Jane.
At the heart of the home is a beautifully lit double-height atrium that the couple regard as their gallery space.
As well as works they have either created or collected, this space features two pendant light fittings in the shape of twisted hourglasses made out of Swedish birch by Tom Rossau.
Grant's wooden sculptures compete for attention with other works the couple has collected over the years.
The home's easy, elegant lines are also an ideal showcase for their assortment of quirky and classic furniture.
From the atrium you move across the heated concrete floors to the north-facing living and dining area, which has sliding doors opening to a patio and the lawn beyond, framed by hedging.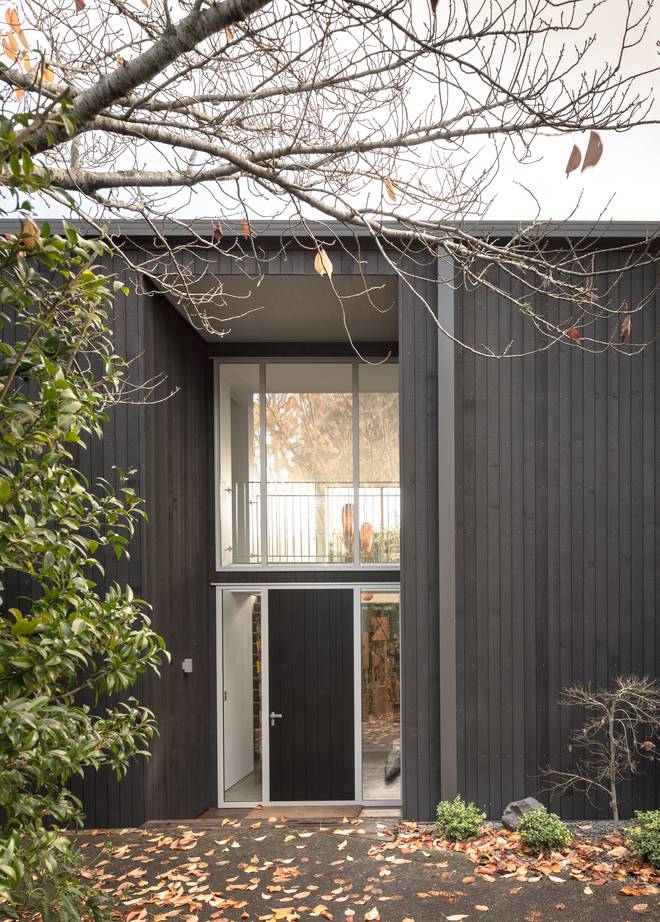 On the southern side of the atrium, the galley kitchen has sleek, handle-lesss cabinetry and stainless steel bench. On this, the southern side of the house, there are a tiled bathroom, separate laundry and a soundproofed bedroom that used to be occupied by their son, Nick.
Upstairs, bridges on the western and eastern side of the home with subtle metal balustrading overlook the gallery and connect the two wings.
The northern one has a light-filled lounge with louvres for cross ventilation in the full-height windows.
The master bedroom is on this side and enjoys the same view across treetops with the eastern bridge connecting it to a walk-in wardrobe, alongside a tiled bathroom and guest bedroom on the southern side.
Again, this bathroom is tiled and has a stainless steel-topped vanity featuring some lovely curves.
"When we were building this home there weren't the sort of bathroom materials around that are available today," says Jane.
"So we had to use our imaginations a lot, and Tony our architect had a couple of students helping him out so they had a lot of fun with it."
Two years ago the couple revamped the home, with input from Jessop Architects, replacing the flat butynol roof with pitched longrun roofing with external gutters and reclad walls in vertical cedar. They also introduced double-glazing in keeping with the new building code.
"A 2014 Code of Compliance is worth its weight in gold," says Jane.
And Grant points out the home is only two years into its 10-year builder's warranty.
Jane, a long-time chief photographer for The Listener and now contributing to NZ House and Garden, has just completed another book with writer Bruce Ansley.
Called Islands, it focuses on the human element of islands dotted around New Zealand, and will be out in October.
"It's the most gruelling thing I have ever done," she says.
"We limited it to 30-something islands -- we went from the Cavallis to the Titi Muttonbird Islands."
But now she is ready for a new adventure and the couple is considering building again.
"If we did," says Jane, "we would do the same sort of things we have done here. This home really suits us and our collection of art, and it's got a nice energy. We have both been very creative here."