ST MARKS, 10 ST MARKS RD REMUERA
ON OFFER: 22 apartments remaining in two buildings arranged around a tranquil garden plaza; being sold off the plans. Most apartments have flexible outdoor rooms and the development includes a cafe-restaurant and separate deli by Hip Group, who will also offer concierge services. Two levels of secure basement parking and storage. A: Two-bed, from 70sq m (+9sq m balcony) starting at $899,000, car parking additional. B: Two-bed plus media room, from 85sq m (+12sq m balcony), starting at $1.2m, car parking additional.
BODY CORP: Estimate from $1280 a year.
INSPECT: Display suite at 10 St Marks Rd open 11am-3pm daily.
SCHOOL ZONES: Remuera School, Remuera Intermediate, double Grammar.
CONTACT: Trent Quinton or Karen Spires, Bayleys, 021 894 070 (Trent) or 027 273 8220 (Karen).
* Car parking additional
As the transformation of premium development site St Marks kicks off, only 22 of its apartments remain available.
The Remuera villa that formerly housed surgeon John Harman's St Marks Breast Centre has been carved up for relocation heralding reinvention of the sizeable land-holding, with three road frontages.
Site works start this month in preparation for St Marks' 59-apartment, two-building development. It will encompass communities The Mac, The Mark and The Grove, plus offices and professional suites in an area named The Blade.
John says: "March sales were off the board with 15 residences under contract. Seven apartments sold over Easter weekend alone."
He expects sales will accelerate further once site works highlight the project's progress. John emphasises the development is in a position to proceed regardless of future sales as he doesn't have any debt on his core land holding, bought decades ago.
He's bolstered that by buying a neighbouring property on MacMurray Rd.
"This has enabled us to put the main entrance and entrance to our basement car parking on MacMurray Rd, giving St Marks a real sense of arrival and creating extra light and a view shaft for The Grove."
Green suburban MacMurray Rd fronts The Mac, in which there are still family-sized north-east facing apartments available.
The location is handy to Remuera, Newmarket and the motorway. Apartments' outlooks will vary from Mt Hobson out to Rangitoto and the Waitemata Harbour and across Auckland's cityscape.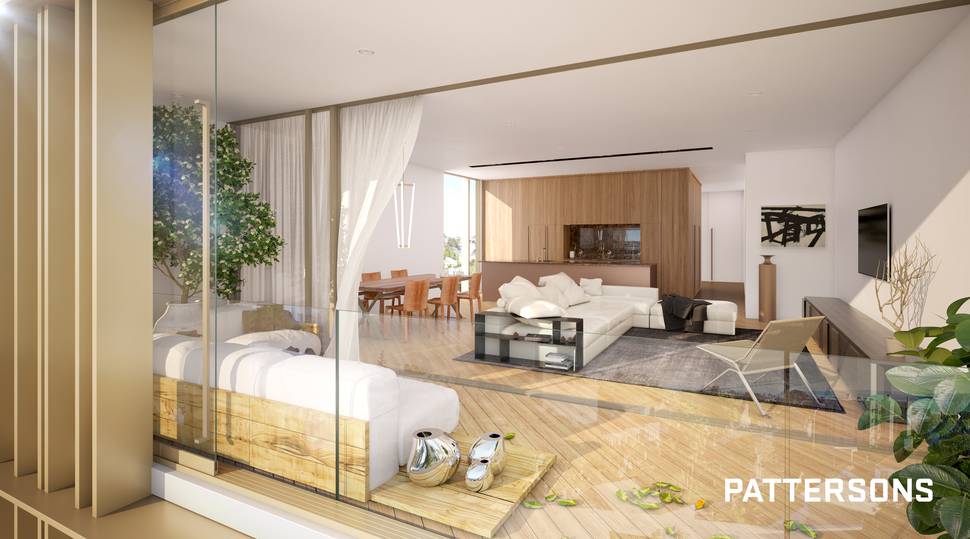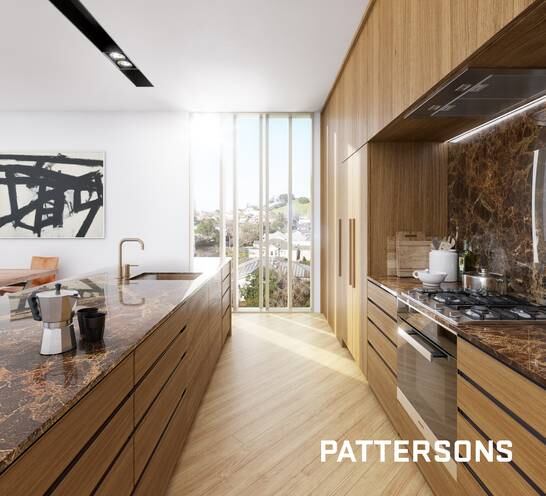 Hip Group will operate a ground-floor cafe-restaurant, separate deli and residents' concierge service. The apartments will be organised around a central plaza featuring a large living wall as part of Natural Habitats' landscaping.
John's excitement about the luxurious development's progress eclipses any nostalgia over farewelling his long-held villa.
He positions this as a benchmark for the upper-end of quality apartment living.
Most St Marks air-conditioned residences incorporate flexible outdoor rooms with big glass sliding doors to open them up to sun and warmth or close them off from the elements. Interior designer Amelia Holmes has varied materials, such as flooring, across The Mac, The Mark and The Grove to give each a distinct feel.
John has bought two Grove apartments to unite into one large residence for his family; their double-Grammar zoning is helpful for his 11-year-old son's future schooling. His daughter is fashion designer Madeleine Harman of label Harman Grubisa -- so he's asked her to conceptualise his family's Grove apartment's interior.
Patterson Associates did St Marks' architectural concept design, Peddle Thorp did project design and Dominion Constructors will build them. The buildings will predominantly be concrete, steel and glass accented by brass-gold aluminium fins.
The development is scheduled to be completed late next year.