A multi-tenanted retail property for sale in the heart of Takapuna's CBDon Auckland's North Shore is being marketed as having significant future add-value and development potential.
Located on a 1635sq m site at 62-78 Hurstmere Rd the property, known as the Century Arcade, houses multiple retail and dining tenants and is producing net annual rental income of $797,206.
One of the feature properties, in Bayleys' latest Greater Auckland publication, it is for sale by tender closing April 14 through Simon Aldridge and Michael Nees of Bayleys North Shore Commercial.
"This sale represents an outstanding opportunity to secure a prime site in the centre of Takapuna's business and retail precinct," says Aldridge. "It adjoins a large council car park and is a short walk away from one of Auckland's best beaches."
He says the property comprises a modern, attractive retail premises with excellent cash-flow on an underused site.
"Longer term it has considerable development potential with a Metropolitan Centre zoning under the Proposed Auckland Unitary Plan [PAUP] which allows for large-scale, intensive mixed-use development.
"The best and highest use for the site is lower level retail, and possibly some office, with apartments above which would have panoramic views out to Rangitoto Island, the Hauraki Gulf, other parts of the North Shore and to Auckland city. The Auckland Council is very keen to see more residential development in these metropolitan centres and Takapuna's superb coastal position makes it an obvious location for this type of project."
Aldridge says the owner of the property had bulk and location analysis undertaken for the property with plans drawn up for a possible six-level building with a gross floor area of 9060sq m plus a basement level for 51 car parks. It would comprise 1315sq m of retail space at ground level incorporating a laneway to and from the public car park. Above would be 1050sq m of office space with four upper levels containing 38 one-to-three-bedroom apartments and balconies.
"This is simply a concept design and will give interested parties an idea of the possibilities the site provides," Aldridge says. "It's not fixed by any means and there are a multitude of development options that could be considered for the property given its flexible zoning."
Currently the single-level 1186sq m building on the site encompasses 11 retail outlets ranging from 74sq m to 169sq mplus a 68sq m storage unit. A glass covered laneway runs through the centre of the complex and connects Hurstmere Rd with the council car park at the rear of the property.
Seven of the shops have high profile frontage onto Hurstmere Rd giving tenancies excellent exposure to central Takapuna's main retail strip. Some front both Hurstmere Road and the laneway allowing them to provide outdoor covered seating for customers.
Tenants of the shops include multinational eyewear retailer OPSM, the American Nail Shop, a hair stylist, homeware store, child's costumes hire shop and a Melba Cafe. Tenancies on the laneway itself are predominantly food and beverage outlets and include Vietnamese and Korean eateries and the House of Chocolate.
There is one vacant unit which has a rental underwrite from the vendor for a year from settlement.
Nees says this 127sq m vacant tenancy is in a prime corner position, with frontage both to Hurstmere Rd and the laneway, and presents an immediate opportunity to add value through leasing up the empty space.
The freehold site in three titles is relatively flat with a rear car parking area rising to the west in a gentle gradient. This provides 10 exclusive car parking bays which are leased to tenants and accessed via a service lane running alongside the council car park.
A large public car park also has frontage on to Anzac St and Lake Rd and provides substantial customer car parking for surrounding retailers and businesses as well as the Berkeley Cinema complex.
The property is in a central position within the Takapuna CBD's well established strip retail area, which predominantly runs along Hurstmere Rd. The surrounding area is tenanted by cafes, restaurants, bars as well as fashion and giftware stores with some buildings also providing first floor office space and a number of large office buildings located mostly on the other side of Hurstmere Rd. The Shore City shopping centre is a short distance away.
Nees says this part of Takapuna has been the subject of renewed interest from developers focused on reinvigorating the town centre. Near the intersection of Hurstmere Rd and The Strand, the Wiltshire Property Group has undertaken a substantial redevelopment of the former McKenzies department store site, incorporating high end retail and cafes, bars and restaurants in an indoor-outdoor environment centred around a boulevard linking Hurstmere Rd through to The Strand and the beach.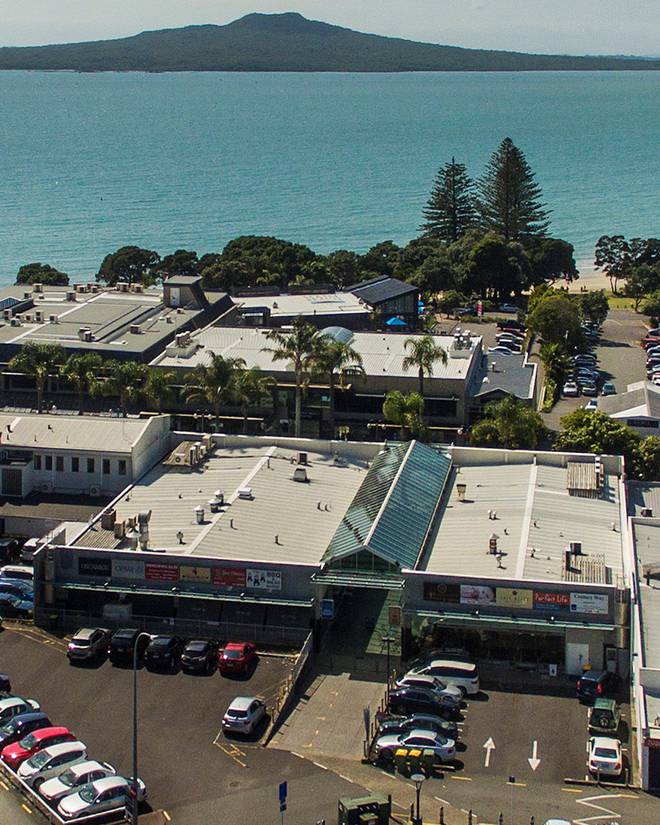 More recently, the Fortieth & Hurstmere development at 40 Hurstmere Rd has transformed a two-level character building into an upmarket food and beverage destination also set in a laneway environment linking with the council car park.
"As part of its plans to encourage more intensive mixed use development in Takapuna, Auckland Council has focused on upgrading the interface of the Takapuna Beach reserve area with the commercial activities on Hurstmere Road and improving the connection with the waterfront," says Michael Nees. "Perhaps the best example of this so far is has been the $2.7 million redevelopment and upgrading of Hurstmere Green, the big public reserve area in the centre of Hurstmere Rd, with new pathways to the beach, seating and landscaping.
"The council's Takapuna Strategic Framework sets the vision for Takapuna's future and recognises that successful intensification needs to be supported by high quality urban design, civic amenities and good access to community facilities, parks and public transport. The property we have for sale is perfectly positioned to be part of and benefit from Takapuna's planned future growth under the PAUP."
Auckland Council's development committee last week approved a new action plan for the Takapuna town centre by the council's property agency Panuku Development Auckland.
The plan recommends better use of council-owned sites, including the 7699sq m Anzac St carpark, which connects to the Century Arcade, to bring more commercial activity and residential development into the area and make the most of Takapuna's attractive sea and lake side settings.
Aldridge says it is probable that the Anzac St carpark will be more intensively developed in future which would significantly benefit 62-78 Hurstmere Road.
"It's currently a huge block of seriously underused land which provides open air car parking, so it makes sense to develop it further. However, there will be strong pressure from surrounding business to retain a significant amount of public car parking in any future development of this site."
Panuku Development director Clive Fuhr says there has been a lot of work undertaken over the years to understand the desires of Takapuna businesses and residents. "With this committee approval we will now work on delivering the key community and commercial outcomes. There seems to be a consistent view from local people that Takapuna needs a stronger heart. This is something previous studies have all focused on achieving."
Fuhr says the Devonport-Takapuna Local Board is currently establishing a community reference group, which will play a key part in community feedback as the work programme is refined. He says Panuku will work with development partners to deliver the redevelopment projects.