8 LAKE PUPUKE DRIVE, TAKAPUNA
ON OFFER: 54 apartments priced from $675,000 (1 bed), $840,000 (2 beds with carpark), and $1.295 million (3 beds and carpark). A limited number of extra carparks are available for buy. Apartments range in size from 68sq m (one bedroom) through to a three-bedroom apartment of 181sq m.
INSPECT: Display suite at 8 Lake Pupuke Drive can be viewed by appointment.
CONTACT: Alison Parker, 021 983 533, or Gerry Petrie, 021 923 352, Premium Real
People on the lookout for an apartment in Takapuna will be able to "walk through" the latest development well before it is built.
Willis Bond & Co has begun marketing a 54-apartment complex named after its address, 8 Lake Pupuke Drive, and from today prospective buyers -- by appointment -- will be able to experience apartment living through virtual reality video, a scale model, and kitchen, bathroom and living area displays.
The display suite is modelled on the company's state-of-the-art display suite in Wynyard Quarter, where Willis Bond is developing the 132 Halsey and Wynyard Central apartment/retail buildings.
Comprising two four-storey buildings, 8 Lake Pupuke Drive will have a mix of one-, two- and three-bedroom apartments with a basement carpark.
Willis Bond project director Roger Twose says the company expects to tap into a strong, unmet demand for apartments from empty-nesters and young professionals who want a lock-up-and-leave lifestyle -- especially as it is the first apartment development in the area for seven years.
The time is ripe for such as development, says Willis Bond managing director Mark McGuinness, noting that Takapuna is not just a desirable seaside suburb but also rapidly transforming into a hotbed of fashion, cuisine, culture and commerce.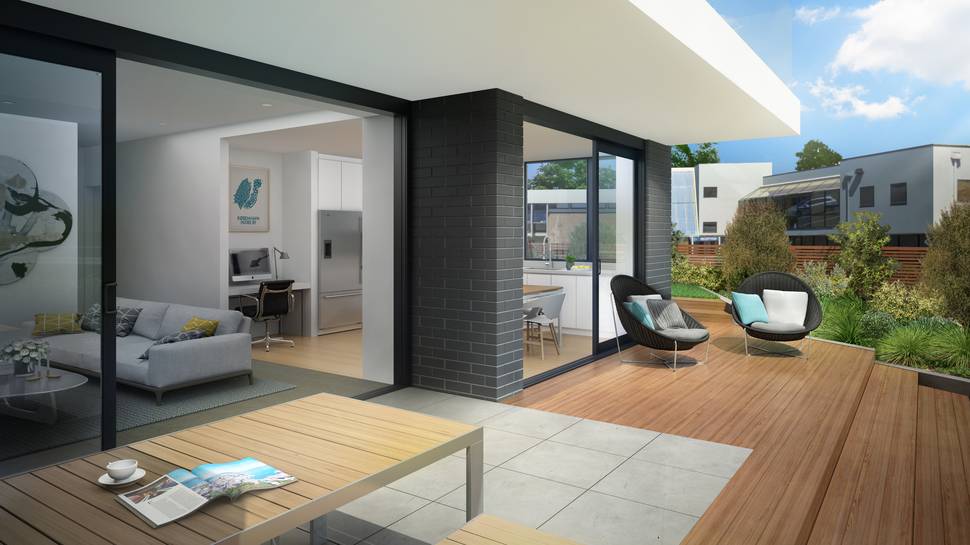 "By 2040 Takapuna is planned to grow from 4000 residents and 10,000 employees to 15,000 residents and 15,000 employees," he says. "As one of the first apartment developments in the area in seven years, 8 Lake Pupuke Drive signals a new beginning for Takapuna and sets the standard for future housing."
Twose says, "The site faces northeast to Lake Pupuke Drive but the apartments wrap around the building, so there are a mix of orientations. There are water views back to Auckland City for the top two levels and also views of Rangitoto and Takapuna."
Apartments range in size from 68sq m (one bedroom) through to a three-bedroom unit of 181sq m, inclusive of balconies and terraces. There is a choice of homes with separate media rooms and studies, dual balconies and private gardens on the ground floor.
The buildings and apartments are positioned to optimise views and light with a generous 2.7m stud. Each apartment is designed to exceed Building Code acoustic requirements and meet a minimum Homestar 6 rating for sustainability and energy efficiency, Fibre broadband will also be on tap.
The apartments include quality appliances and fittings as well as sophisticated engineered stone, timber and tile finishes. A neutral colour palette has been chosen for a timeless feel. Willis Bond has specified a mix of deciduous and evergreen trees, native species and low maintenance planting as part of the landscaping to create peaceful outdoor spaces and a visually appealing street presence.
Twose says with so much going on in the area, the decision was made to keep communal spaces and facilities within the apartment buildings to a minimum.
"The logic is all the amenities are close by and we don't want to burden purchasers with significant ongoing maintenance costs," he says.
Eight Lake Pupuke Drive has been designed by AECOM Architecture and the lead building contractor is Haydn and Rollett Construction, with completion expected by late next year.