The ground floor space in a modern and high-profile commercial building located in the centre of Northland township Kerikeri is due to go under the hammer early next month.
Contained within the three-storey John Butler Centre at 60 Kerikeri Rd, the 250 square metre corner street-level unit comprises three separate tenancies.
The John Butler Centre, housing a broad mix of commercial and retail tenancies, was constructed in mid-2000s and named after a prominent missionary settler of the early 1800s.
Featured in Bayleys' latest Total Property magazine, the ground floor is being marketed for auction on December 2 by Brian Caldwell and Michael Nees of Bayleys North Shore; and Alan Broadbent of Bayleys Kerikeri.
Caldwell says 71 per cent of the corner space is leased by a House of Travel agency on a three year lease expiring in 2018, with two further three year rights of renewal while clothing outlet La Madu is on a tenancy expiring in the second quarter of 2016. Combined, the two tenancies produce $44,586 of revenue per annum. Body corporate fees for building maintenance are paid by individual tenants.
An area of 74 sq m on the ground floor is vacant and faces directly opposite Kerikeri's Countdown supermarket.
All three tenancies have their own separate entrances off the wide boulevard-styled pavement outside, as well as individual staff amenities such as kitchens and bathrooms.
Other tenants within the John Butler Centre include the Far North District Council, Top Energy, Bay Audiology, S'wich Café, and Lowes & Partners Optometrists.
Nees says the John Butler Centre is regarded as the best commercial block in Kerikeri from both a design and construction perspective, and also due to its 'high street' location.
"The John Butler Centre is easily the most prominent commercial building in Kerikeri's main street," he says. "Combined, these features have attracted strong tenants."
The unit for sale has shared access to nine designated car parks most of which are used for staff.
Nees says House of Travel is a well established tenant with the brand having been present in Kerikeri township for 25 years. "There is potential rental upside for the La Madu tenancy which, combined with projected rental from the vacant space, would bring the forecast annual rental up to around $70,000 for the property," he says.
"On that basis, we are expecting a projected rental yield from the three tenancies of between 10 to 11 per cent. That compares favourably with Auckland where yields of similar suburban properties are producing yields of between six to seven per cent."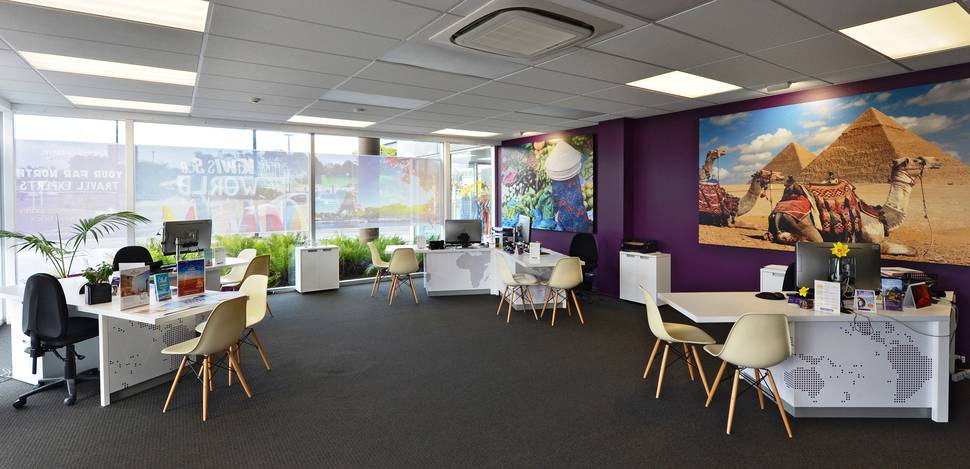 Caldwell agrees there is considerable upside potential for the site from a rent generation perspective. "The building is zoned Commercial which allows for retail premises including food and beverage, or a small business occupancy," he says.
"The fundamentals are in place for a solid investment opportunity, or for an owner occupier looking to take up the vacant space that is suitable for six or seven staff.
"Under that dynamic, the site would lend itself to a small locally-based professional services business like a chartered accountancy practice, legal firm, architect's studio, or a media and marketing design agency seeking to be in the heart of town in modern and functional premises."
Caldwell says the John Butler Centre commercial block housing the space for sale mirrors the region's overall economic picture.
"The Government's Northland Regional Growth Study released at the beginning of this year by Economic Development Minister Steven Joyce highlighted that the region and its support towns, including Kerikeri, had significant untapped economic potential.
"The study found Northland's economy was under-performing having 3.6 per cent of the population but contributing only 2.9 per cent of employment and 2.6 per cent of gross domestic product (GDP).
"The Northland-specific study spotlighted that the region's natural assets, rich cultural heritage, and youthful population presented distinctive and significant opportunities for growth in the tourism, forestry, dairy, aquaculture and horticulture sectors."
With a population of 6507 people, according to the last census, Kerikeri is Northland's largest service town.