Two big industrial properties in the Otahuhu industrial area of South Auckland are on the market, with a six year initial term, sale and leaseback arrangement to the award winning national food business, Service Foods.
The properties at 132 Portage Rd and 17 Saleyards Rd are being marketed by Ben Herlihy, Hamish West and Andrew Hooper of Colliers International who are selling them as one parcel or as two individual titles by deadline private treaty closing on October 14 unless sold beforehand by negotiation.
"The two freehold titles, make up over a hectare of land at and Service Foods wishes to sell it and lease it back in order to free up capital for business growth and acquisitions, having recently refurbished the two warehouse buildings on site," says Herlihy.
"Service Foods has invested heavily in the property, including buying the building next door to its original facility and undertaking a large-scale refurbishment and fit-out to both warehouses."
The new lease to Service Foods Ltd will be for a six year term commencing in December 2015. Rights of renewal give the tenant the option to extend the term for up to a further 12 years.
Income growth is also built in, with the initial net annual rental of $910,272 subject to annual 3 per cent increases.
Both buildings were originally constructed in the 1980s and later had modifications and additions. They provide food grade production space, chillers, freezers, offices, plant rooms and offices.
The building at 132 Portage Rd is 2324 sq m in size and earns net annual rent of $362,653.. The neighbouring facility at 17 Saleyards Rd has 3462 sq m of net lettable area and generates $547,619 in net annual rent.
Hooper says the properties have excellent access and dispatch capability. "They have very large canopies with several covered loading docks and also has full drive-through capability from two road access points."
Of the two titles, 17 Saleyards Rd is the larger comprising a land area of 6807 sq m while 132 Portage Rd is 4960 sq m in size. Both titles are zoned Business 5 which is set to become a Light Industry zoning under the Proposed Auckland Unitary Plan.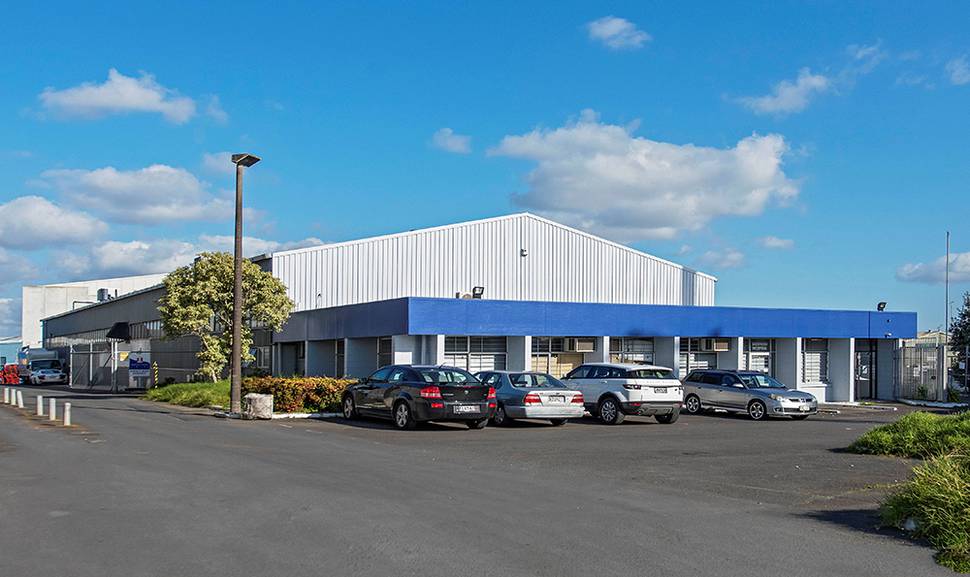 The sites are located close to the Otahuhu town centre and the southern motorway section of State Highway One which is accessed via the Otahuhu interchange just five minutes' drive from the property while the southwestern motorway can be accessed 2.5 km to the east.
West says property's tenant covenant, scale and location are expected to generate inquiries from investors.
"As an investment, this property offers several very strong characteristics including a well-established national tenant and a huge land holding in a sought-after industrial area." Service Foods was established in 1980 and supplies hotels, restaurants, international fast food operators, catering businesses and institutions throughout the country with dry, chilled and frozen food products.
It directly imports over 2000 products from reputable producers in around 20 countries worldwide, supplementing these with around 6000 locally-sourced products. The company was a Deloitte Fast 50 award winner in 2009.
"High quality, large-scale industrial assets like this are very scarce in the Auckland market at the moment, so we expect a lot of interest," West says.
For more information on this listing, visit:
True Commercial