30, LAW ST, TORBAY
SIZE: Land 1214sq m, house 434sq m (approx).
PRICE INDICATION: $2-$2.5m.
INSPECT: Sat/Sun 3pm–3.45pm.
TENDER: Closes October 14 at 2pm.
SCHOOL ZONES: Torbay School, Northcross Intermediate, Long Bay College.
CONTACT: Nadja Court, Barfoot & Thompson, 478 9089 or 021 777 690.
When Jenny and Roy West took their four children to see the Torbay house they were planning to buy, one of their daughters was so horrified she walked out in absolute disgust.
"Alannah said, 'I'm not living in this dump' and left," says Jenny. "To be fair, it was ugly. It had been built in 1973 and it was pretty rundown. It was all clinker brick and cedar shiplap, with swirly wallpaper and threadbare carpet."
It was not the type of house they'd envisaged buying when they were house hunting 11 years ago - they were looking for a home and income. Having renovated homes before, they didn't really want to tackle a major makeover. But they were familiar with the house, on a large corner site in a popular part of Torbay, from having lived nearby, and could see the potential.
"And we're not afraid of hard work," says Jenny. "Although it has felt like we've spent every weekend for the last 11 years working on the house and garden."
Today their house bears little resemblance to the one they bought, despite their children Sian, Renee, Alannah and Kyle being so unimpressed. It is now a stylish, immaculate family home complete with a substantial secondary dwelling.
Converting a triple garage, bedroom and sauna into a legal income was a masterstroke. Jenny and Roy have never had any problems renting it out - it could fetch around $600 a week in the current market if it wasn't now home to their daughter Renee, her husband Tim and their toddler Honor.
It has its own entrance off Tainui St, plenty of off-street parking, a large lawn and has been renovated to the same high standard as the main house next door. There are three bedrooms, a designer kitchen and spacious living area that opens out to a deck and the garden.
"We were very pleased with the way it turned out," says Roy, who believes two separate titles could be created.
"Or if you wanted to return it to one big house and have lots of extra space you could," says Jenny, pointing out this could easily be done by unblocking a connecting door hidden in cupboards in each dwelling.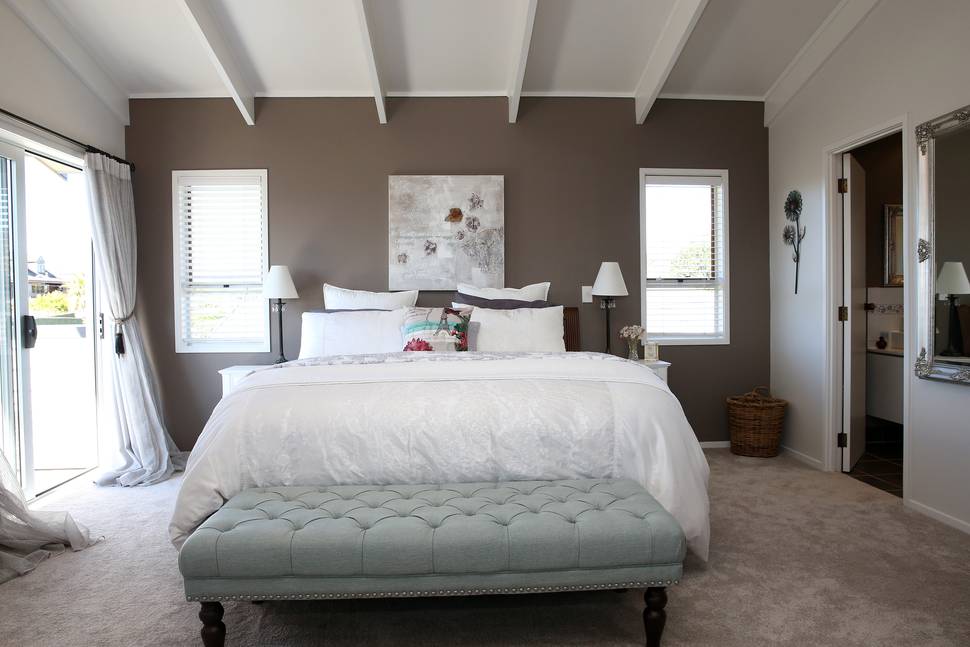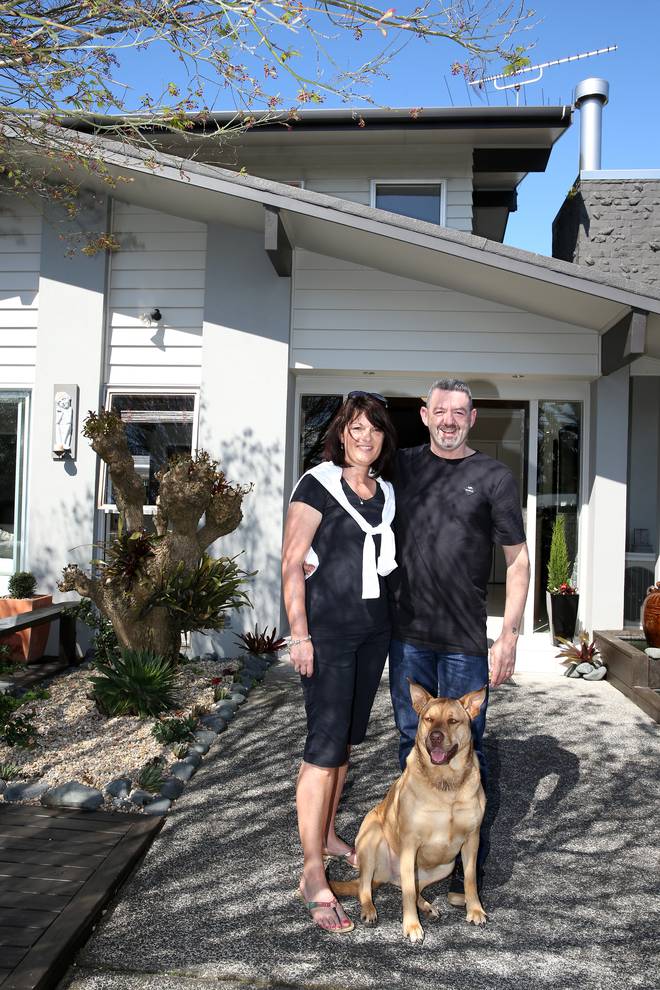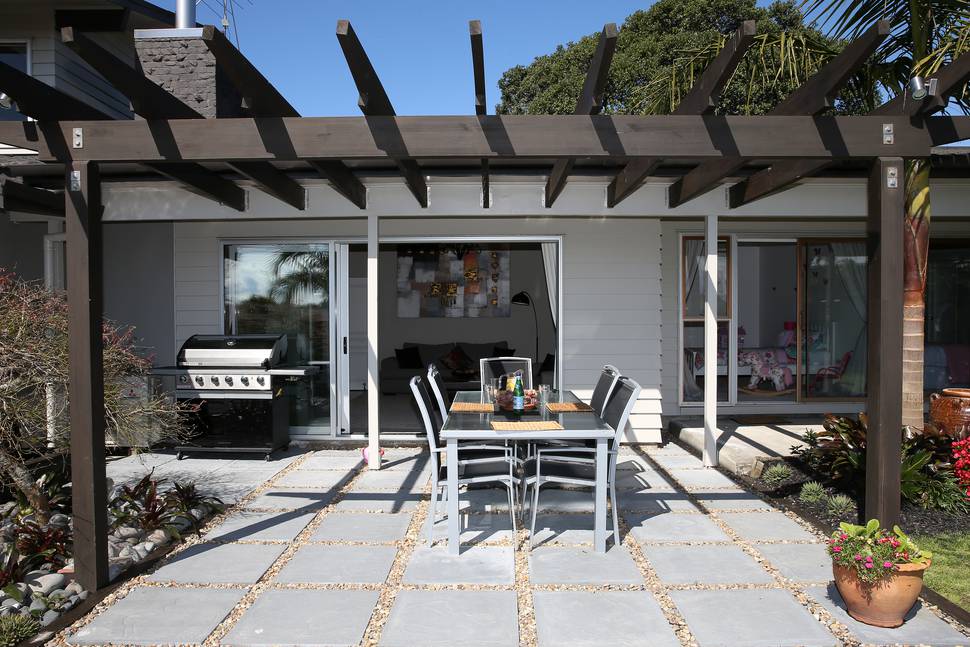 The main house is spacious with two living rooms, a separate dining area, large kitchen, four bedrooms, two bathrooms, a powder room and a laundry/study.
The master bedroom is upstairs, along with an office/dressing area and en suite bathroom -- it also has its own deck with a peep of the sea. The other three bedrooms downstairs all open to the garden, as do both the living rooms.
Jenny took two years off work to project manage the renovations, which were an enormous undertaking. The outside of the house was reclad in weatherboard, a new double garage with internal access was built on to the front of the property, windows were moved, walls were stripped, skimmed and painted, wall tiles were chipped off with a spade and carpet and vinyl flooring was pulled and scraped up.
The brown and orange kitchen was replaced with a stunning gourmet kitchen and the bathrooms were updated. Dark wood was painted white, giving the house a crisp, contemporary feel, and they also painted a couple of internal clinker brick walls that Jenny and Roy retained in homage to the era in which the house was built.
While the work was under way Jenny did a course that honed her natural talents for interior design, and has used her decorating skills to great effect throughout the house.
She and Roy have also spent many hours landscaping the garden themselves, creating a stunning outdoor area, complete with a deck, patio, pergola, water feature and a variety of plants, including a Japanese maple and a wisteria.
It will be a wrench to leave, say the Wests, who have not only enjoyed the house but also its location within easy reach of shops and the beach. But they've decided to move to their beach house in Papamoa and tackle another renovation.
"We love knowing that everything in this house has been done to the highest standards because we either did or oversaw everything ourselves," says Jenny.