Construction is scheduled to begin in January on Lynmore Junction, a new $15 million development in Rotorua to be anchored by one of New Zealand's largest all-weather indoor entertainment centres which is expected to attract an estimated 200,000 visitors each year.
"Demolition of existing buildings is now underway on the site at 346 Te Ngae Rd," says Paul Sanford of NAI Harcourts who is seeking prospective convenience retail or entertainment centre tenants for the complex.
"This will be an ultimate all-weather destination and unlike anything ever seen in Rotorua," Sanford says. "Lynmore Junction will be ready for fit out by July 2016 and it is expected to open to the public next September."
In addition to the planned 6290 sq m indoor entertainment centre, sites for between 12 and 15 convenience retail outlets will also be constructed.
"The design concept envisages these spaces will be occupied by the likes of a high-end niche supermarket, a service station, fast food restaurant, upmarket gym, medical and dental suites, a pharmacy and specialty food outlets," Sanford says.
The Te Ngae Rd site has about 11,000 sq m of current buildings of which 6000 sq m is now being demolished leaving one building that will have a substantial 2.5 million dollar refurbishment and extension for conversion into the entertainment centre.
The development, managed by Rotorua-based Holmes Group, will cover a land area of 2.7 hectares on Te Ngae Road (SH30) which constitutes the city's main route from Rotorua to Tauranga. It is located opposite Lynmore Primary School and is a short drive from the inner city, Rotorua Airport and the popular Whakarewarewa Forest.
Ryan Holmes, managing director of Holmes Group, says 80 per cent of the entertainment centre has already been leased, with a remaining tenancy available for 1000 sq m and a 330 sq m licensed cafe with courtyard.
Entertainment centre tenants already confirmed include: Strike Zone Ten Pin Bowling, Megazone Laser Tag, Dialled Indoor Tramp Parks - a state of the art trampoline centre, TimeZone Coin Cascade and Chipmunks Playland & Cafe.
Strike Zone, which is owned by New Zealand's ten-pin bowling head coach Adrian Judd, will relocate to Lynmore Junction from its current facility in Fenton Park, while all other attractions will be new additions to Rotorua.
"We expect the entertainment centre will become a major Rotorua tourist destination in its own right," Holmes says. "It will be one of the largest of its kind in New Zealand to provide a broad range of interactive activities all under one roof."
Holmes says the exterior of the entertainment centre, that will dominate the eastern end of the development, has been designed with "a grotto-like entrance"to build anticipation and excitement - visually promising plenty of fun and action inside with images of dazzling laser beams capturing the attention of the visitors.
"Megazone is promising to create a new and exhilarating laser maze together with one of the best laser tag adventure courses in the country, filled with theatrical mist, music and special lighting effects. Dialled Indoor Tramp Parks are known for their extensive trampoline facilities but they will also build a 'Ninja Warrior' obstacle course at Lynmore Junction, plus ramps and sponge pits suitable for mountain and jump bikes."
Holmes says Rotorua is a world-class mountain biking destination so Dialled is looking to include an indoor mountain-bike course too if space permits.
He says TimeZone Coin Cascade and Chipmunks are both established New Zealand operators who are keen to have a presence in "the tourist mecca of Rotorua".
Holmes says the entertainment centre at Lynmore Junction has yet to be officially named and it will fill a gap in Rotorua's tourism market for an all-weather facility catering to all age groups.
"It will follow a worldwide trend of combining a number of different activities in one venue with each attraction having its own party room. There will be a centralised welcome and information area and people can then choose whatever activity or combination of activities suits them."
A conference space capable of handling 150 people will also be built, along with a licensed cafe catering for 200 patrons.
The entertainment, conference and convenience retail mix is being designed to appeal to a broad demographic of families, teenagers, corporate groups, birthday parties, social clubs, local residents and tourists. "We want the centre to entertain everyone from toddlers through to grandparents," Holmes ays.
He expects the all-weather venue will be a drawcard for the wider Bay of Plenty region and North Island residents as afield as Taupo, Waikato and Auckland.
"Of the $224 million domestic visitor expenditure recorded in Rotorua last year, $60m was spent by Aucklanders followed by $53m from Bay of Plenty residents and $51m from Waikato locals.
Holmes says Rotorua's economy is surging ahead at present and the Lynmore Junction development will provide plenty of construction work and long-term job opportunities for local residents.
"The city achieved New Zealand's top spot for economic growth in the last quarter according to Wellington-based economic research company Infometrics. For the three months ending June 30 Rotorua's gross domestic product (GDP) growth was 4.3 per cent- the highest in New Zealand. with Christchurch at .5 per cent in second place.
"And for the full year ending June 30, Rotorua also performed well with GDP growth at 3.2 per cent - ahead of the New Zealand average of 3.1 per cent."
Holmes says his company has worked very closely with Rotorua Lakes Council and Destination Rotorua to ensure the entertainment centre will complement the city's existing attractions.
"We're confident it will add value to Rotorua and help further fuel the region's economic growth."
He says members of the Holmes Group team have "put their hearts and souls into this project to bring the vision to life".
Holmes says Lynmore Junction's convenience retail outlets will cater for a growing number of residents in Rotorua's eastern suburbs with nearly 14,500 people expected to live in the catchment area by 2016 - according to a retail assessment prepared by Property Economics in support of Lynmore Junction's resource consent application.
"Lynmore Junction will provide for both local and wider catchment areas so this is a great opportunity for quality convenience retail businesses to establish themselves within a new community hub.
"We will have 260 car park spaces and we expect Lynmore Junction to quickly become a recognised destination that is popular all year-round. We envisage the development will distinctive, vibrant and finished to a very high standard with contemporary landscaping completing the overall effect."
The plans call for the low-rise convenience retail outlets to feature sweeping glass frontages with attractive wood paneling and louvres that will be connected by a covered walkway, allowing shoppers to browse at their leisure. It is proposed that a service station, car wash and fast food outlet will be located between the entry and exit off Te Ngae Rd.
Holmes says prospective tenant negotiations are already underway with tenancies of various sizes remaining. "Opportunities to become part of the development and Entertainment Centre through franchises or individual leases are still available. We look forward to confirming and announcing more tenants in the very near future."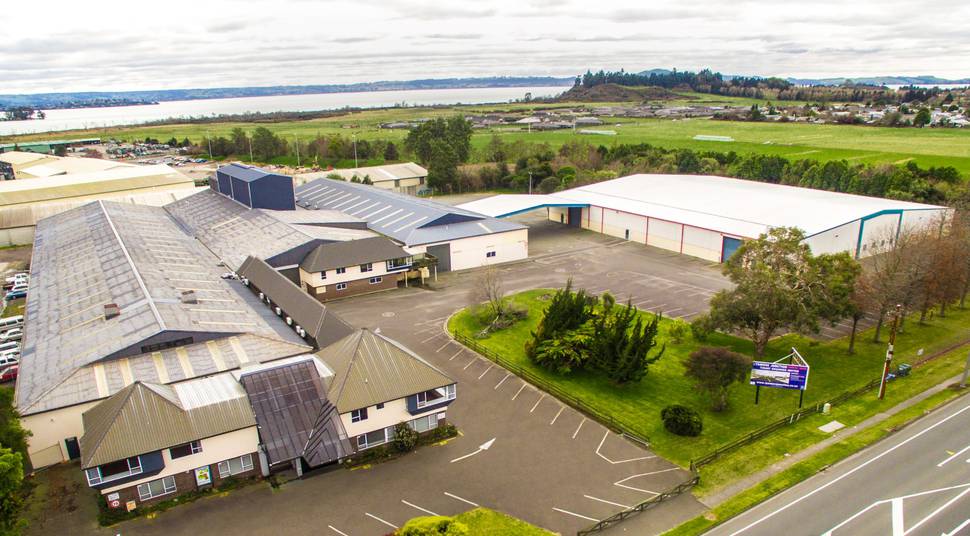 As part of the development, Holmes Group will install new traffic lights at the Te Ngae Rd and Iles Rd intersection to ensure safe and easy access to the Lynmore Junction site.
The New Zealand Transport Authority (NZTA) is also currently considering a range of options to upgrade Te Ngae Rd itself.
Rotorua MP Todd McClay and local Maori are urging the authority to consider widening the road to four lanes to cater for increased traffic volumes and future growth.
Holmes Group is a family-owned business responsible for a number of successful commercial and residential developments in Rotorua and beyond in recent years. These include Eastgate Business Park, Lynmore Lake Vista Estate and Pukehangi Parklands Estates in Rotorua, Golf Links Estate in Waitakere, Auckland, and Hawthorn Estates in Queenstown.
The Lynmore Junction site was bought by the Holmes family in 1979 where they relocated their packaging business. In recent years the buildings have been leased to a global packaging company but the site is currently being demolished and ground works prepared.
"This development will bring huge economic and entertainment opportunities to Rotorua and help strengthen the city's reputation as one of the best places in New Zealand to visit," Holmes says.