155, VICTORIA AVE, REMUERA
SIZE: Land 1034sq m, house approx 430sq m.
PRICE INDICATION: $5 million.
INSPECT: Sun 3.30-4.30pm.
SCHOOL ZONES: Victoria Ave Primary, Remuera Intermediate, double Grammar.
CONTACT: Nicola Kelland, Nicola Kelland Real Estate, 021 474 645.
This Vernon Brown-designed home has offered a couple of stalwarts of the New Zealand wine industry a fine blend of entertaining facilities and family-friendly spaciousness.
Kim and Erica Crawford bought here in 2005, a couple of years after selling their wine brand, Kim Crawford Wines.
This home was larger than their previous one and had the swimming pool their now adult children, Rory and Pia, were desperate for heading into their teens.
"This is a classic Remuera property; big house, big section. It's even got the climbing ficus on the fence which is signature Remuera. And it's got great entertaining spaces," says Kim.
Entertaining has been important to this couple whose industry and family life are very convivial.
This home hosted the media launch for their 2013 label Loveblock Wine Group, which produces wine, much of it from organic vines based in Marlborough's Awatere Valley.
Erica, who is the managing principal of Loveblock, attributes the home's "beautiful simplicity" to its original architect. She understands Vernon Brown, whose archetypal Auckland houses bore dark creosote, built this one around 1947 for an original owner who lived here for about 40 years. The Crawfords' renovations built on those by previous owners, who include a former Member of Parliament.
Erica has found the location very central.
"Our daughter doesn't drive. She said, 'Why would I, with a bus stop just across the road?'."
Also just across the road are the Victoria Ave shops, including a dairy, fruit shop, butcher and the vets who care for the Crawfords' dogs.
A front fence covered in creeping ficus gives privacy from the road alongside wrought iron pedestrian and driveway gates. The couple removed many of the towering monkey apple trees which used to border the property.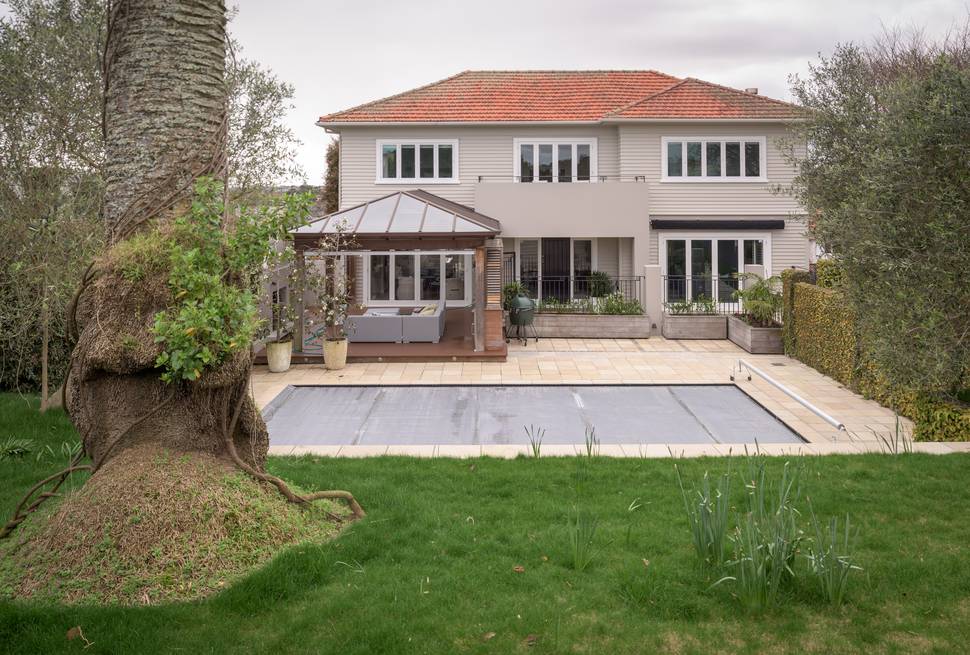 An impressive atrium foyer houses the central staircase for the three-level home with under-floor heating. The Crawfords upgraded the long kitchen-family dining room with another wall of cabinets and a scullery concealed behind bifold doors. They've had chefs cater events here. Kitchen highlights include a long granite island, a double oven and an oversized scullery sink big enough to accommodate massive platters.
The couple transformed outdoor entertaining by building a loggia off the kitchen. Guests seated under its cedar and glass roof look out at the heated pool and front lawn. They are warmed by an outdoor fire and catered for on a built-in barbecue.
The scale of this level's big formal dining room-lounge with gas fire helped accommodate Rory's Auckland Grammar pre-ball party. And five bedrooms meant plenty of beds if the children's friends wanted to sleep over.
A family or media room and study-library with powder room nearby open to the rear balcony facing Remuera's slopes.
The master suite with walk-in wardrobe is upstairs. Erica and Kim are both tall so installed a capacious bath in their en suite, which also boasts a double shower. The suite is separated from two other big bedrooms by a family bathroom, laundry and the stairwell opening to a front balcony.
"This area's lovely," says Erica of the downstairs bedroom adjoining another lounge. It opens to the back lawn on which Kim's verdant vegetable garden grows. This bedroom-lounge combo, which accompanies a bathroom and the fifth bedroom, could suit guests, teens or an elderly parent.
Completing this level are a second laundry, the large internal-access garage with workshop and a wine cellar.
The couple have bought a smaller Parnell home now their children have left home.