167, KOWHAI RD, MAIRANGI BAY
SIZE: Land 1176 sq m, house 342 sq m.
PRICE INDICATION: CV $2.3 million
INSPECT: Sun noon-1pm.
SCHOOL ZONES: Westlake Boys High and Girls High, Rangitoto High, Murrays Bay Intermediate and Murrays Bay primary .
CONTACT: Lewis Guy, 021 867 355, Jason Smale, 021 778 776, Zen Property Partners.
*2 Off-street parks
Interior designer Anita Shirley will miss the space and privacy of her home with its bird's eye view out to Tiritiri Matangi Island in the Hauraki Gulf. "You can see the lighthouse and on some days you can see right over to Great Barrier."
There are so many nooks and crannies and places to sit in this house, inside and out, Anita says -- from the step-down lounge to the decks and the pool. The pool has a cabana with a bar -- there have been some great parties out here, she says.
She and husband Peter were married in Fiji and wanted a tropical, resort feel for their home, so the bar and the palms around the landscaped pool area fit the bill.
"The pool's heated so the kids just love it and obviously in the summer time it's pretty popular."
They bought the house in 1998 because they wanted something with privacy. "I found that a lot of places on the North Shore were like being in a fish bowl, so when we bought this place we just liked the privacy.
"That was the main thing and we also wanted a nice sunny house so it was just perfect."
They renovated just after they bought it and have just finished another renovation.
Attention to detail and workmanship was important, Anita says. Outside is now vertical cedar and inside the blue entertainer's kitchen is now sparkling white and flooded with light from the large skylights.
There is new double-glazing, new drapes, new paint and a new roof -- they went to town, she says.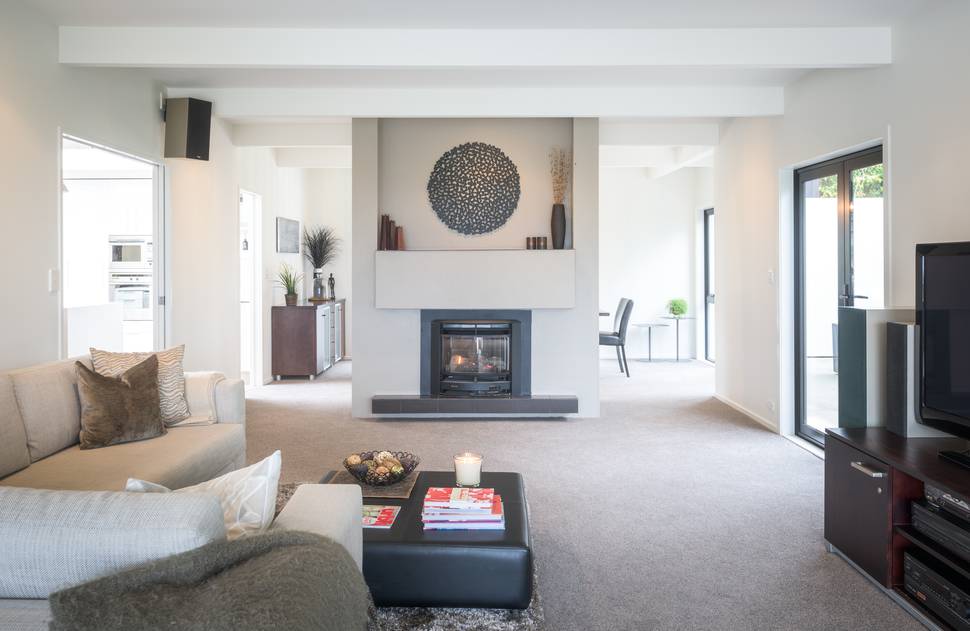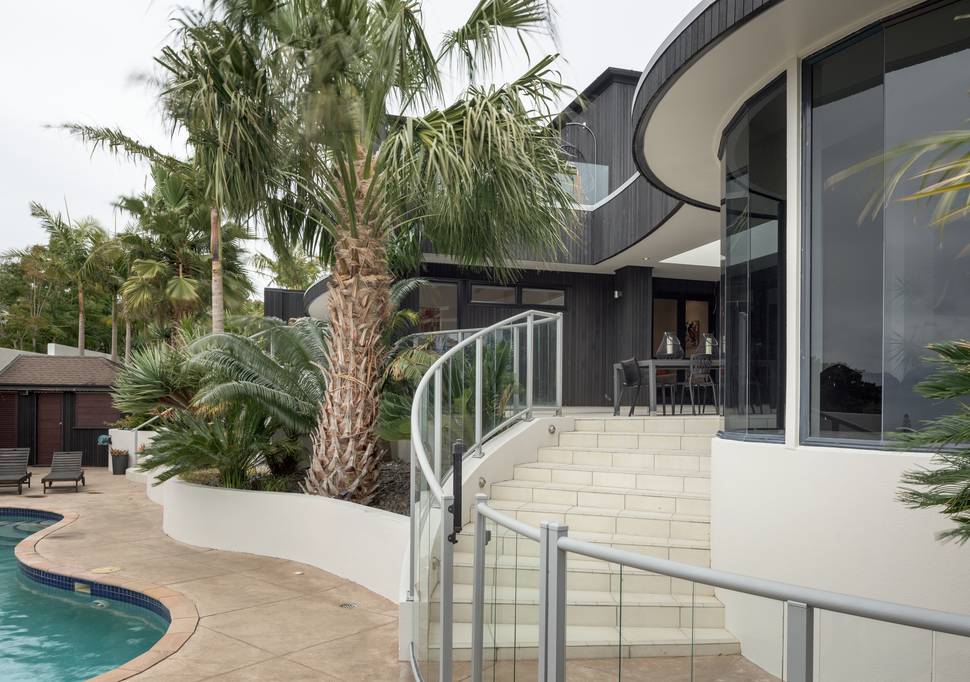 Anita is from Wellington and her husband is from South Auckland but they were drawn to the North Shore because of the closeness to the water.
"Being here is good because it's so close to Link Drive and we work in Wairau Rd and it's so close."
She has her interior design business there and husband Peter has a flooring business, hence the blonded Scandinavian-look oak floors they have laid.
She likes a nice white, minimalist, contemporary feel and has transformed the 1960s house into a modern but comfortable home.
The laundry by the kitchen is now also a butler's pantry -- "so if you're entertaining you just chuck it all in here and shut the door".
Downstairs has an office which has a koru garden area she made, and she has decorated the walls with framed selections of groovy wallpapers she uses in her business, such as one of reindeer with antlers that change colour in the light.
There are three bedrooms downstairs and two open out to their own deck with sea views, and there is a big, luscious bathroom with dark-grey concrete tiles.
Upstairs is "the parents' area" with a big master bedroom with great sea views. This has its own deck where you can sit with a glass of wine, plus a big walk-in wardrobe, an en suite with double basins and a double shower, and there's a second separate toilet upstairs as well.
There is storage galore, which Anita loves, but says the time has come to move on.
"It's just a sunny, open house and definitely the privacy will be hard to replicate."
The family is not sure where they are going yet, but as an interior designer Anita enjoys the challenge of redecorating so they will be looking for something else to put their mark on.