193-197 GREAT NORTH ROAD, GREY LYNN APARTMENTS
SIZE: 74sq m to 157sq m.
PRICE INDICATION: Two-bedroom apartments from $675,000; two one-bedroom units available from $619,000.
INSPECT: Showroom next to 1 Turakina St is open Sat/Sun/Wed 1.30-2.30 pm and Wed 5-6pm.
CONTACT: Darryl Pope, Barfoot & Thompson, ph 021 932 211.
*Secure parking
Offered as an affordable gateway into Grey Lynn, where villas carry million dollar-plus price tags, the boutique North Apartments have been designed as an attractive addition to Great North Rd.
The concrete, steel and glass building is predominantly north-west facing meaning most of the apartments on the corner of Great North Rd and Turakina St will have a harbour view as well as looking over Ponsonby and Grey Lynn.
Developed by Madison Properties, the brief to the architects at Paul Brown & Architects was to provide apartments that would appeal to owner-occupiers as an alternative housing choice on the fringe of the inner city.
B&T agent Darryl Pope says, "The villas in Turakina St and other nearby streets range between $1.5 million to $3 million and we are aiming at people who want to be in the area but can't afford that type of property. You can get into the area for less than $800,000."
Paul Brown -- whose firm designed 217 North, The Dylan, 8 Hereford (in the former Telecom tower), Hopetoun Residences (former Baycorp Tower), The Surrey and 132 Vincent St (former Beca Building) -- says there was extensive consultation with the council urban designers.
"The building was designed to maximise access to both sunlight and views to the north-west for the apartments."
He says the North building is highly articulated and complex with a variety of materials that provide visual stimulation from the street. "The materials are chosen for longevity and the ability to age well. As it weathers, this building will become more attractive.
"The base provides activation of the street through the provision of high quality retail, the main body of the building is a mix of solids, voids and screens that enable the residents access to both views and privacy.
"The top of the building is crowned by an impressive penthouse that is set back from the building edge to provide variety in the form with an appropriate cap."
He believes the North Apartments will provide an attractive addition to Great North Rd ... "it will become part of the renaissance of this critical street in Auckland City."
The building's street level is dedicated to retail, including a cafe. The next four levels are mostly two-bedroom apartments with two bathrooms, and then there's the penthouse. Five of the 20 apartments being sold off the plan have already sold (including the penthouse).
Once 10 sales are confirmed, says Darryl, "we can push the button. We have the resource consent and the builder and we're ready to go.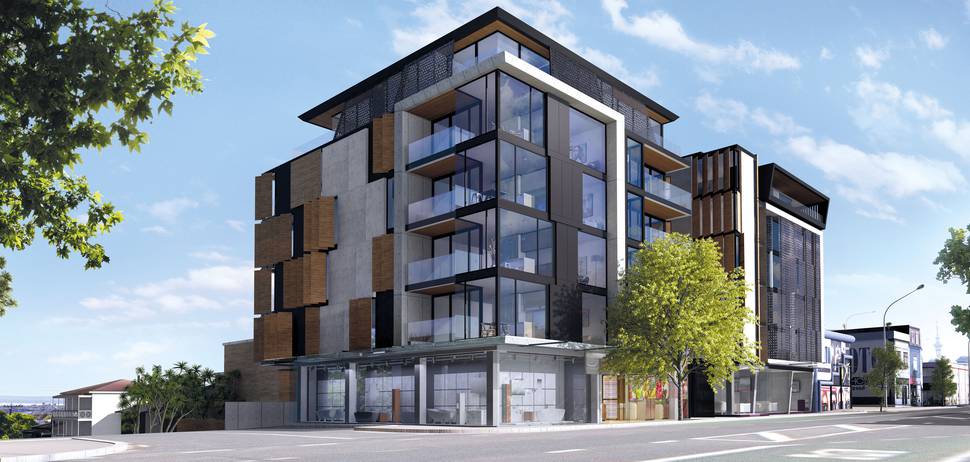 "We are hoping to start January 2015 or earlier, and we are looking at a 12-month build."
The apartments range in size from 74sq m to 157sq m and will have a stud height of at least 2.6m. Every apartment has a deck and gets a car park. Premium fittings including Poggenpohl kitchens and Miele appliances.
"Our target market is not first home buyers but people in their 25s to 45s with sufficient deposit to borrow enough, and also a lot of people ages 55 to 75," says Darryl. "People say they like that mix of ages. And this end of Great North Rd is handy to everywhere."
Two-bedroom units start from $675,000. "We have an easy buying procedure; as some people wanting to buy are empty nesters selling a home.
"We know that people don't want to sell their homes 15 months out from the apartments being finished so we will stagger the deposit."