137 SHORE RD, REMUERA
SIZE: Land 1138sq m, house approx 600sq m plus studio.
PRICE INDICATION: Houses of a similar size and quality in the area have sold for $5 million-plus.
INSPECT: Thurs 1-1.30pm, Sun 3-3.30p . Set date of sale closes 12pm September 10 (unless sold prior).
SCHOOL ZONES: Victoria Ave School, Remuera Intermediate, double Grammar.
CONTACT: Heather Walton, Ray White, ph 021 432 167.
The absolute ease of family life in this Fearon Hay-designed home is what strikes you most when talking to the friendly family who own it.
Gavin Aleksich says, "If I tried to sum it up to someone who hadn't seen it, it's an apartment that's a home. By that I mean it's got the characteristics and benefits you want from living in an apartment: all the light, the modernness, being lock-up-and-leave, but it's actually a family home."
Gavin, who owns a food importation-distribution business, shares this seven-year-old home with wife Michelle, children Tea, 14 and Rose, 8, cat Dash and schnauzer Monty. Two years ago, they re-evaluated a lengthy upheaval facing them to overhaul their previous Epsom home and bought here instead.
Gavin would have liked to have been an architect and instantly appreciated the cleverness of design looking through this predominantly concrete and glass three-level home on a wintry day. "I just walked up into the light and warmth and thought, 'Wow'."
Michelle says of their elevated position, well up a private lane opposite Saint Kentigern Boys' School, "I love the feeling of privacy and seclusion you get up here, away from all the busyness of Remuera. It gives you a really nice, peaceful vibe and a great outlook over the inlet and the basin."
The original owner leased a one-bedroom en suited separate unit prefacing the home to an interior design business. They've continued that but it could suit a granny flat, nanny's quarters or work-from-home set-up.
Portions of the seemingly uninterrupted, gently curved front wall slide away revealing the front door and garage entry (bolstered by off-street parking). The entry hall contrasts with two light-filled upper levels, almost bunker-like with its view through pleached trees to a stone garden the girls decorated with headstones for Halloween.
Gavin loves this level; its cocoon-like home cinema room, indoor spa room, where he and Michelle catch up over wine, and five-car garage integrating
a workshop area. The latter's doubled as a party room, muffling teenagers' stereo volumes. A part-corridor of storage near the laundry heralds massive built-in storage and cabinetry throughout.
Wide stairs ascend to the expansive main living level, flowing out to decks and sheltered outdoor living with an outside fireplace. Mould and mustiness experienced in older homes are a memory given the central heating, air-conditioning and wet-system underfloor heating here.
In the evening Michelle sometimes sits at one end of the living-dining stretch just admiring the steel staircase curving upwards at the other end.
"I look at the way the light hits it. You can see the stairs inside and it looks like a shell. It's absolutely beautiful."
The back of the glass cabinetry in the modern kitchen forms a living area wall. Gavin observes, "That wall almost becomes a piece of art at night when it's backlit. It looks like a cityscape."
They envisage the family TV room with extensive custom cabinetry would've transitioned into a "breakout space" for the girls.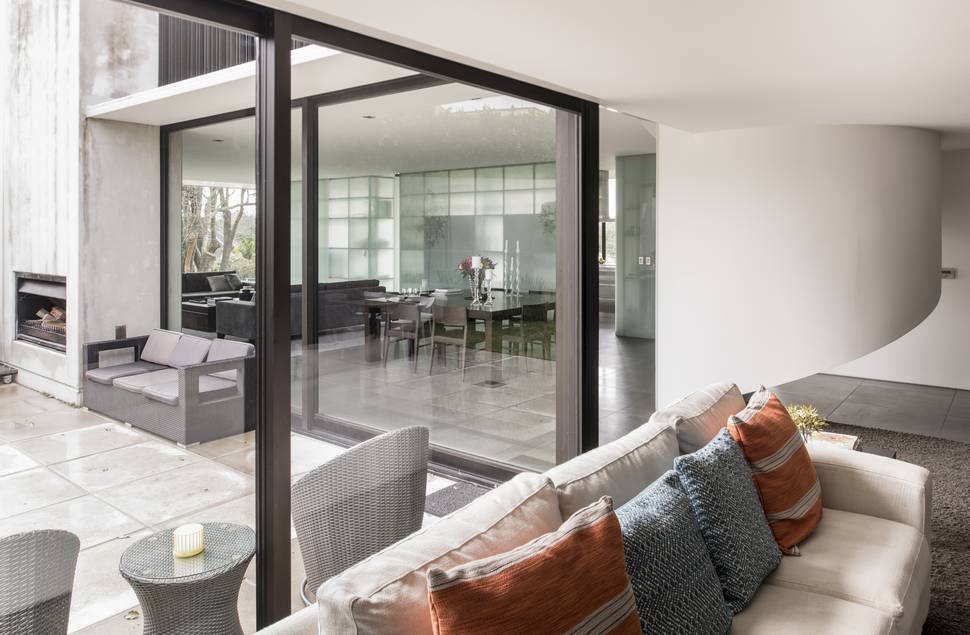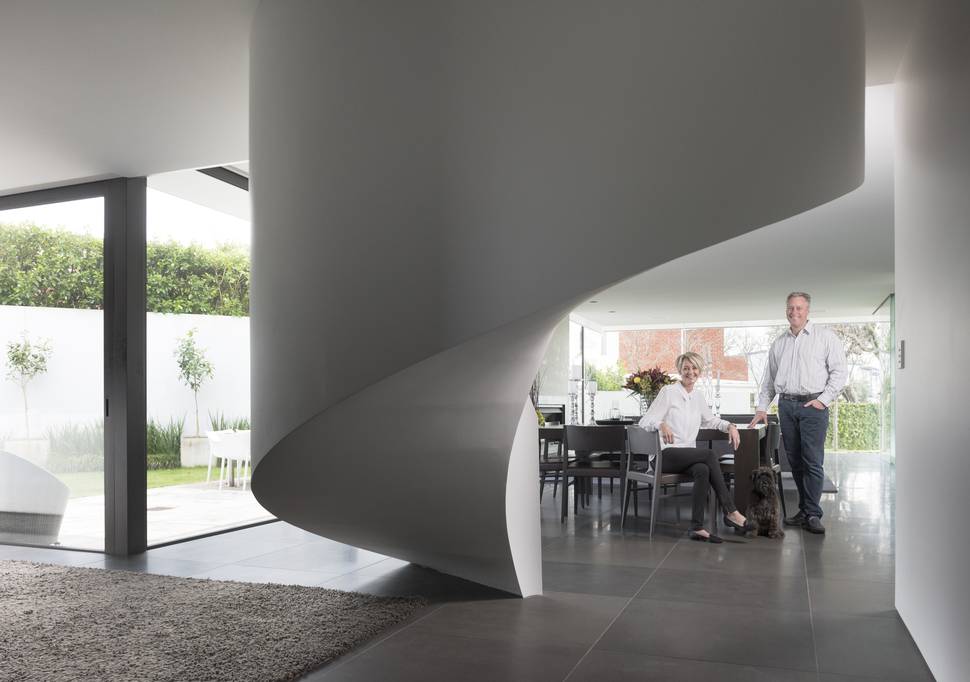 Behind this, four good-size bedrooms and two savvy bathrooms are almost mirror image. The girls' two open outside to the water feature frontage of an infinity-edge, heated saltwater swimming pool.
Upstairs, Michelle says, "I love this master-bedroom level because of its absolute serenity. There's no-one overlooking you, it looks out at the water and you feel like you're in the treetops."
The size of an entire small dwelling, it encompasses a parents' lounge around the top of the sinuous staircase, a bedroom with wide views shielded by sliding outdoor louvres and expansive premium walk-through wardrobe and en suite.
The family are selling to embark on a big lifestyle change -- schnauzer Monty will have the chance to try his nose for truffle hunting when they move to a rural Karaka property with cattle and a truffle orchard.