23 BELLEVUE RD, MT EDEN
SIZE: Land 658sq m, 183sq m
PRICE INDICATION: Similar homes in the area have sold for $2 million
INSPECT: Sat, Sun 1pm-1.30pm. Auction August 6
SCHOOL ZONES: Double Grammar zone
CONTACT: Colleen Strachan, UP, ph 021 283 6194; Lisa Pringle, 027 490 4900
When Penny and Tim Pawson bought their Mt Eden home six years ago, they knew they were going to have get creative. The house was in need of a makeover, and they could see they'd be spending time poring over paint charts and villa design books.
But what they didn't expect was that it would unleash -- in Penny at least -- a creative streak she didn't even know she had. As well as coming up with some great ideas when it came to decorating the house, she also became inspired to turn her hand to art -- something she'd never tried before.
"I'd never painted at all before I came here," she says. "I don't know what it is about the house -- maybe it's the light -- but I just felt that I wanted to try it, so I did. I think this house brings out the best in you!"
Several of Penny's artworks now hang in their immaculately renovated home, including a portrait of the couple's two sons, Edward and Bernard, and a giant canvas covered in images of the home's beautiful ceiling roses. The crisp white walls are perfect for showing off art and help to give the home a contemporary feel.
Penny and Tim could see the house had plenty of potential, and loved the fact that its many period features -- including sash windows, original fireplaces, board and batten ceilings and leadlight windows -- were intact. In the six years that they've been there, they've done their best to preserve and enhance those features, while updating other parts of the house.
A new kitchen was high on the wish list, and has recently been completed. Thoughtfully laid out around a central island, it includes engineered stone bench tops, Smeg appliances and a butler's pantry
"It is a great kitchen to use, and I especially like the fact that it has got great access to the deck," points out Penny.
They've decorated throughout, put in central heating and updated the bathroom. The striking clawfoot bath is by Royal Doulton and dates back to 1907 -- the same year the house was built. The bath had been refurbished after being rescued from a paddock in Clevedon, where it had been used as a cattle trough for many years.
The boys' bedrooms have original fireplaces, while Penny and Tim's features a square bay window set on an angle. Previous owners put in an extra room downstairs which could be a fourth bedroom, but is currently used by Edward and Bernard as their playroom. "It would also make a great media room," says Penny.
One of the biggest jobs the Pawsons have tackled is taming the garden, which was rather overgrown when they bought the property. It's now beautifully landscaped, and the family spend a lot of time outside on the north-west facing deck.
"Unusually, for a house this age, it has been strategically placed to make the most of the sun," says Tim. "It's great sitting out on the deck because you get good views, yet nobody can see you."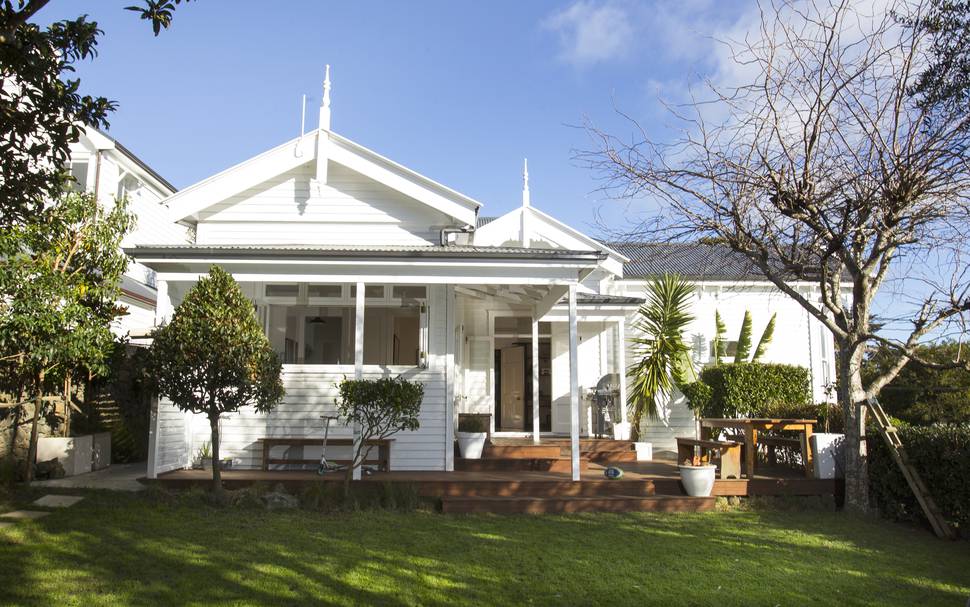 That's thanks to the house's location on an elevated corner site. There's a wonderful outlook over the neighbourhood towards Eden Park in the distance and because they look west, they get grandstand viewing of amazing sunsets.
"It's just lovely to sit in the lounge and watch the sky changing through the bay window," says Penny. "And at night you look out over sparkly lights. After a long day at work it is nice to come home and feel as if you are on top of everything."
Penny cycles the 4km into the city for work and the family makes the most of being close to Mt Eden village and also the volcano itself, where they often go to walk or bike.
Tim and Penny are selling because an opportunity arose to buy a unique home they had admired for many years. They'll miss their house but are pleased to still be staying in Mt Eden. "It's got everything you need for a family -- I couldn't imagine living anywhere else," says Penny.