20 SENTINEL RD, HERNE BAY
SIZE: Land 739sq m, house 259sq m.
INSPECT: Sat/Sun 1.30pm-2.15pm; Wed 5.30-6pm. CV $2.1 million. Auction February 12.
CONTACT: Felicity Scott, Barfoot & Thompson, ph 0274 52 2241 or (09) 376 3039; Ashley Tait, ph 021 325 009 or (09) 376 3039.
FEATURES: *Two off-street parks
The front lawn at the Irvine family's Herne Bay home has a worn tell-tale patch. This is where the wicket normally stands as the sports-mad three boys in the family practise their cricket skills.
This is a great family home, says proud Mum Philly. Just last month marks 11 years of being in this renovated and extended 1880 villa sitting high on the ridge of Sentinel Rd.
"Tim and I arrived with a 1-year-old called Benjamin and now we are leaving 11 years later with a 12-year-old, a 10-year-old, a 7-year-old and a dog. We've been here a long time.
"One reason we bought here was, when we walked in, we could see the lawn and trees at the back and it was like being at the park. And I can stand in the kitchen as I make a cup of tea at 6.30 in the morning and see out to the harbour and across to Chelsea Sugar. The house is big, it's easy with a family. It's easy to keep clean and tidy and it's a very livable house. And I love the big windows, they make it a very light home to live in."
When Tim and Philly bought the house, it was just one level with three bedrooms, two bathrooms and the living, dining and kitchen. Seven years ago they added another level to make it a five-bedroom home, practically rebuilding the structure but keeping the hallway, the two downstairs bedrooms, bathroom and hallway as the character footprint.
And why Herne Bay? "Why not Herne Bay?" Philly replies, laughing. "It's close to everything, to the water, it has fantastic primary schools. You can get a coffee or a glass of wine at the top of the street and it's accessible to the motorways."
The street residents even get together now and then for a street party. "This is such a great neighbourhood; at one stage we had 15 to 20 kids all in this street going to the local primary school. You get to know your neighbours here."
As you come in the Irvine family home from the front veranda, you have a bedroom on each side of the hallway, and then a laundry and bathroom, plus the stairs leading to the second storey, and then through to the large, open-plan living space. This is home to two lounges, dining and the new kitchen with its generous storage, breakfast bar, extra-wide oven with gas hobs, dishwasher and fridge freezer.
From this open-plan space, French doors open to the side deck with its outdoors dining area, as well as more doors to the rear deck and the spacious back lawn where the boys have their trampoline, jungle gym and swing.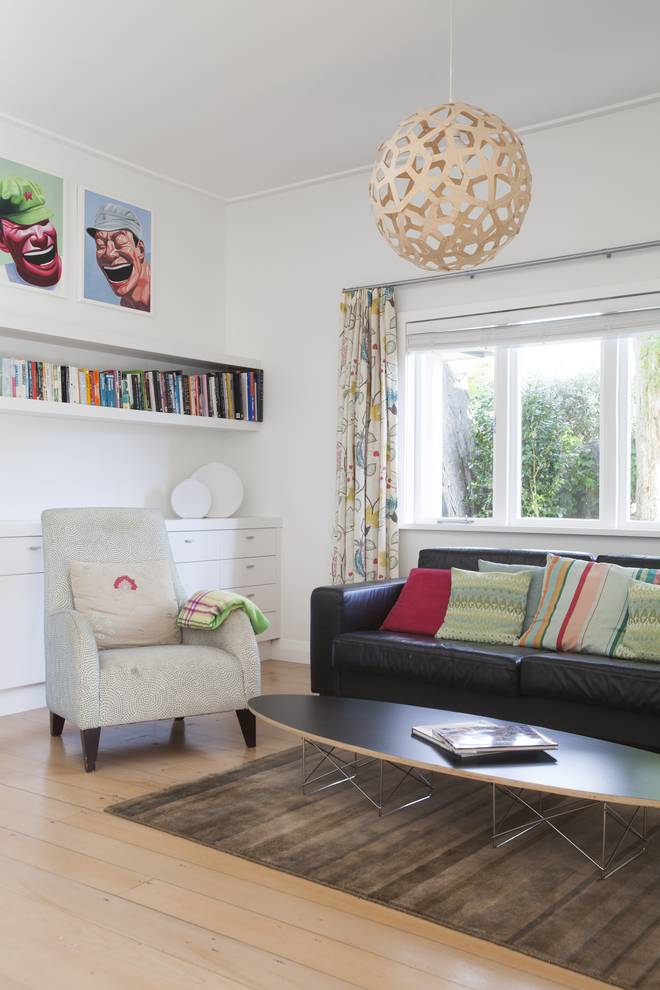 It's here that the couple have resource consent for a pool, pool house and cabana, should owners want them. Or, as Tim suggests, they could use the existing studio to work from home.
Upstairs are two more large bedrooms and then the master bedroom, all carpeted, with en suite and walk-in bedroom plus a second lounge, opening to the upstairs deck. This is Tim and Philly's "adult retreat". "We can shut the doors and sit up here with a glass of wine and be completely away from our little darlings, on our own deck," says Philly - all with peeks of the sea through a magnificent pohutukawa.
The couple are moving to another property, just 200m away. "Something came up, it's only the second home we have looked at in 11 years," says Philly. "It'll be sad to leave here. There's something about leaving the home you brought your children home to when they were newborns."