38 COMBES RD, REMUERA
SIZE: 580sq m, house 251sq m.
PRICE INDICATION: CV in 2011 - $1,110,000. Auction on Feb 5.
INSPECT: Sat/Sun 1-1.30pm.
SCHOOL ZONES: Victoria Ave Primary, Remuera Intermediate, Auckland Grammar, Epsom Grammar.
CONTACT: Cathy Roselli, Ray White, ph 021 750 454 or (09) 520 9100.
FEATURES: Late 1920s bungalow with three bedrooms (two upstairs), downstairs laundry and lounge. Significant storage, generous bathrooms, two open fires. Close to Waiata reserve and Remuera village. *2 off-street car parks.
As a mother of two, Denise Mayhew knew exactly what she needed in a house. She wanted her kids within sight while she was in the kitchen and easy ways of containing the toys, crayons and knick-knacks that kids never put away themselves.
As they were growing up, Denise needed somewhere other than their open-plan living area where their children could play safely and spread their creative activities out more easily. Denise also needed space to enjoy the company of friends and to bring the family together with ease.
Nineteen years ago, Denise and her husband found it when they moved here with their 1-year-old son, Andrew, on their arrival back from England. Their daughter, Katie, was born two years later and for both children this has been the only home they've ever known.
Along the way, they've reworked it to suit their needs. Thirteen years ago, they extended the north-facing entry-level living areas, as well as the downstairs lounge and laundry that had been added in the 1970s to the bungalow-style home built in the late 1920s.
Nowhere is their success at future-proofing their home more evident than in the dining nook alongside the kitchen and open-plan living and dining area. Denise saw a similar built-in booth-style nook in an overseas home decor magazine and loved it.
"The kids and their friends loved this area when they were little and it has been just as good when they were older," she explains. "We've had eight adults around the big dining table and eight kids at the little table. Even now we'll sit round here and have dinner together."
Tongue-and-groove kitchen cabinetry repeats original panelling in an alcove by the family room fireplace. The panels of the kitchen pillar are a nod to traditional bungalow lines that include the beam and plaster ceilings.
In both stairwells they installed matching leadlight windows. The magnificent leadlight focal point in their elegant English-style tiled bathroom was one of those serendipitous renovation finds. They found the semi-circular window at a school fair and Denise sourced matching textured glass so the builders could construct complementary opening windows beneath.
Denise has precious memories of the days when her children each slept in the nursery that is now a study, next to the main bedroom upstairs. This beautiful room beneath a beamed pitched ceiling and with casement windows overlooking the garden is her sanctuary at the end of her day.
One of Katie's favourite rooms is the main lounge. "If you want to get out of the sun then you can sit in here and still talk to everyone outside on the deck."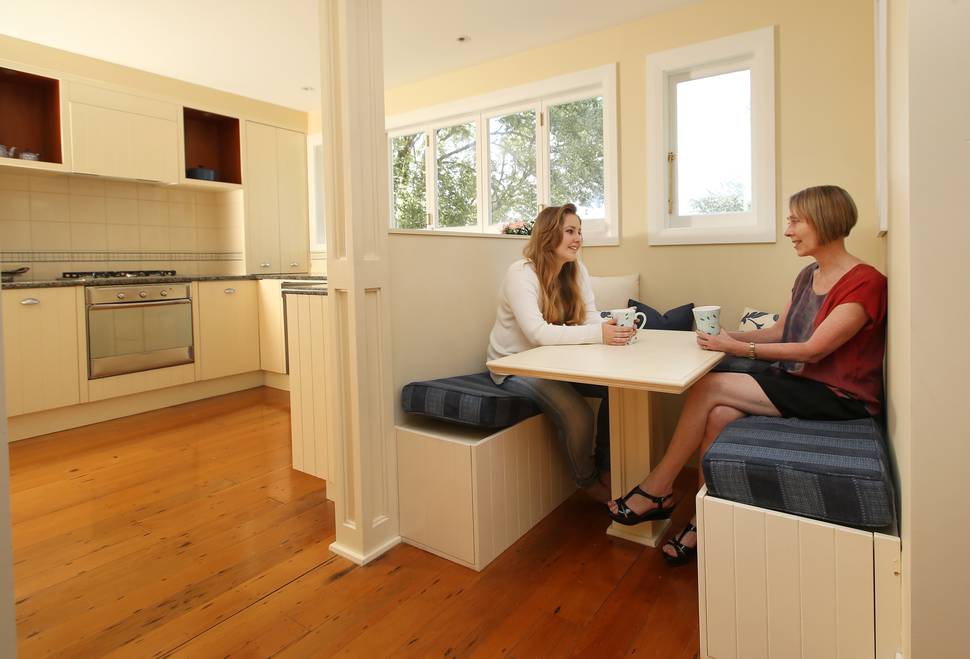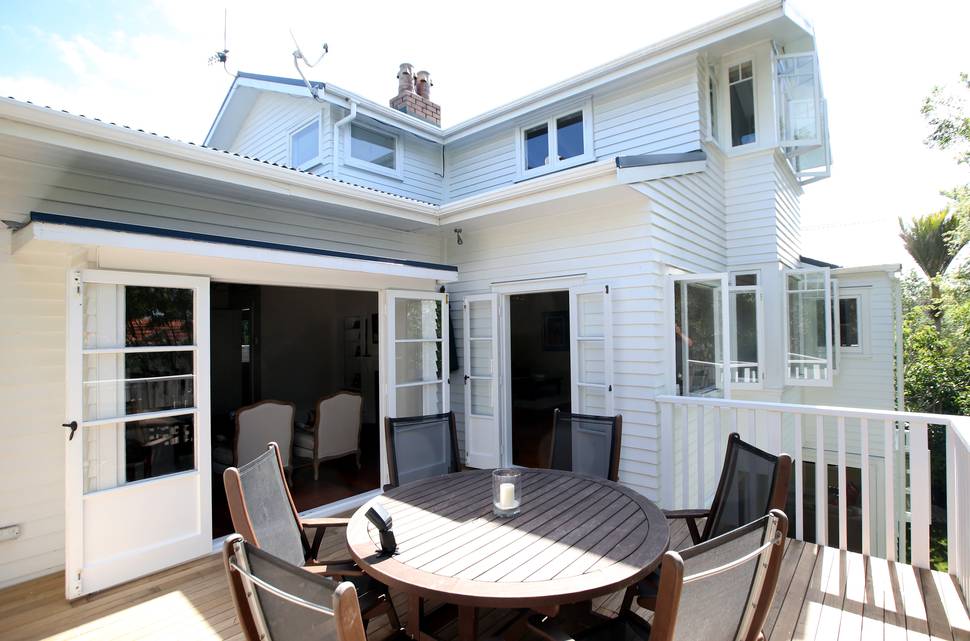 Countless memories have emerged from that downstairs kids' lounge too. "I had lots of Barbie dolls and we had lots of toys in toy boxes as well as an easel, the whiteboard and chalkboard," says Katie. "We'd be down there for hours. That was my best childhood memory."
Some years back, a middle-aged man who'd also grown up in this home knocked on the front door and offered his own memories to add to this home's anecdotal history. He remembered the front bedroom that had been extended by the previous owner to encompass the original front porch. He also remembered the steep steps leading straight down to the rear garden.
This home has supported at least two families from a very young age and Denise hopes another young family will make their own memories here, as it's is now too big for her own family of grown-up children.