224 HARAMBEE RD, TAIHARURU WHANGAREI DISTRICT
SIZE: Land 3.87ha, house 250sq m.
PRICE INDICATION: $900,000 to $1.1 million.
INSPECT: By appointment.
SCHOOL ZONES: Parua Bay School.
CONTACT: Grant Alexander, Barfoot & Thompson, ph (09) 438 3079 or 021 286 8600.
FEATURES: Elevated modern home built in villa style with north-facing aspect and wide sea views. Landscaped grounds, utility shed and several paddocks for grazing.
Nothing could be more different from Rob and Ashley Hart's former home than the house they built on top of Kauri Mountain, near Whangarei, in 2001.
The cottage they moved from was tiny and dark, and the fact that it saw the sun for only three months of the year formed the basis of Rob's wish list for the new house.
"We'd always admired this piece of land," says Ashley of the 3.87ha block at Taiharuru, near Whangarei, "so when the opportunity came up, we took it."
Rob designed the house himself. All-day sun was a must, and he took care to set the house back into the hillside for protection from the wind. That, the northerly aspect and the hedges they planted, have proved the perfect combination and Ashley says the house is so warm their doors and windows are open most of the time.
Rob had lived in old villas, so he had that style in mind as opposed to a sleek, rectangular, contemporary look. He drew up a two-storeyed house with gables, finials, high ceilings and big spaces. The exterior colour scheme also harks back to villa days, with cream weatherboards, maroon bargeboards and a grey roof.
Ashley's wish list had only two items on it - a big bathroom and a big kitchen, and she got both.
"This house doesn't have a sophisticated design, but it's a lovely, spacious family home with what I'd describe as a baker's kitchen."
The kitchen is big - as requested - with contemporary styling softened by timber-edged, wraparound benches and a central island.
And the main bathroom exceeded Ashley's expectations of space. There's a large, wet space shower, a blue clawfoot bath and room to dance.
Blue is a recurring theme throughout the house. Rob and Ashley love colour so the door and window frames are sky blue, and the kitchen is a deep blue. In the living room a pale, buttery lemon provides a serene backdrop for blue furnishings. High pitched ceilings with exposed beams painted white add to the feeling of airiness and space, as do the big views across the Tutukaka Coast, down to the Poor Knights at the front of the house and the Hen and Chicken Islands and the Barrier behind.
It might be expected that a property with such expansive views would be steep, but that's not exactly the case. It was originally an old airstrip so Rob and Ashley were lucky enough to score a huge flat area at the front of the house which Ashley says is big enough for a tennis court and a soccer field.
They've developed about an acre of the site as garden, with terraced lawns, all of which can be mowed with a ride-on, lots of casual plantings, and hedges.
Elsewhere on the land there's native bush, including an impressive stand of kauri.
The rest is paddocks, which are home to what Ashley describes as a flock of 20 "antique" sheep.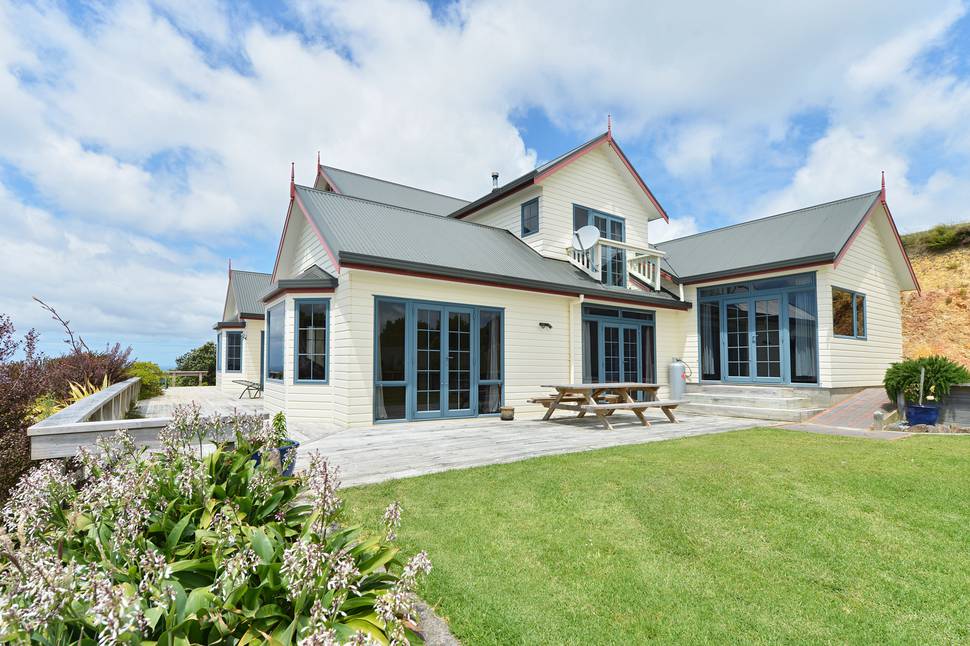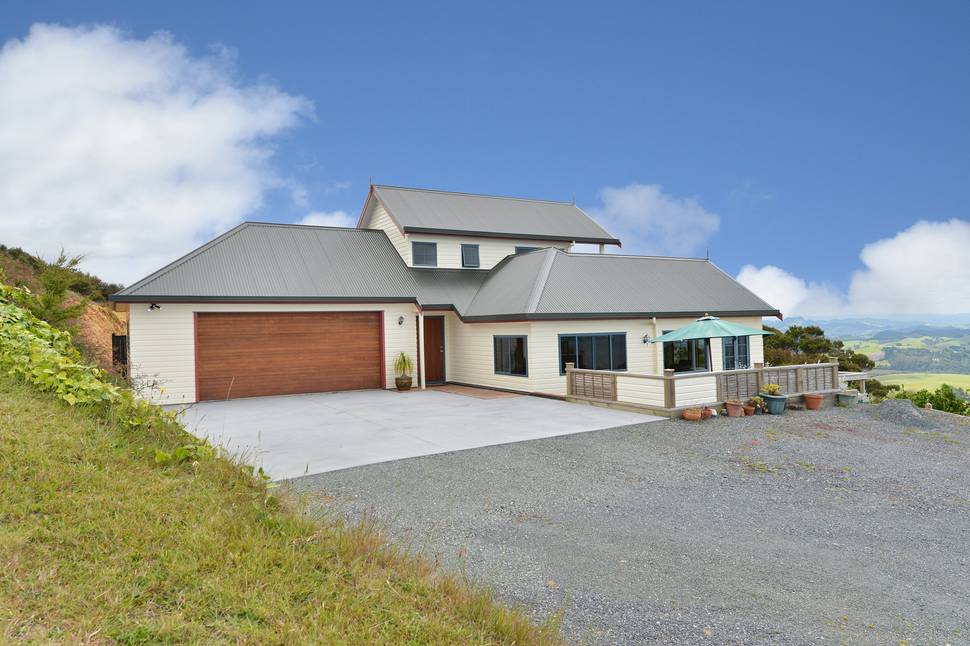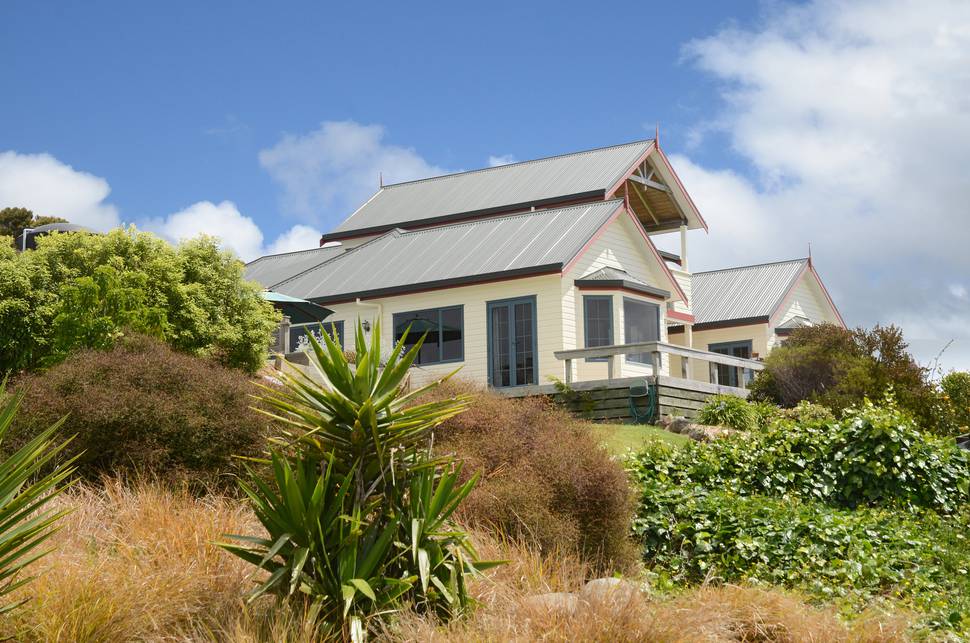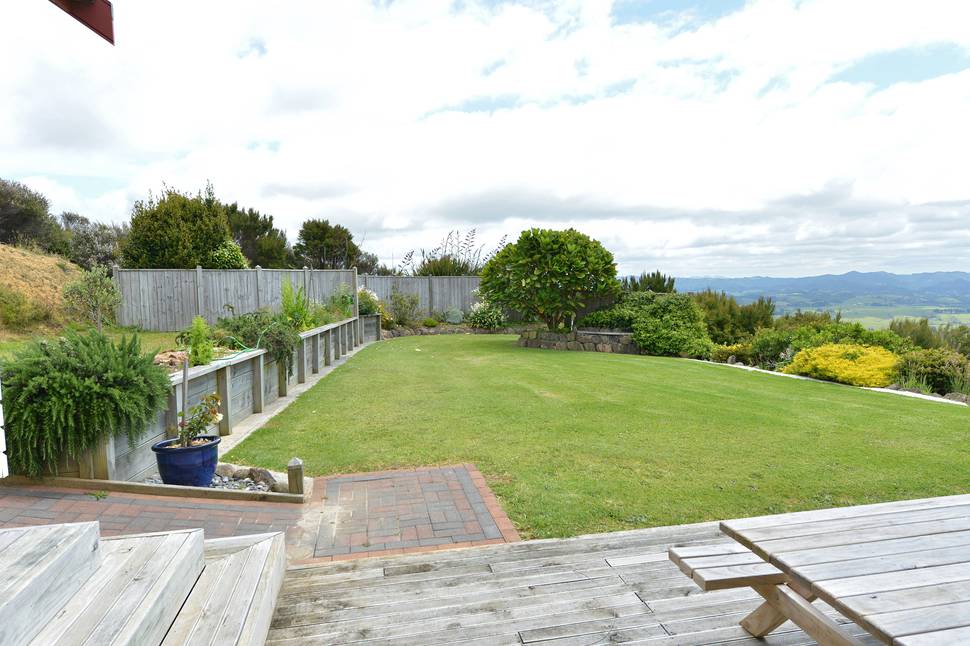 Outdoor living space was a priority when developing the garden, so there's a wraparound deck plus a paved barbecue area which easily accommodates a crowd.
After 12 years in such a spacious home, Rob and Ashley are about to downsize to something even smaller than the tiny cottage they left behind. With their children overseas, they're hitting the road with a house truck and a couple of motorcycles.
"It's what you do in your 50s, isn't it?" Ashley laughs.
They're off to see more of New Zealand and the world, and will be away for as long as it takes.