7 OXFORD TCE, DEVONPORT
SIZE: Land 359sq m, house 136sq m (approx).
PRICE INDICATION: Properties in the area are selling above their CVs. Current CV $1.4 million. Auction December 12.
INSPECT: Sat/Sun 12.30-1pm, Monday 6.30-7pm, or phone for an appointment.
SCHOOL ZONES: Takapuna Grammar; Belmont Intermediate; Devonport and Vauxhall primary schools.
CONTACT: Victoria Bidwell, Bayleys, ph 021 947 080
FEATURES: Well-maintained and restored corner villa with lock-up-and-leave convenience in Cheltenham. Original character details, native timber floors and charming ambience with modern kitchen, sheltered courtyard, ducted central heating and double garage. Cross the road to the park and beach and an easy stroll to the village, ferry and cafes.
Andrew Simms considers himself an experienced man when it comes to old houses - he's lived in and done up more than his fair share of beautiful villas in his hometown of Dunedin. He loves their details, their character, and how his fine antique furniture, collected over a lifetime, fits in.
He does not, however, love dealing with the massive parcels of land, and the maintenance of that land, that usually come with an old house. So when he moved to Auckland last year to develop his car business, Andrew Simms Newmarket, he was looking for the best of both worlds.
"I wanted a villa with the ease of being lock-up-and-leave. I travel a lot, I'm pretty busy with my commitments, but I love old places. I calculated my 100-year-old Dunedin house on eight acres [3.2ha] takes me about 20 hours a week to keep up the gardens. With my new business in Botany Downs, I didn't have the time," he explains.
Along with his wife and young daughter, Andrew planned to commute between the two cities. But that has proved harder than he thought, so his family is now based back in Dunedin and he no longer needs the family villa.
Which is a shame, as it is a perfect neighbourhood for youngsters. From its corner lot, you can cross the road, walk through Belmain Reserve and be on pretty Cheltenham Beach in a minute. The road is the kind where kids and bikes are permanently roaming on weekends and after school. There is even a well-used swing on the pohutukawa tree on the street.
When he is there, Andrew has loved the relaxed, beachy feel of the community, the friendliness of the local shopkeepers and the feeling that it is summer holidays all year around. But most of all, he has loved living in a villa that is all about relaxing, not maintenance.
He had a lucky find as the bay-fronted villa, surrounded by gracious hedges in a street full of equally well-cared for beauties, is on a small section: outdoor living is a sheltered, paved courtyard opening from the kitchen's French doors, that captures the afternoon sun. Apart from hedges and a herb bed, this is not a garden that devours spare time in chores - just in leisurely dinners and safely enclosed toddler play.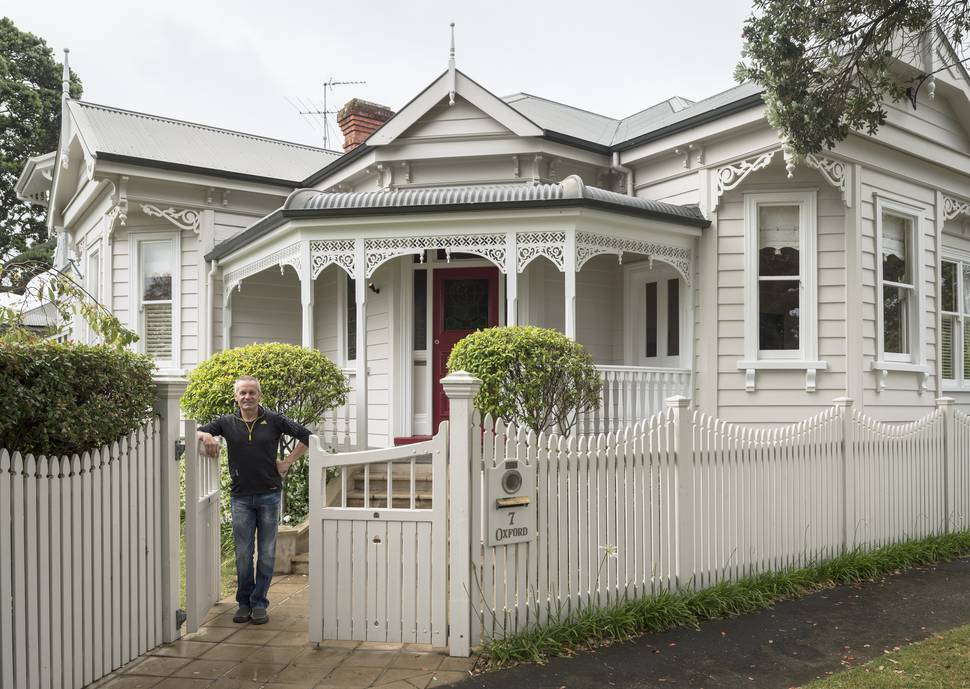 The previous owners had done all the decorating work but, like Andrew, carefully appreciated the bones and mood of a classical villa - no blown-out modern boxes here. The kitchen, with panelled cupboards, mouldings and vintage-look tiles, still has the best of the mod-cons, but is age-appropriate. Andrew gathers that the gorgeous chandeliers in the dining and living rooms were brought in from Europe. The mood is set from the classic front door opening into the dramatic wallpapers - exotic Victorian-style tropicana and bamboo - paired with glowing polished native wood floors. Crisp white plantation shutters control light and privacy at the windows.
The bathroom is cleverly configured to be both an en suite from the master and open to the hallway for use by occupants of the other two double bedrooms. There is a second guest bathroom near the reception rooms. The earlier renovation made room for a vintage-style soaking tub, as well as the usual shower and vanities.
"This is a beautiful heritage neighbourhood, it can't be built out," says Andrew. "Yet outside of peak traffic, you can commute to the city in 15 minutes." The best of both worlds, then.