4 FERNER AVE, MT ALBERT
SIZE: Land 1247sq m, house 350sq m (approx).
PRICE INDICATION: Buyer interest has been over CV of $1.87 million (July 2011). Set date of sale December 5 (unless sold before).
INSPECT: Phone for viewing times
SCHOOL ZONES: Gladstone Primary, Kowhai Intermediate, Mt Albert Grammar School.
CONTACT: Steven Glucina and Dee McDade, LJ Hooker, ph 021 888 455 or 361 7701 (Steven) or 021 448 832 or 376 7530 (Dee).
FEATURES: Landmark two-storey 1920s house. Three living areas plus two covered-in sun porches reached from the bedrooms. Granite designer kitchen, wine cellar, wood-panelled entrance. Stunning garden includes original stone walls and shed and has room for a swimming pool. Close to schools, Unitec, train station and St Lukes.
Paul Glucina and Ann Searle were looking for a low-maintenance property closer to the city when they were househunting 17 years ago.
Although the house they found in Mt Albert was nearer to town than their Titirangi home, they couldn't have chosen a more high-maintenance property if they'd tried.
"It was a case of the worst house in the best street," says Paul. "Ann looked at it and said, 'You must be joking'."
Paul wasn't put off by the blue paint, falling-down guttering, brown shagpile carpet, jungle of a garden and complete lack of indoor-outdoor flow. Instead, he saw beautiful period features such as the folding leadlight doors to the lounge, the numerous original fireplaces, the generously proportioned rooms and abundant possibilities to create a stunning family home for their three children.
"I saw lots of potential," says Paul. "I also saw lots of work."
He did wonder what they'd got themselves into when it rained the night they moved in and the water running down the walls from the leaking roof sounded like Niagara Falls.
But nearly two decades and one major renovation later, they have a home that is grand yet neither opulent nor fussy. They have successfully preserved the character while enhancing the two-storey 1920 bungalow with features that bring it into the 21st century.
"I think you have a real duty, when you own a house like this, to look after it properly," says Paul. "Yes, it has been a lot of work, but it gives you so much pleasure, knowing you have done things right."
The flooring in the living areas is an example of the couple going the extra mile to make sure things were done correctly. Paul and Ann extended the back of the house to create more space in the kitchen, dining and living room, but were then faced with the dilemma of what to use underfoot that would match the distinctive narrow gauge tongue-and-groove flooring in this part of the home. Tiles were suggested but, in the end, they got the wooden shiplap boards that were being pulled off the kitchen walls cut to match the floorboards and used those.
"They were the same age as the floorboards and matched perfectly," says Ann.
The main living areas are on the upper level and, as well as the open-plan kitchen/dining/living area, there is a gracious formal lounge with a sandstone fireplace. Also on this level are a large laundry, a tiled bathroom and two bedrooms, which both open to a covered-in sun porch.
Ann and Paul's bedroom has a glimpse of the sea.
Downstairs are two more bedrooms and another covered-in sun porch in an identical layout. Also on the lower level are two bathrooms and two rooms that create a versatile space that has had many uses over the years.
The larger room is mostly used as a playroom for the couple's grandchildren now but has previously been a teenage retreat and was also accommodation for Paul's mother, along with the adjoining room that has its own entrance.
Paul also put this space to good use when he set up his skincare company, About Face. He worked from home until the business outgrew the space.
Paul proudly points out one of his favourite parts of the house - a wine cellar that stays cool thanks to being dug out from the land under the house.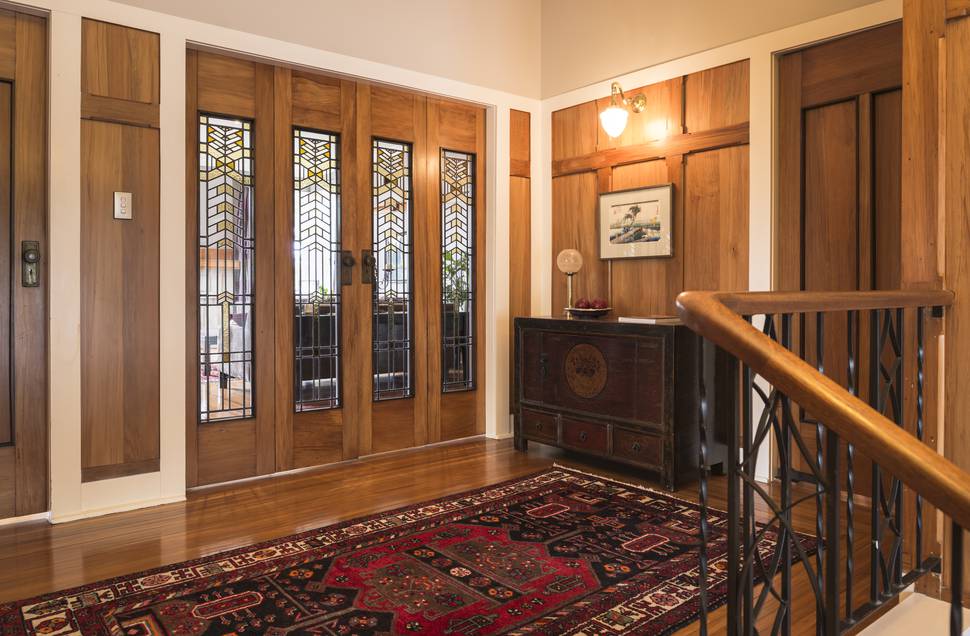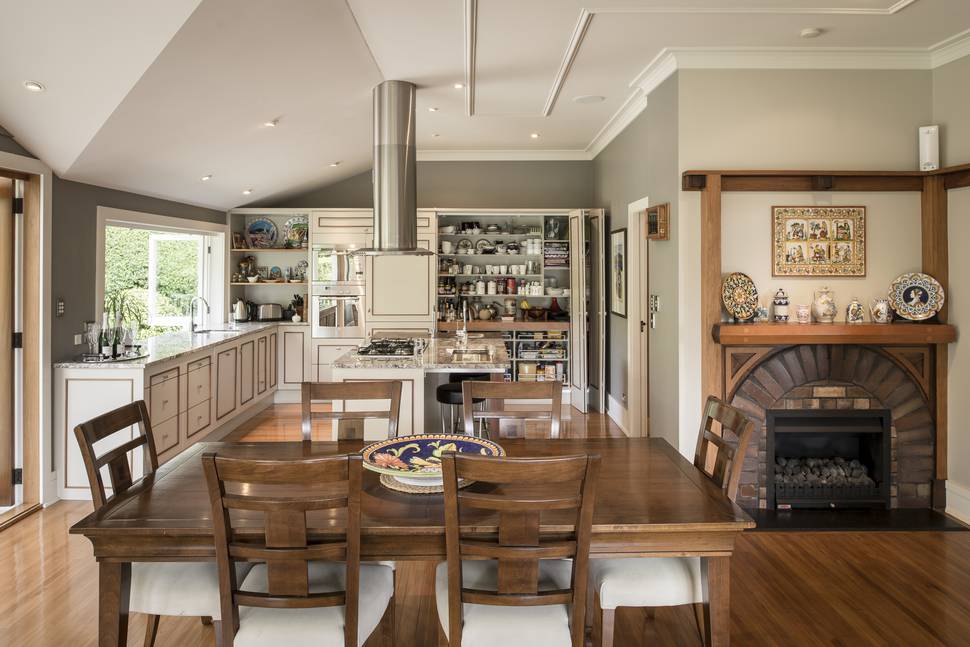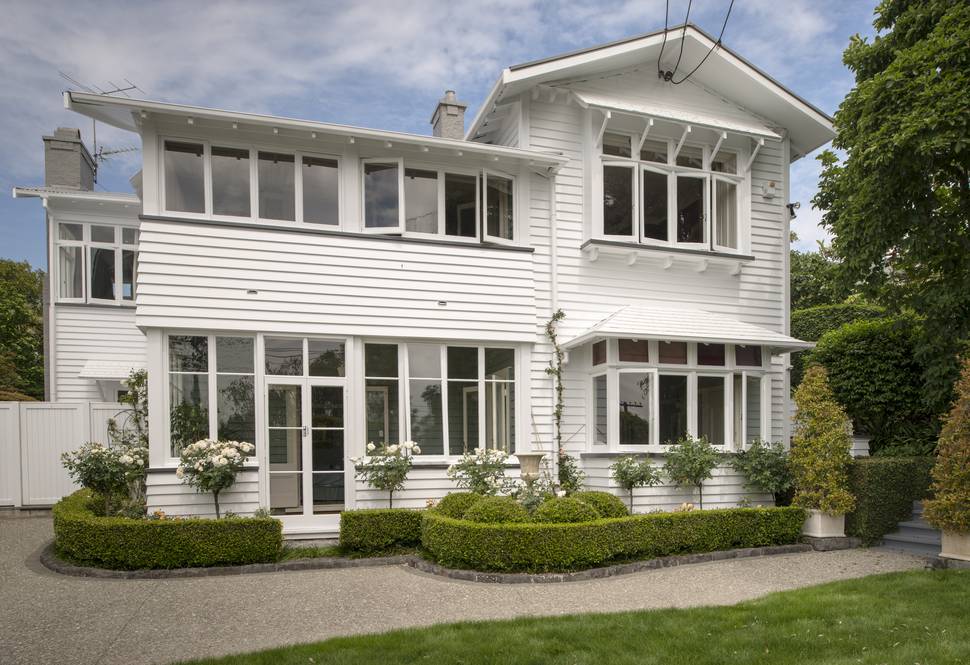 Outside, the overgrown jungle is now a beautifully landscaped garden that features mature trees, roses, manicured hedges and a fescue lawn. Overseas travel - particularly trips to Italy - provided the green-fingered couple with inspiration.
The all-important indoor-outdoor flow from the living areas was achieved by adding bifold doors to the living and dining room that open to a covered deck. The roof and an outdoor heater mean this space is used for a large chunk of the year.
Ann and Paul are selling because the house is too big for just the two of them. But they love it and the garden so much that they'll be looking for something similar on a smaller scale.
"If we can't find it, we will recreate it," promises Paul.