Professional body builder Darryn Onekawa posted this picture on his Facebook page. "What's wrong with this picture people!?" he asks. "I've known for a long time how expensive it can [be] and normally is to eat healthy and how cheap it is to eat complete junk, but this is ridiculous. I was in the supermarket today and took this photo. Both trolleys cost $14." Click here for full image
Scan your nurse's accent carefully
"My Chinese wife was in Auckland Hospital for an operation," writes Mike Edgar. "A nurse told her that she would be given a marae. She took this to mean she would be given a model of a Maori building and could not understand why. It turned out there was some misunderstanding. The nurse had told her she was to be given an MRI ..."
Sore loser's murder hoax
An unknown gamer lost a game of Call of Duty to Rafael Castillo, a 17-year-old boy in Long Island, and then called 911 pretending to be the boy and claiming to have murdered his entire family. The police dispatched the full might of the SWAT team on the boy's residence, including more than 60 officers, some arriving in helicopters. Instead of finding a crazed killer inside the home, the SWAT team members found themselves caught in a hoax known as "swatting". Police confiscated the game console to try to identify the caller. The prank is expected to cost around US$100,000 ($117,000) in public resources. (Source: ABC News)
Death feels good on Norway TV
Norwegian celebrities are being asked to plan their own funerals in a new TV programme about death. The Coffin is shown by Norway's public broadcaster NRK, known for running seven hours of footage from a train journey from Bergen to Oslo. Producer Nils Gelting Andresen says the series is a "feelgood show about death" and his mission is to break the taboo surrounding mortality while letting the public get to know celebrities better. "We have been asking questions that people usually do not have to answer," Andresen says on the NRK website. (Source: bbc.co.uk)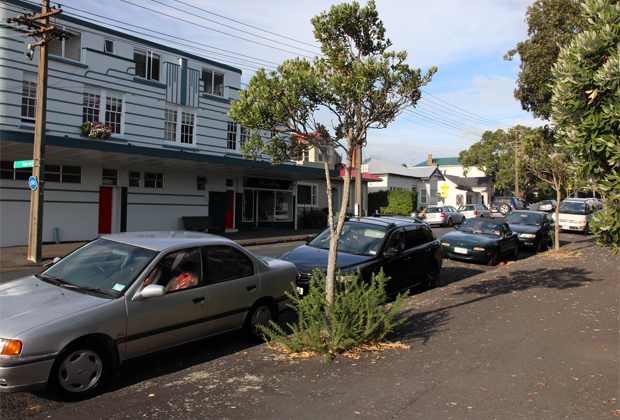 Has the council landscaping department added gorse to its repertoire? Spotted at Calliope Rd, Stanley Point, Auckland.


Chef or masseur? (Via Twitter @thorharris666).
Bad ad: "The Public Trust warns that if you don't have a will, your daughter might end up at a co-ed school happily eating lunch with boys... or something..."
Picture this: Need a hobby? Like wrestling ducks into Victorian costumes?
Diversion: Are you more left brain (logic) or right brain (feelings)?
Trade Me: A mobile cinema in classic 70s caravan...

Quick clip: Jessica Hickey's Dad has been a widower for twenty years. Ever since his only child got married, he's wanted a grandchild. Finally it came to break the news to him...
NZ Herald app users click here for today's video.
Got a Sideswipe? Send your pictures, links and anecdotes to Ana at ana.samways@nzherald.co.nz