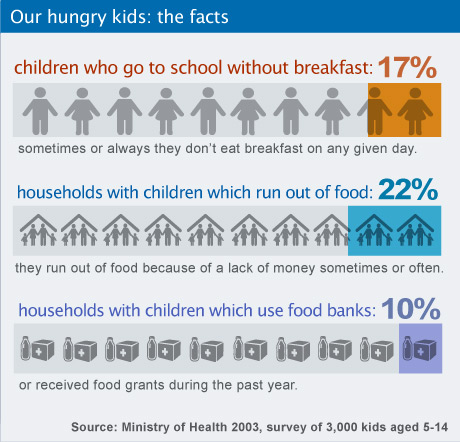 Hungry children at Greerton Village School in Tauranga will open parcels of food packed by a quartet of glamorous celebrities when the goodies arrive for the new term next week.
Television personality Sally Ridge, presenter Miriama Smith, fashion designer Paula Herbert and Jo Holley, formerly of the children's television show Squirt, joined volunteers from the ASB Bank to pack nut bars, peaches and raisins for the school at the KidsCan charity in Albany yesterday.
"It's an amazing cause," said Ridge. "When you have children, of which I have four, it's important to make sure they are fed before they go to school. There's nothing worse than a grumpy, hungry child."
Smith, who has been a KidsCan ambassador since the charity was founded in 2005, said she was born in Rotorua and grew up in Porirua, and had seen poverty first-hand.
"We all think New Zealand is this idyllic little place that doesn't have this, but we need to be reminded that it exists," she said. "We also need to be reminded that we can help."
Since the Herald's hungry kids series began on Monday, 250 people have signed up to KidsCan's "In our own backyard" campaign, paying $15 a month to sponsor a hungry child in New Zealand.
Greerton Village School principal Anne Mackintosh said the KidsCan food was "an absolute Godsend" for the 315 pupils at the decile 2 school.
"We are certainly noticing in school that children are not having as much food as usual," she said. "The price of even staples has just gone through the roof."
Ms Mackintosh has seen things get much worse in the past two years as some parents have lost their jobs and are struggling to feed their children.
"Tauranga, contrary to popular belief, does have a poverty-stricken underbelly.
"Some of our parents are on very, very low wages, and there is some unemployment.
"We are just so lucky with the support that we get from KidsCan."
What you can do
Sponsor a hungry child for 50c a day.
(to help provide the basics they're missing out on.)
kidscan.org.nz
Donate to Salvation Army food banks.
salvationarmy.org.nz
Donate to Auckland City Mission winter appeal.
(you can text help to 305 to instantly donate $3.)
aucklandcitymission.org.nz
Use your business or community group to feed hungry kids in your local school or community.