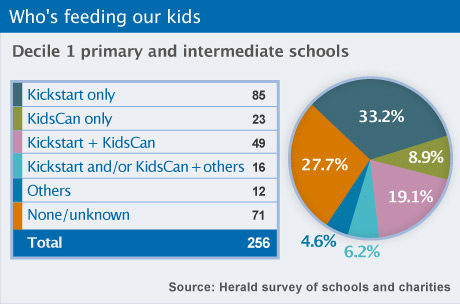 School principals say the number of pupils turning up for breakfast is increasing daily, despite the collapse of one of the two main breakfast programmes, a Red Cross scheme which ended this month after Countdown supermarkets withdrew their sponsorship.

A Herald investigation has found that at least 185 of New Zealand's 256 primary and intermediate schools in the poorest 10th of the nation (decile 1) give their children breakfast or other food during the day, on top of the Government's fruit in schools scheme.

Kickstart, a breakfast programme sponsored by Fonterra and Sanitarium, expects to feed 18,400 children a week in 484 decile 1 to 4 schools after it takes over 47 of the 63 former Red Cross schools next week.

KidsCan, a charity partly funded by the Government, supplies muesli bars, fruit pots and other food to 20,000 children a week in 189 schools.

Other programmes are run by churches, community groups, Hubbard Foods and businesses such as Auckland bakery Abe's Bagels, which supplies 27 schools.

This means the total number of children being fed each week is almost certainly more than 40,000 - nearly a fifth of the 229,400 children in decile 1 to 4 schools.

KidsCan is running an appeal for people to sponsor one of the 20,000 children on its waiting list for $15 a month. So far 850 sponsors have signed up.

But in a report being issued today, the Child Poverty Action Group calls on the Government to work with charities, businesses and community groups to underwrite breakfast programmes in all 463 decile 1 and 2 primary and intermediate schools.

"It is time to deal directly with childhood hunger," it says.

Manurewa Intermediate principal Iain Taylor said the problem had become so bad that children were stealing food from the school's marae where the breakfast club was held.

"It's definitely got worse this year, without a doubt. The poverty is really obvious," he said.

The number of New Zealand children going hungry has not been measured directly since 2002, when a Ministry of Health survey found that 83,000 children, or 17 per cent of those aged 5 to 14, sometimes or often went to school without breakfast.

That was partly because some children did not want to eat breakfast or came from families in which breakfast was not part of the culture.

But some families also clearly could not afford to feed their children every morning.

A third of children from the poorest fifth of areas at least sometimes went without breakfast.

Almost half (45 per cent) of families with children in the poorest fifth of areas sometimes or often ran out of food because of a lack of money, and 20 per cent of families in the poorest fifth had used foodbanks or received food grants in the year before the survey.

KidsCan founder Julie Helson said demand for her programme was growing, mainly because of the rising cost of living.

Food prices rose 7 per cent in the year to June, but the average hourly wage rose only 2.6 per cent in the year to March.

"We have people surviving on $80 a week and having to make choices whether they treat their child's nits or buy food," Ms Helson said.
What you can do
Sponsor a hungry child for 50c a day.
(to help provide the basics they're missing out on.)
kidscan.org.nz
Donate to Salvation Army food banks.
salvationarmy.org.nz
Donate to Auckland City Mission winter appeal.
(you can text help to 305 to instantly donate $3.)
aucklandcitymission.org.nz
Use your business or community group to feed hungry kids in your local school or community.