A Tauranga drug dealer lay in wait for a gang member and shot him twice - in the back - following a debt "taxing" gone wrong, a court has heard.
The victim, Lance Wayne Waite, was shot at a Gate Pa property in January last year and the 58-year-old later died of his wounds after being taken to Tauranga Hospital.
Then a rival gang member - who had a long history with Waite, a Mongrel Mob member - allegedly helped the shooter to avoid arrest.
Within days of the fatal shooting, Colin Richard Jeffries-Smith, 28, was charged with murder.
Then nine months later, a second man was arrested in connection with Waite's death.
Casino Heta Williams, 51, was charged with being an accessory to murder for allegedly helping Jeffries-Smith, as well as unlawful possession a semi-automatic Ruger rifle.
Williams, a Black Power member, is also alleged to have handed the Ruger to Jeffries-Smith before the fatal shooting.
After Waite was killed, Williams is alleged to have given Jeffries-Smith a place to hide and new clothes, while dumping the clothes he was wearing at the time of the shooting.
Williams is also alleged to have given the younger man a new SIM card for his phone and, after Jeffries-Smith was arrested, advice on what to say to police.
Both men pleaded not guilty to all charges at the start of their trial in the High Court at Rotorua.
Anna Pollett, the Crown Solicitor for Tauranga, said the trial illustrated the dangers of being involved in the drug dealing world.
In opening the Crown case to the jury, Pollett said Colin Jeffries-Smith was a street-level dealer of cannabis and sometimes methamphetamine.
However, he was in debt to his supplied to the tune of $3400. He fell into further debt after taking $2000 cash from a buyer, Kararaina Wihapi, but failing to supply the promised methamphetamine.
Debt collection in the drug world involves intimidation, explained Pollett, or standover tactics where items of value are taken by force.
This is known as "taxing" and Lance Waite, a long time member of the Notorious chapter of the Mongrel Mob, offered to help recover the debt.
"He didn't need weapons," said Pollett, noting Waite's gang patch, intimidating presence and ability to "talk the talk" in the criminal underworld.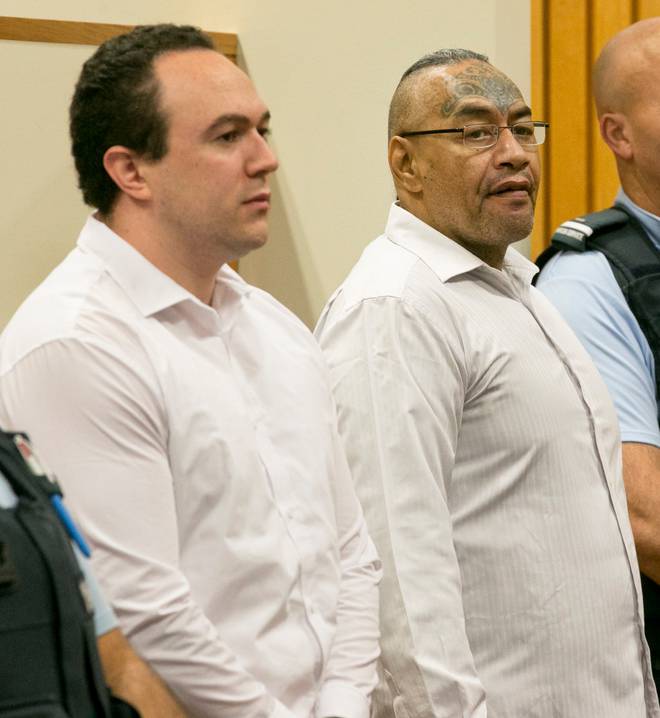 On New Year's Eve, 31 December 2017, Waite "taxed" Jeffries-Smith's car.
Although worth only $800, the silver Nissan Maxima was Jeffries-Smith's most valuable possession.
The car was also his only way to keep his drug business running and repay the debt.
"In his own words, he was f*****," Pollett told the jury.
The Maxima was taken to Hamilton by Waite.
But Kararaina Wihapi, the woman to whom Jeffries-Smith owed $2000, drove it back to Tauranga with two others on New Year's Day 2018.
The trio went to the Cameron Rd home of Jeffries-Smith's mother to demand more money.
Jeffries-Smith managed to snatch his car keys from the ignition and ran away.
With the car stranded in the driveway, Lance Waite arranged for the car to be towed to Wilrose Place in Gate Pa.
This address, known as "The Trap", was where a close friend of Jeffries-Smith lived.
"The Trap" looked like a cluttered second-hand pawn shop, said Pollett, but was also a well known place for drug dealing.
Jeffries-Smith spent most of January 2 trying to get his car back, to no avail.
In a text message, he said he was ready to "start chopping c**** up". A tomahawk, or small axe, and a knife was later found in a backpack he was carrying.
Jeffries-Smith then met with Casino Williams, who lived on Ngatai Rd in Otumoetai.
Williams encouraged Jeffries-Smith to "take a stand and shoot the c***," Pollett told the jury.
Waite was Mongrel Mob, Williams was Black Power. The pair were longtime rivals, said Pollett, of a similar age and knew each other "back in the day".
At this meeting, the Crown alleges Williams gave Jeffries-Smith the .22 semi-automatic Ruger rifle.
Then on the morning of January 3, Jeffries-Smith returned to "The Trap" in one final bid to bargain for the return of his car.
Lance Waite refused.
Realising the firearm was not loaded, Jeffries-Smith got a ride to a friend's house in Hairini.
The friend, Jeremy Ututaonga, loaded the magazine with ammunition and Jeffries-Smith returned to "The Trap".
He stood in the doorway of a man's room and waited for Lance Waite to come out of a woman's room.
When the Mongrel Mob member came out, Pollett said Jeffries-Smith pointed the rifle at Waite and demanded his car keys.
Again, Waite refused and turned to leave. So Jeffries-Smith shot him, said Pollett.
Waite then ran down the stairwell to escape and Jeffries-Smith shot him again, in the back.
"Those two shots were fatal," Pollett said.
A bystander took Waite to Tauranga Hospital, where he later died from his injuries.
A friend drove Colin Jeffries-Smith to a property on Ngatai Rd in Otumoetai, where Casino Williams lived.
Pollett said the Black Power member gave Jeffries-Smith a fresh set of clothes and let him stay the night. Williams also purchased a new SIM card for him, then left for Gisborne early the next day.
On the way to the East Coast, Williams allegedly dumped Jeffries-Smith's clothes in the Waioeka Gorge.
The police then arrested Jeffries-Smith, who called Williams from the Rotorua station.
The conversation was recorded on the phone used by Williams and later retrieved by the police.
"You will hear a call and Mr Williams is essentially coaching Colin Jeffries-Smith on what to say," said Pollett.
Williams' advice was to tell police that he shot Lance Waite because his family was in danger, said Pollett.
"For Colin Jeffries-Smith, you may think there is no clearer case of murder than taking a firearm and shooting someone in the back as they are walking away from you," said Pollett.
Defence lawyers Mark Edgar, on behalf of Jeffries-Smith, and John Holmes will have an opportunity to speak to the jury on Thursday before the first witnesses are called.
The trial, before Justice Mark Woolford, is expected to hear evidence from more than 80 witnesses and last up to six weeks.