Friday, March 15, was New Zealand's darkest day, simply put by Prime Minister Jacinda Ardern.
In the wake of the incredible horror on Friday afternoon, the world has shown its true colours with people and countries paying their respects.
Small acts of kindness, vigils, artworks, donations and light displays, the list of people and their actions showing solidarity with Christchurch continues to grow.
New Zealanders, politicians, celebrities and ordinary people throughout the world have all shown their respects to the 50 lives lost and the impact of the massacre.
Wellington artist Ruby Jones had a message following the attack, creating an artwork dedicated to those who lost their lives.
The illustration shows two women hugging, one wearing a hijab with the simple message, "This is your home and you should have been safe here."
Meanwhile, landmark buildings throughout the world went dark overnight in sympathy for the shooting victims.
The United States' Empire State Building, France's Eiffel Tower joined Auckland's Sky Tower in turning off their display lights.
Over the ditch, the Sydney Opera House decided to light up a bright-big silver fern on its roof last night as a symbol of support for Christchurch.
In Auckland, bus stop shelters throughout the city have had their digital advertisement boards change to show a New Zealand flag in the shape of a heart.
There is a saying in the Quran that whoever kills a soul, has killed mankind entirely.
Saturday night in Rotorua mankind united at the very vigil the phrase was read at.
About 300 people from all colours of the rainbow attended the first vigil to be held in Rotorua in memory of the Christchurch shootings.
Elsewhere, vigils were held at Sacred Heart Church in Auckland and Basin Reserve in Wellington.
Fifty people have died following the attack on two of Christchurch's city mosques on Friday afternoon, all were there to worship their God.
Hundreds of people went to the Auckland vigil and everyone who was there, Muslims, Asians, Europeans, Māori, and Pacific Islanders put their differences aside to pay their respects.
But it wasn't only open to Christians and Catholics, Muslims who worship directly across the road at Ponsonby Mosque were invited as special guests.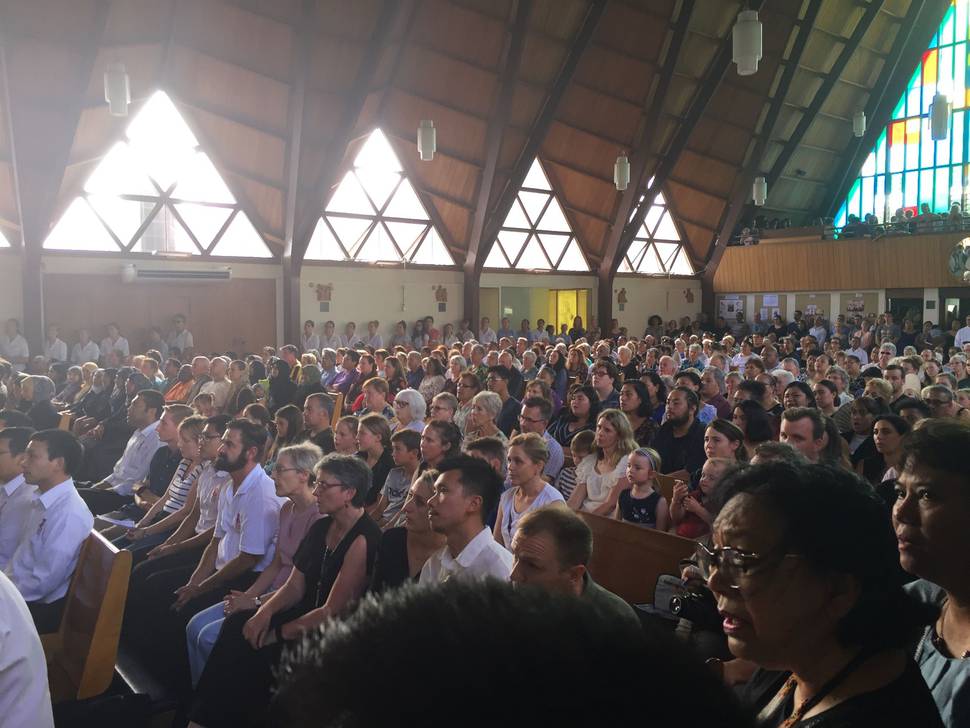 "Over the years there has been a very warm relationship between the two communities," Catholic Diocese of Auckland spokeswoman Lyndsay Freer said.
"The Islamic people, the Muslim people as well as we Christians are people of faith, even though it's a different kind of faith we share a common belief in God.
"Therefore, a common faith that we can share … that's why were are standing together as it were in solidarity."
Meanwhile, thousands of people in Wellington turned out at Basin Reserve for another vigil.
Natasha Hargreaves, 15, said she was hit "pretty hard" by news of the attacks.
"I'm here supporting the families. It's really important we love each other no matter what religion we are from."
Many of those at the event are wearing white and donation buckets are slowly being filled with change which will be directly given to the victims.
People are buying tea lights and writing messages in books. A pile of flowers is starting to mount on a grass bank.
The scoreboard at Basin Reserve reads, "Hate will never win - Kia Kaha Christchurch."
Gold Coast local Tory Dravitzki took flowers to the Arundel mosque, north of Southport, on Friday.
Originally from Christchurch, a clearly choked-up Dravitzki said the shooting had affected him deeply.
"I've never been … to this mosque.
"The reason I wanted to drop the flowers off (was) maybe if they feel scared to come down, in reaction to the events, they could walk up and see that people of the community are actually care about them."
Flowers have also been left at the Marion Mosque in Adelaide.
In Adelaide's city centre, Premier Steven Marshall lowered the Australian flag to half-mast in response to the slaughter that occurred in its sister city across the Ditch.
An image from a mosque in the UK has also gone viral. Reportedly in Manchester, it shows a man standing outside a local mosque with a handwritten signed simply saying: "You are my friends. I will keep watch while you pray".
In London, 10 Downing Street lowered to half-mast both the British and New Zealand flags.
Also in the UK capital, bunches of flowers have been piling up outside the New Zealand High Commission close to Piccadilly Circus.
Additional reporting from News.com.au.